Happenings
Past Events
4th Annual Hong Leong Group Sustainability Forum
20 November 2017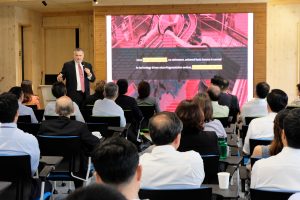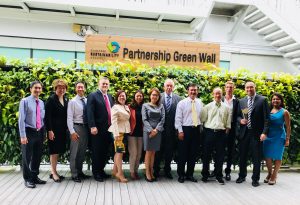 The 4th Annual Sustainability Forum for CDL and the Hong Leong Group was held at the Academy on the 20th of November. Attended by some 90 directors, senior management and sustainability committee members from 11 Group companies, the Forum convened a high-level panel of sustainability experts to explore and discuss about 'Emerging Trends in Sustainability'. Sustainability is gaining traction globally, especially among businesses looking to tap into new opportunities that also create shared economic, environmental and social value. The annual event sought to rouse interest and conversation among directors and top management on how their own companies could leverage on upcoming sustainability trends to create business value.
The Forum began with opening remarks by CDL CEO Mr. Sherman Kwek who spoke about how CDL's early adoption of sustainability since 1995 has strengthened our resilience and ability to adapt to new global challenges. The keynote address by Mr. David Galipeau, Chief Impact Officer of Asia-Pacific, United Nation Development Programme, was highly engaging and insightful.  Mr Galipeau shared how businesses can embrace urbanisation and the Sustainable Development Goals (SDGs) for economic opportunities and create positive impact on their stakeholders and communities.
Two experts in green financing, Mr. Mikkel Larsen, Managing Director and Co-Chair of Sustainability Council, DBS Bank and Ms. Herry Cho, Head of Sustainable Finance, Asia Pacific, ING Bank, addressed the audience on the opportunities present in green bonds and social impact investment, and how collaborations and innovations can drive financing for sustainable development. Subsequently, Ms. Karen Lee, Sustainability Lead for Asia, Interface, gave a manufacturer's perspective on how sustainability integration creates business value, as the world's largest maker of carpet tiles and a pioneer organization in sustainability practices.  Finally, covering the crucial but often-overlooked topic of gender diversity on boards was Ms. Janet Ang, Member of the Diversity Action Committee Singapore and Vice President of Industry Solutions and Smarter Cities, IBM Asia Pacific.
The presentations were followed by a panel discussion moderated by Ms. Esther An, CDL Chief Sustainability Officer, which saw a highly-engaged audience seeking strategic and practical advice from the esteemed panel on how to embrace sustainability best practices such as SDG integration and gender diversity, especially for medium enterprises and first-time adopters.
Republic Polytechnic Green Building Energy Management Students' Visit to SSA
1-6 November 2017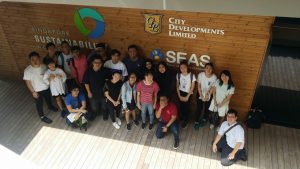 The Academy received 80 students and two lecturers from the Republic Polytechnic Diploma in Green Building Energy Management over four days in November. The students who are 16-17 years old are completing a course on 'Green Building Technology and Design'.  They toured and learnt about the green features and initiatives of City Square Mall, Singapore's first Eco-Mall opened in 2007.    They then proceeded to the Academy on the Mall's Skypark where they further expanded their knowledge on green building features and solar technologies.
The CDL Sustainability team showcased the Academy's positive energy achievement and real-time energy monitoring system. Students also learnt first-hand about the Nature's BarcodeTM certified Glued Laminated Timber and Cross Laminated Timber used to construct the SSA.  The team also shared about the sustainability-related programmes and events that have been held in the SSA for businesses, the community and youths. The students were inspired by what they learned, and left especially impressed by the Academy's advanced solar technology and commitment to walking the talk in sustainability.
SMU Business Families Insitute - Universitas Ciputra Graduate Students Visit
2 November 2017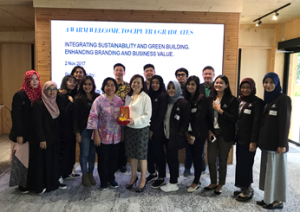 16 graduate students from Universitas Ciputra (Ciputra University) in Surabaya, Indonesia, visited the Academy to learn about best practices in business and sustainability from a Singapore company. The visit was organised by the Singapore Management University's Business Families Institute, Southeast Asia's pioneer regional business family-centric institute focused on addressing the needs of business families in the region. The students run their own family businesses in Indonesia across a range of industries. They visited the Academy to observe a key showcase of partnership and collaboration between the People, Public and Private sectors.
Chief Sustainability Officer, Esther An, shared with the visiting students about how CDL sustainability efforts have evolved beyond a mere corporate social responsibility initiative, to becoming a core business strategy that creates long term value for the company and its stakeholders.   After a tour of the SSA to observe the successful integration of green building features, the students also visited City Square Mall to learn more about its green technologies and initiatives as Singapore's first eco-mall.
SMU 'Managing Sustainability' Class Visit to the SSA
20 October 2017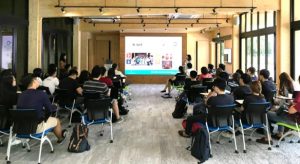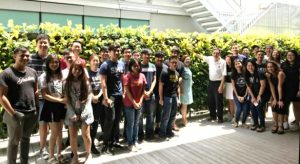 45 local and international students from the Singapore Management University (SMU) visited the Academy as part of a class on 'Managing Sustainability' on 20 October. The class, SMU's first dedicated module on corporate sustainability, is co-designed and taught by CDL Chief Sustainability Officer, Esther An. The students hail from a range of countries, with diverse majors such as Accountancy, Business, Economics, Information Systems and others.
The tour of the Academy was accompanied by a presentation by Esther and followed by a visit to CDL's mixed developments, South Beach. Esther showcased the Singapore Sustainability Academy (SSA) as an example of how businesses can create shared value and goodwill among the business and nonprofit community, and future youth leaders of tomorrow. The positive-energy SSA has generated both tangible and intangible value for CDL and its stakeholders through its annual electricity savings, capacity-building for energy managers, and sustainability advocacy and outreach to hundreds of business partners and youths since its opening. The students were enthused and inspired , continuing to ask questions and observe the Academy's green design and features after the tour.
NEA Professional Sharing Series: Circular Economy and Resource Efficiency, Best Practices from the UK
5 October 2017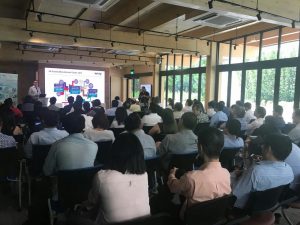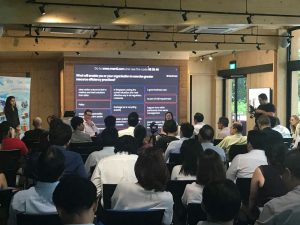 The National Environment Agency (NEA) invited Dr Marcus Gover, Chief Executive Officer of the Waste and Resources Action Programme (WRAP) from England to speak at their Professional Sharing Series that was held in the Singapore Sustainability Academy on 5 October 2017.
Some 70 experts from business, government, NGO and academia sectors attended this session. Dr Gover shared insights on the challenges and best practices on resource efficiency and circular economy in UK from WRAP's research and initiatives with stakeholders; and the challenges and opportunities ahead for industries globally.
NEA Environmental Sustainability and Project Planning Training Workshop for Youth Environment Envoys
23 – 24 September 2017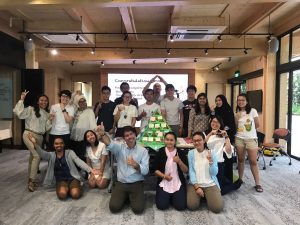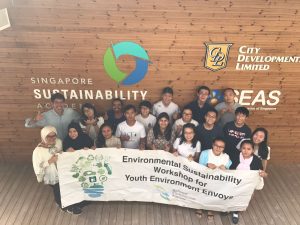 At the workshop, NEA held Environmental Systems Thinking Workshops for their Youth Environment Envoys (YEE), where over 20 future youth leaders received conceptual and practical training on sustainable development. They were groomed to develop teamwork, communication, networking, systems thinking and project management skills by sustainability consultants from Systainability Asia. The workshop also enabled them to design, develop and launch their own environmental projects.
SGX Sustainability Roundtable for Directors of Catalist Companies
14 September 2017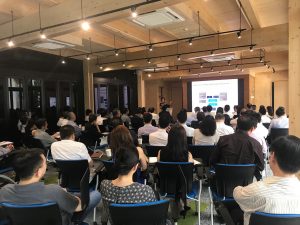 Singapore Exchange Limited (SGX) organized a briefing for 80 directors of listed Catalist companies to learn more about the basics of sustainability reporting, and how a first-time reporter should start. The briefing opened with a welcome by June Sim, Head of Listing Compliance at SGX. Esther An, Chief Sustainability Officer of City Developments Limited, also welcomed participants to the zero-energy Academy and spoke on its vision, mission, and making. Then, Yeo Lian Sim, SGX Special Adviser (Diversity), gave an overview of Sustainability Reporting and the SGX Guide to reporting. Following that, Christopher Chong, Lead ID of Singapore O&G and Chaiman, Emerging Towns & Cities, spoke on Implementing Sustainability Reporting from a Board Director's Perspective. Finally, Wong Dan Chi, Director of Paia Consulting, gave participants useful pointers from a Sustainability Consultant, on how to begin reporting and the most important things to look out for.
This was followed by a panel discussion and Q&A session. The panel comprising Yeo Lian Sim, Esther An, Wong Dan Chi and Michael Tang, Head of Listing Policy & Production Admission, Regulation, SGX, answered questions and alleviated the audience's concerns about how first-time reporters should start their reporting journey. The directors in attendance benefited from the reporting veterans' insights and tips.
International Green Building Conference Tours of the Singapore Sustainability Academy
11 and 14 September 2017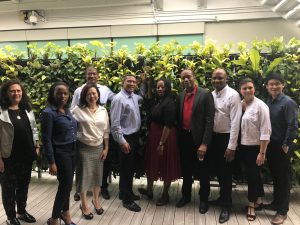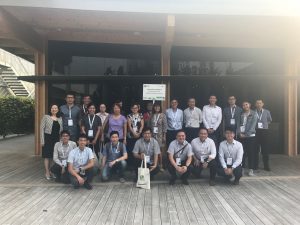 The SSA, a Green Mark Platinum Award development, was featured during the International Green Building Conference (IGBC) as a unique showcase of green building commitment and platform for sustainability advocacy.
During the conference week, over 60 local and international delegates visited the Academy over 2 days to learn about its green features and practices, as well as the training and networking events in sustainability that it has facilitated. Among them were chief executives of the Green Building Councils of South Africa, South Korea and Malaysia.
Chief Sustainability Officer Esther presented on the topic of "Build Green: Be the Change" to all groups of delegates. She shared about how CDL has integrated green building and sustainability into its business for value creation, and the Academy's role as a showcase of green building commitment and sustainability advocacy.
Both tours were supported by technical experts from Schneider and REC, the Academy's energy monitoring portal and solar panel providers respectively. They elaborated further on the technicalities of the Academy's green features. In total, the Academy received 60 visitors from Singapore and overseas, who continued to ask questions and explore the Academy after the tour.
Singapore-Denmark Climate Change Dialogue by the Royal Danish Embassy of Singapore
11 September 2017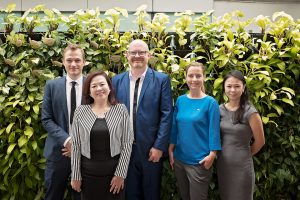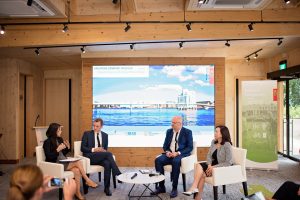 The Royal Danish Embassy of Singapore held a dialogue between high-level leaders in government and the private sector from Singapore and Denmark at the Singapore Sustainability Academy, with a focus on sharing lessons and best practices between two small yet ambitious cities in the fight against climate change.
Titled 'Cities & Citizens Confronting Climate Change', the event featured presentations by distinguished political and industry leaders, moderated by Ms Jessica Cheam, Managing Editor of Eco-Business. The event opened with a welcome by the moderator, before Her Excellency Dorte Bech Vizard, Ambassador of Denmark to Singapore and Brunei, took the floor to welcome guests from both countries and kick off the dialogue with the thought-provoking message that climate change is the 'black elephant' in the room. This was followed by an address by the Guest of Honor, Mr Khoo Teng Chye, Executive Director of the Centre for Liveable Cities, Ministry for National Development, on "Towards a sustainable future". Mr Khoo touched on how Denmark and Singapore are small in size, but can be hugely influential in stirring others to become more sustainable. Then, Mr Morten Kabell, Mayor of Technical & Environmental Affairs, City of Copenhagen, spoke on "How cities can and should act". Mr Kabell emphasized the need for mutual learning and collaboration between Singapore and Copenhagen, giving examples of climate-friendly practices from both cities. Following that, Ms Esther An, Chief Sustainability Officer, City Developments Limited (CDL), shared on "How to grow a 'green force' in cities", citing how CDL has engaged its key stakeholders on the need to be sustainable through education and empowerment. Finally, Mr Andreas Maaløe Jespersen, Associate Researcher at iNudgeyou, spoke about his experience in "Getting citizens to go green" through behavioral economics principles.
The presentations were followed by a lively panel discussion and audience dialogue. The panel comprising Mr Morten Kabell, Ms Esther An and Mr Andreas Maaløe Jespersen took questions from the moderator and audience on the challenges and opportunities arising from cities' fight against climate change, with inputs from Mr Khoo Teng Chye. The event, attended by representatives from government agencies, academia, research and industry, ended on a high note with the audience continuing to interact with panelists and exchange insights over lunch.
NTU Asian Business Case Challenge Participants' Tour of the Singapore Sustainability Academy
4 September 2017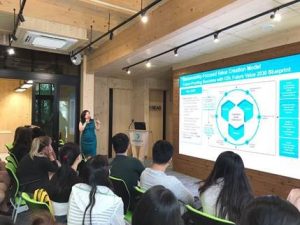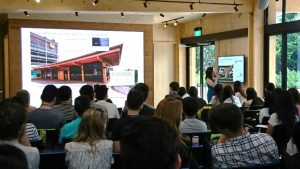 CDL hosted over 70 local and international participants of NTU's annual Asian Business Case Competition (ABCC) at the Singapore Sustainability Academy on the 4th of September. The students from countries like Hong Kong, Thailand, Japan, Australia, New Zealand and Canada were in Singapore to participate in the 6-day case competition, targeted at encouraging NTU students to delve further into the topic of sustainability. As a Platinum Sponsor, CDL worked closely with the organizers to develop the competition's main case study, which exhibited leadership in sustainability for their Sustainable Enterprise Challenge (SEC).
At the zero-energy Academy, Esther An, CDL Chief Sustainability Officer,, shared with participants about CDL's sustainability journey and the vision and mission of the Academy. The students were also given a tour of the zero-energy Academy, which highlighted some of the key green features of the space such as its use of sustainable, Nature's Barcode™ verified wood, solar panels, and real-time energy consumption tracker. The participants were enthused and asked many questions about the sustainable features of the building and how CDL fits into the bigger picture in terms of sustainability in Singapore.
NEA Pre-school Environmental Education Advisors (EEA) Networking Session
4 September 2017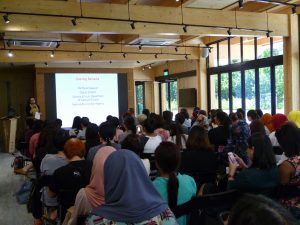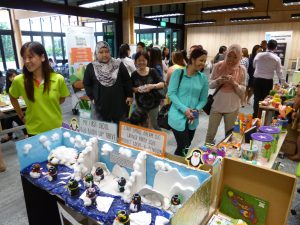 The National Environment Agency (NEA) held their annual pre-school Environmental Education Advisor (EEA) Networking Session at the Academy. The session provided a platform for pre-school EEAs to network and learn more about the initiatives that NEA and its partners are rolling out. Over 80 pre-school teachers and advisers attended the interactive and lively session on 4th September 2017, where they learned about best practices in environmental education through booths and sharing sessions from guest spears and experienced pre-school EEAs.
NEA Uniformed Group Badge Workshop for Singapore Scouts Association
19 August 2017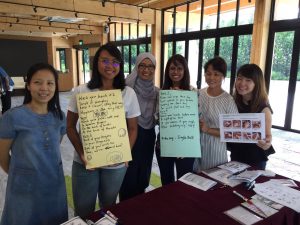 To introduce NEA's new Uniformed Group (UG) Badge Programme which adopts a Values In Action approach, NEA held a dedicated session for teachers working with scouts on 19 August 2017, at the Academy. Through a half-day workshop with interactive activities and games, the teachers effectively learned about the two badges, "Keep Singapore Clean" and "Resource Conservation", which are aligned to NEA's Guiding Principles, "Let's Be Considerate" and "Let's Not Be Wasteful".
Women4Green Impact Series #1: Sustainable Fashion
18 August 2017
CDL held its inaugural Women4Green Impact Series at the Academy, with a focus on Sustainable Fashion. Over 100 ladies attended the event that highlighted the negative environmental impacts of fashion, the second most polluting industry after oil & gas. The forum featured speakers from CSR Asia and H&M. In a welcome address, Esther An, Chief Sustainability Officer of City Developments Limited, articulated the reasons behind founding Women4Green, with its vision and mission of empowering women in the male-dominant green industry.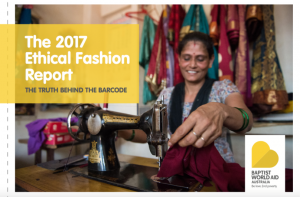 The first speaker, Mabel Wong, Executive Director of CSR Asia and Women4Green Ambassador in Australia and New Zealand,  shared the current outlook on sustainability for the Australian fashion industry using findings from the 2017 Baptist World Aid Ethical Fashion Report. This report scored 106 companies in Australia, including familiar brands like H&M, Uniglo and Zara, on their supply chain disclosures and engagement, as well as existence of responsible sourcing policies. This was followed by the main presentation featuring Wong Xin-Yi, Sustainability Manager of H&M Southeast Asia, on the Swedish brand's efforts to counter fashion's negative impact for a more sustainable future.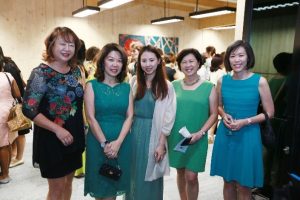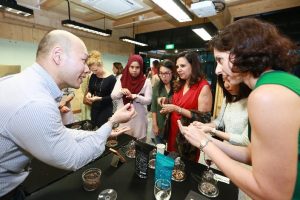 Guests had a delightful evening making new friends and exchanging thoughts over wine, cheese, chocolates and a light dinner. Complementing our aim to promote a more sustainable lifestyle, all the refreshments served at the event were sourced responsibly – organic and biodynamic wines from Wine Clique; artisanal cheese produced using traditional methods from The Cheese Artisans and sustainably-farmed chocolates by Krakakoa from Beans to Bars. Participants also enjoyed an egg-centric dinner from Crack, which sources all their eggs from local farms.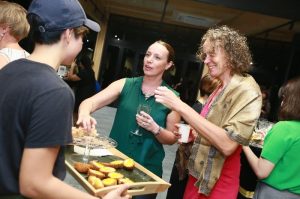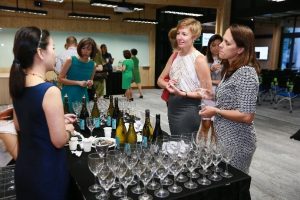 For more information on our vendors and their sustainable practices, please refer to their respective sites below.
Crack – https://www.facebook.com/crack.singapore/
Wine Clique – http://www.wine-clique.com/
The Cheese Artisans – https://www.cheeseartisans.com.sg/
Beans to Bars – http://www.beanstobars.sg/
Sustainability Thought-Leadership Forum: Building a Circular Economy
3 August 2017
CDL, in collaboration with Interface, held its first Sustainability Thought-Leadership Forum on Building a Circular Economy at the Academy. At the session, Malavika Jain Bambawale, Director/ASEAN Lead, Strategy and Sustainability, Accenture, shared about the five circular economy business models, showing examples of businesses that have successfully adopted them. The presentation was followed by an engaging panel discussion featuring Erin Meezan, Chief Sustainability Officer, Interface; Lee Hui Mien, Head of Sustainability, IKEA Southeast Asia and Malavika Jain Bambawale, and moderated by Esther An, Chief Sustainability Officer, City Developments Limited. They discussed how businesses can create business value by shifting away from the linear model, while making the circular economy attractive to consumers and investors.
The Academy was packed with over 100 guests from the People, Public and Private sectors. The panellists took questions from a highly-engaged audience, which was followed by a networking session where guests continued to exchange insights.
Climate Take Back Roundtable and RBF Singapore Launch Event by Global Initiatives
2 August 2017
Global Initiatives, in partnership with Interface, held a roundtable with 21 regional sustainability experts from the business, government, NGO and academia sectors to share insights and perspectives on cross-sectoral collaboration to address climate change. Ms Erin Meezan, Chief Sustainability Officer of Interface, first addressed the group on Interface's Climate Take Back initiative. Senior representatives from the building, energy, consumer goods and agricultural sectors then had a fruitful discussion on how industries can move towards a low-carbon economy, moderated by Mr Tony Gourlay, CEO of Global Initiatives.
After the Roundtable, Global Initiatives hosted a cocktail networking session to mark the launch of the Responsible Business Forum Singapore 2017 and their #SDGActionNow campaign, co-organised with the United Nations Development Programme. They also unveiled the campaign video featuring CDL as an example of best practice for UN SDG 11: Sustainable Cities and Communities.
CDL-GCNS Young CSR Leaders Award Final Judging
27 July 2017
In its 7th edition, the CDL-GCNS Young CSR Leaders Award was launched in 2011 as a cross-sectoral programme to cultivate a new generation of young leaders to champion a sustainable future for Singapore and beyond.
10 finalist teams from various universities, polytechnics and junior colleges/high schools were selected from a competitive pool of over 130 student teams – a record number of sign-ups for the competition.
The teams gave impressive presentations before an esteemed judging panel on their proposed sustainability strategy and initiatives for 10 company cases, namely AkzoNobel, APRIL, Cargill, DSM, EY, Hong Leong Asia, Informatics, Singtel, Suntory and Veolia.
The judging panel comprised of Ms Esther An, Chief Sustainability Officer, City Developments Limited; Mr Lee Kheng Seng, Director of Communications and 3P Partnerships, Ministry of Environment and Water Resources; Mr Tony Gourlay, CEO, Global Initiatives; Mr Steven Okun, Governor, American Chamber of Commerce and Ms Christina Lee, Founder and CEO, Global Green Economic Forum.
The winners will be announced and awarded at the GCNS Summit on 29 August.
Ideation Workshop and Creating +Positive Spaces of Tomorrow, Today Panel by Interface
10 July 2017
A partner of the Academy, Interface held an Ideation workshop with Forum for the Future, along with a networking event, to gain insights from industry peers about the future of learning, as well as discuss solutions to create spaces that will positively address our changing needs.
The workshop, titled The Future of Learning Spaces in Asia Pacific, was a highly interactive ideation exercise involving a group of architects, designers, educators and entrepreneurs. Besides gaining industry insights, the workshop helped participants co-create potential innovative responses to emerging change.
The networking session, titled Creating Positive Spaces of Tomorrow, Today, involved professionals in the built environment. A panel of consisting of Tan Shao Yen, Chief Executive Officer, CPG Consultants and President, Board of Architects, Singapore; Jayne Harrison, Founder & Principal, JDH Architects; Robin Hales, VP Product APAC, Interface; and Anna Simpson, Senior Associate, Forum for the Future and Author of The Innovation-Friendly Organisation, discussed design solutions proven to impact factors like occupants' productivity and creativity while creating a positive impact on our planet.
Thought Leadership Event on the Future of Sustainability by Global Compact Network Singapore
29 June 2017
In conjunction with its Annual General Meeting and Management Committee Meeting, Global Compact Network Singapore held a thought leadership event titled The Future of Sustainability and Reporting for Corporate Sustainability. Attended by nearly 100 members, including companies such as Shell, Singapore Business Federation, Singapore Pools and NTUC, the event addressed frequently asked questions about integrating the Sustainable Development Goals (SDGs), and how to report on a company's efforts to achieve them.
Speakers on the panel were Ms. Esther An, Chief Sustainability Officer, City Developments Limited; Mr. Simon Bennet, General Manager (Sustainable Development), Swire Pacific Offshore Operations; Mr. Tony Wines, CEO, Turnkey Group; and Ms. Yeo Lian Sim, Special Adviser, Singapore Exchange. They shared how opportunities could be found by embracing the SDGs, as well as the use of corporate reporting as a strategic tool in business. The event concluded with a panel discussion with the speakers, moderated by Ms. Fang Eu-Lin, Partner, Pricewaterhouse Coopers LLP.
Youth Environment Envoy Workshop by National Environment Agency
17 - 18 June 2017
About 40 students, mostly from universities and polytechnics, attended the National Environment Agency Youth Environment Envoy workshop. Held on 17 to 18 June 2017 at the Singapore Sustainability Academy, its aims to groom a network of youth to become leaders and change agents. CDL shared the importance of embracing sustainability for businesses and corporates, and facilitated discussion alongside presenters from MEWR and Earth Fest.
Singapore Sustainability Academy Official Opening
5 June 2017
In conjunction with World Environment Day, the Singapore Sustainability Academy was officially opened by Mr. Teo Chee Hean, Deputy Prime Minister and Coordinating Minister for National Security, together with Mr. Masagos Zulkifli, Minister for the Environment and Water Resources. Jointly created by City Developments Limited and the Sustainability Energy Association of Singapore, the Academy is the first major People, Public and Private (3P) ground-up initiative in support of global and national goals to tackle climate change. The opening also introduced many of the Academy's initiatives, such as the Women4Green Network, and the Sustainability Studio.
Over 160 invited guests attended the opening, including notable names such as the Canadian High Commissioner Lynn McDonald; Mayor Teo Ho Pin, North West CDC; Mr. Choi Shing Kwok, Permanent Secretary, Ministry of the Environment and Water Resources; amongst many others.
For more information, please refer to the press release here.
A Dialogue with GRI Chief Executive Tim Mohin by CSR Asia
26 May 2017
CSR Asia hosted Global Reporting Initiative (GRI) for a session on the value and challenges of corporate sustainability reporting in an evolving landscape. The event provided a unique opportunity for an open conversation with GRI about the concerns and needs around transparency.
Mr Timothy Mohin, Chief Executive, GRI shared about the organisation's reporting standards and the future of corporate sustainability reporting, fielding many questions from the floor about the opportunities and challenges of reporting a company's sustainability efforts. CDL also shared on its sustainability reporting experience and how GRI's reporting standards have complemented CDL's corporate sustainability journey, enabling it to effectively connected the company's ESG disclosures with financial impact to communicate tangible value creation for its investors and stakeholders.
Aligning Corporate Strategies to the UN SDGs by Business Council for Sustainable Development
17 May 2017
The Business Council for Sustainable Development (BCSD) held a roundtable session on "Aligning corporate strategies to the United Nations Sustainable Development Goals (SGDs): Challenges and opportunities". The session also introduced World BCSD's CEO Guide to the Sustainable Development Goals.
Presented by Mr Filippo Veglio, Managing Director, Social Capital, World BCSD, the session explored the crucial role that business should play in achieving the SDGs as well as positioning clear actions that business leaders can take to align their organizations with the SDGs and unlock the value they represent. The audience was provided with a comprehensive overview of the key implications for business across the spectrum of risk, opportunity, governance & transparency, and the need for collaborative action.
Strategic Partners Gathering by CSR Asia
19 April 2017
The CSR Asia Strategic Partners Gathering was held at the Academy 19 April. During the session, Richard Welford, one of the founders and the chairman of CSR Asia shared on the merger between CSR Asia and ELEVATE, a leading professional services firm delivering improved social, environmental and business performance in the global supply chain.
Launch of the Singapore Sustainability Academy
5 August 2016
CDL and the Sustainable Energy Association of Singapore (SEAS) announced the launch of the Singapore Sustainability Academy on 5 August as the first major People, Public and Private (3P) ground-up initiative in support of the national goals to tackle climate change. This is also the first time that a local private property developer and a Non-Profit Organisation have teamed up to create a major training and networking facility on sustainability.
The launch was graced by Dr Amy Khor, Senior Minister of State, Ministry of the Environment and Water Resources. The zero-energy academy is set to promote a low-carbon economy, resource efficiency, and sustainable practices among businesses and the community, in particular, youths.
Jointly designed by CDL and ONG&ONG Pte Limited, and built by Woh Hup (Private) Limited, the SSA will be the first in Singapore to have its construction materials, Cross Laminated Timber and Glued Laminated Timber verified by the Nature's BarcodeTM system as coming from responsible sources.
For more information, please refer to the press release here.