HAPPENINGS@SSA
2019 EVENTS
Guided Public Consultation Workshop

28 September 2019

Over 100 youths participated in an independently organised workshop by Yale-NUS student, Tammy Gan and co-founder of Lepak in SG, Ho Xiang Tian. The workshop sought and compiled ideas and suggestions from youths, to contribute to the nation-wide public consultation on developing a long-term low emissions strategy led by the National Climate Change Secretariat (NCCS).
Singapore Youth CBD2020 (Convention of Biological Diversity 2020) Consultation

28 September 2019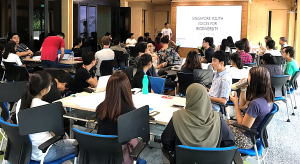 The Singapore Youth CBD2020 (Convention of Biological Diversity 2020) Consultation, SYCC, aims to empower Singapore youths to have a voice in the decision-making process for biodiversity locally and globally. Some 50 youths its consultation to discuss various ways to align the interests of various environmental groups in Singapore, so as to encourage collaboration and set a direction towards the 2050 vision of 'Living in Harmony with Nature'. As part of the discussion outcomes, SYCC will draft the Singapore Youth Position for Biodiversity, which will be submitted to the Global Youth Biodiversity Network in preparation for the 2020 UN Biodiversity Conference.
Cicada Tree Eco-Place's 'A Final Call to Protect Our Last Wilderness!' Press Conference

27 September 2019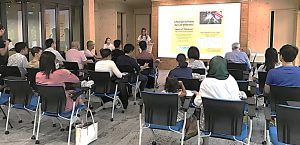 Cicada Tree Eco-Place, a local-based NGO that promotes nature, culture, and eco-living through environmental education, organised a press conference at SSA to launch both its biodiversity conservation campaign titled "A Final Call to Protect our Last Wilderness" and online biodiversity list titled to raise awareness about Singapore's flora and fauna. Over 30 press members and friends of Cicada Tree Eco-Place were in attendance.
North West Partners' Appreciation Lunch

23 September 2019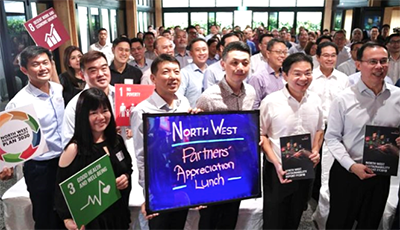 (Photo credits: Straits Times)
The North West CDC unveiled its Sustainability 2018 Report during its Partners' Appreciation Lunch at SSA. The report highlighted the North West District's achievements in sustainable development, which was made possible by the longstanding commitment and support from 13,000 volunteers, 264 corporate and community partners in the financial year of 2018. The guest of honour was Mr Lawrence Wong, Minister for National Development and Second Minister for Finance, Adviser to Marsiling-Yew Tee GRC Grassroots organisations. Other esteemed guests included Dr Teo Ho Pin, Mayor of North West District; Mr Desmond Tan, Chief Executive Director of People's Association; and Mr Chia Ngiang Hong, Group General Manager of CDL. About 150 people attended, including grassroots educators and North West's green partners.
SBGC Training

19 September 2019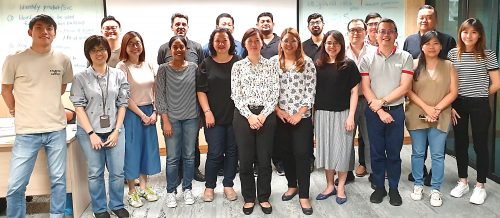 The Singapore Green Building Council (SGBC) welcomed 20 participants to a workshop on "Assessing the Carbon Footprint of Building Products Course". The participants learnt about the environmental impact of building products and acquired skills to produce a simplified assessment report to communicate a product's carbon footprint.
SGBC is a non-proft that drives concerted private-public sector partnership to achieve a world-class and sustainable built-environment in Singapore. Its key role is to advocate green building design, practices and technologies and drive environmental sustainability in the building and construction industry.
GCNS Training & Strategy Planning event

16 September 2019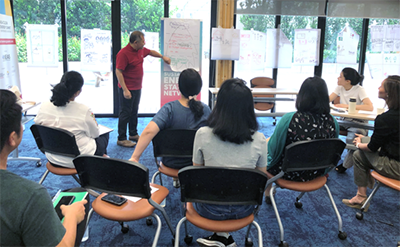 Global Compact Network Singapore (GCNS) held an internal training and strategy workshop for its staff at SSA. The team reflected on their 2019 activities and planned their work strategy for 2020.
GCNS is the national lead agency that promotes corporate sustainability and provides an ecosystem for companies to align strategies and operations with universal principles on human rights, labour, environment and anti-corruption, and take actions to achieve the SDGs.
'The True Cost' Movie Screening by Team Oath

14 September 2019
Secondguru, a local-based social enterprise that focuses on creating environmental awareness, has organised several successful runs of its Zero Waste Bootcamp series. One of its project groups, Team Oath, took a step further and organised a public screening of "The True Cost", a documentary about the clothing industry, as part of their public outreach plan. "The True Cost" reveals the the pollutive effects of the fashion industry, which is the second most polluting industry globally. Over 30 people attended the filming of this groundbreaking documentary.
2030 SDG Games by iGNICA

9 September 2019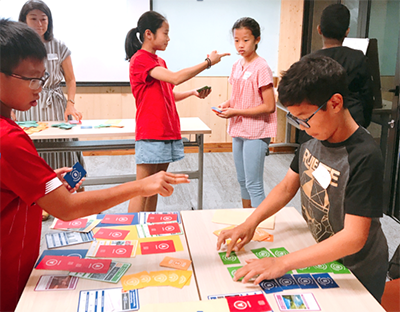 It is never too young to learn about the SDGs. A group of Primary 4 and Primary 5 students had fun taking part in the first public SDG 2030 Games, organised by education firm iGNICA. The SDG 2030 Games is a card-based game that simulates taking the "real world" into the year 2030. Designed in Japan in 2016, this experience has become a powerful and impactful social phenomenon in Japan, earning extensive media coverage and reaching over 50,000 participants over the last two years.
Denmark Embassy & C40 event

3 September 2019
As a lead up to the C40 Mayors Summit in Copenhagen, the Royal Danish Embassy, together with C40 Cities and CDL, held a discussion titled "How do Cities Tackle Climate Change". The C40 is a network of the world's megacities committed to addressing climate change.
The event covered two key topics:
Creating holistic policy frameworks: How can cities and governments strengthen collaboration with its citizens and industry players?
Practical solutions towards greener, more climate resilient cities: How do cities practically curb the climate changes?
The session featured keynote adddresses by H.E. Dorte Bech Vizard, Ambassador of Denmark to Singapore, and Mr Khoo Teng Chye, Executive Director of Centre for Liveable Cities, as well as a presentation by Ms Milag San Jose-Ballesteros, Regional Director for East, Southeast Asia and Oceania at C40. Other presenters include Ms Esther An, Chief Sustainability Officer of CDL, Mr Carsten Møberg Larsen, 'Clean Air Ambassador' from the Danish Ministry of Environment, and Mr Leonard Ng, Country Market Director of Ramboll SEA & China.
The event was well received with close to 70 professionals from the private and public sectors in attendance. The audience actively engaged the speakers and had an interesting discussion on how future cities could be better designed to address new climate challenges, as well as ways that Singapore and Copenhagen could collaborate to inspire more industry players to step up on climate action.
Secondsguru Bootcamp discussion

31 August 2019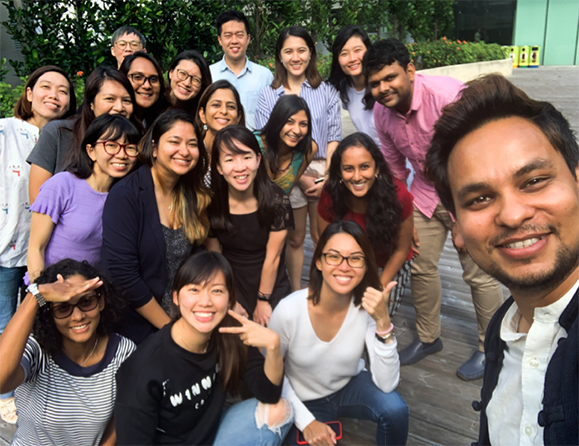 The Secondsguru Zero Waste Bootcamp is an education program created by Secondsguru to share zero waste lifestyle strategies with the youth and is aligned with MEWR's Year Towards Zero Waste Goals for 2019. Designed for 18-30 years old youths in Singapore, it is supported by NEA, LUSH Singapore, Seastainable, Fashion Pulpit, Bollywood Adventures and Rytle. This session marks the third run for 2019 and it was attended by 27 attendees. To walk the talk, it was a zero waste event. There were no disposables used, participants enjoyed a plant-based meal, leftovers were packed and all the paper used was recycled. One of the teams has went out to do a community outreach, addressing the environmental and human impacts of the fashion industry.
CDL EHS 5-Star Seminar

23 August 2019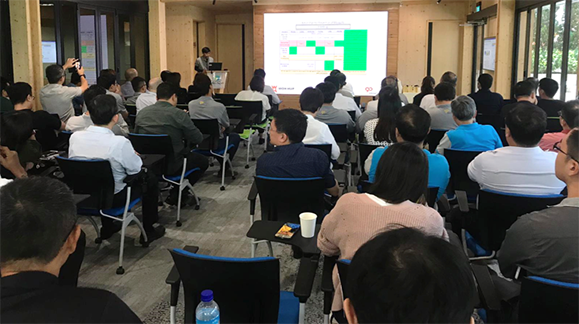 Into its 73rd cycle, the CDL 5-Star Environmental, Health & Safety (EHS) seminar provided a valuable platform to promote the importance of EHS among CDL's building industry partners including architects, engineers, quantity surveyors and contractors. Speakers from Woh Hup and Your Safety Partner Pte Ltd were invited to share with close to 60 participants on effective environment control practices for mosquito breeding and the new elements of ISO 45001: Occupational health and safety.
Results of the CDL 5-Star EHS Audit Assessment for ongoing projects in the second quarter of 2019 were also announced during the seminar to recognise exemplary EHS performance displayed by the builders.
Marine Stewards Singapore

18 August 2019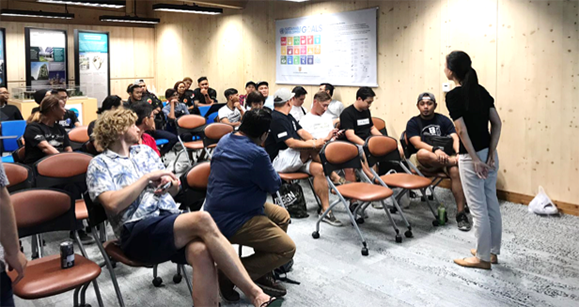 Marine Stewards Singapore held the August edition of its community engagement meeting at the SSA. Ms Sue Ye, Founder of Marine Stewards Singapore, together with academics from National University of Singapore, James Cook University Singapore and Republic Polytechnic, discussed the draft of their sustainable fishing recommendations and guidelines. The topic of netting in the update to the Wild Animals and Birds Act (WABA) was also discussed.
In all, the session saw close to 40 attendees representing 13 partners and businesses in the fishing community, including the Singapore Sports Angling Federation, Broadwalk Anglers, Singapore Fishing Charter.
Public consultation session on Wild Animals and Birds Act

16 August 2019
A public dialogue was organised by the Wild Animals Legislation Review Committee and members of the public were invited to learn about the recommendations to the amendment of the Wild Animals and Birds Act (WABA), and to share any final feedback on the recommendations. Attended by about 70 people, the dialogue session was led by Louis Ng, a Member of Parliament and co-founder of Animal Concerns Research and Education Society (ACRES).
Sustainability Communication and Transition

10 August 2019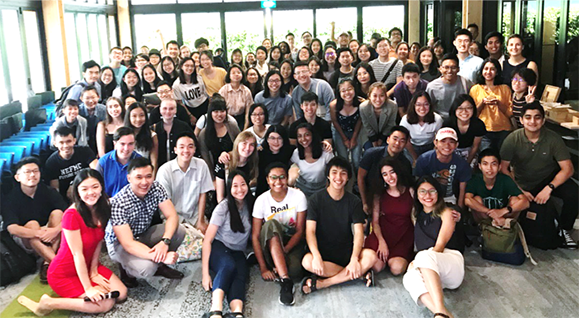 Close to 100 youths attended the panel discussion about the climate crisis and the youth climate activist scene in Singapore, organised by 21-year-old Tammy Gan, an environmental activist studying Environmental Studies at Yale-NUS College. She is also the Community Lead with Green Is The New Black and the founder of Conscious Living Co.
The discussion was followed by a community hangout and ideation session where participants mingled and brainstormed possible productive ways forward to tackle climate anxiety, lack of climate action in and around the region and understanding individual responsibility when it comes to climate change. The line up of panelists included:
Aidan Mock, one of the co-founders of Fossil Free Yale-NUS, the divestment movement on campus, and continues to campaign for NUS to divest its endowment from fossil fuels.
Nathalia Murillo, the Community Engagement Lead at Our Seas, Our Legacy and a second-year undergraduate at Yale-NUS College.
Ho Xiang Tian, the Co-founder of Lepak In SG, an informal environmental group, whch maintains an online environmental calendar of activities in Singapore.
Natrisha Kaur, a 17-year-old vegan activist studying Arts Business Management in Ngee Ann Poly. She volunteers with Animal Allies and is a member of the truly students group as well (IG: @aas.trulystudents). They organise bi-monthly cleanups, potlucks and other activities to engage the youth and raise awareness about animal rights, fast fashion and climate change.
Rachel Tan who believes in conscious sustainable consumerism and she advocates for people to do the same. On her platform (@nocarrierpls) she speaks about issues such as the plastic problem, the journey towards a plant-based diet, and about sustainable fashion.
Kate Yeo, the founder of BYO Bottle Singapore, a campaign-cum-social enterprise aiming to reduce the usage of single-use disposables.
Complex Systems Workshops

24 July 2019
This workshop, conducted by Lee Zhong Han who travelled to the Yale Center in Beijing, China to learn about systems thinking, effective philanthropy and sustainable food systems, equips learners with a basic understanding of the systems thinking to gain clarity when working in complex systems. About 35 participants, mostly youths who were currently doing or will be involved in projects that aim to improve social or environmental outcomes, participated in the workshop.
UglyFood workshop

20 July 2019
Organised by UglyFood and Spoonful, the workshop taught participants the art of making simple fruit enzyme drinks using produce that was reaching past its shelf life. Made of fruit, not only are the drinks beneficial for health, it also effectively increases the shelf life of fresh produce, therefore reducing food waste. The participants also got to interact and work with the Kawasaki Coffee Robot, which was brought in specially for the workshop.
Journey to the Arctic by Green Drinks Singapore

19 July 2019
A group of 60 passionate environmentalists came together to listen to activist, Erliani Abdul Rahman, recount how she prepared for a last-degree trip to the North Pole in April 2019 to raise awareness for child sexual abuse survivors but ended up learning about the climate crisis instead. Due to global warming, no full-length expeditions have succeeded in the past six years mainly because the ice has been melting, making it impossible to cross wide open leads which have developed. Erliani shared her frustrations which morphed into a passion to save the planet from the devastating impacts of climate change.
CDL E-Generation Challenge 2019 Winner, Woon Xin Hui also shared her experience visiting the Arctic Circle with famed explorers Robert and Barney Swan over two weeks in June 2019. She painted an equally bleak picture of the impacts of climate change on the habitats of arctic animals. The evening continued with the participants expressing their thoughts and aspirations for moving the climate revolution forward in Singapore. It was a lively evening with exciting discourse between the speakers and the participants.
If you would like to participate, check out Green Drinks Singapore's website for details on upcoming sessions.
Living Well: Cultivating Community, Nurturing Nature by Uthai Forest

19 July 2019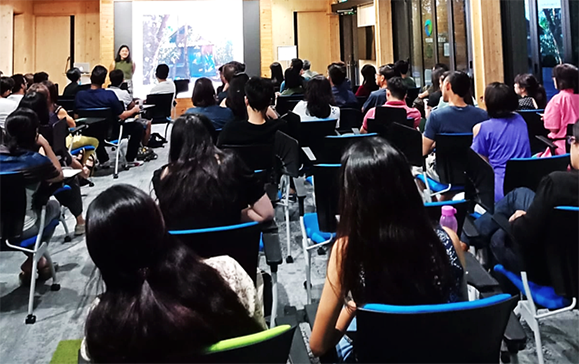 Close to 100 people attended a sharing session organised by Uthai Forest, a non-profit project that aims to reforest 23 hectares of land in Thailand. The session included three other founders of nature and community-based initiatives in Singapore – Mr Tang Hung Bun, Natural Farmer and Permaculturist, Cuifen Pui, Founding Member, Foodscape Collective and Syazwan Majid, Founder, Wan's Ubin Journal.
Toh Huiran from Uthai Forest started off the session by sharing how you can take action, be it for the planet, or for your own well-being. She highlighted the exciting aspects of the Uthai Forest Project and how everyone can play a part. The other three speakers spoke on their respective initiatives. Mr Tang Hung Bun shared on the feasibility of permaculture in Singapore. Cuifen Pui shared on the good work that Foodscape Collective is embarking on towards a fair and inclusive circular food system through community-building, education, well-being and research. Syazwan Majid elaborated on the WUJ Kampong Clean Up, his monthly volunteer-driven kampung clean up project as well as his other community outreach projects. It was a spirited sharing session focused on growing communities to heal the planet and our fractured societies.
Click on the links above if you are interested to be part of their programmes.
Jane Goodall Institute (Singapore) 5 year strategy workshop

13 July 2019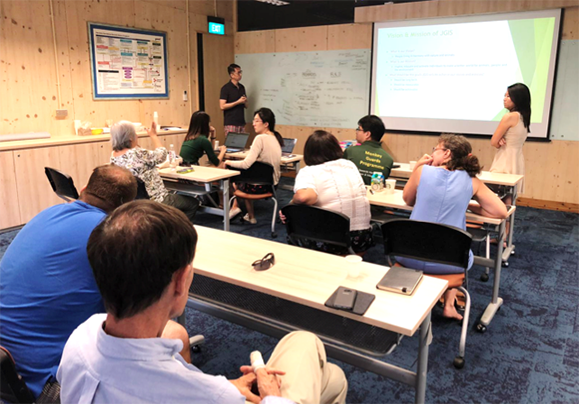 20 board members and volunteers heading committees from Jane Goodall Institute of Singapore (JGIS) attended a full day strategy workshop and training session to plan a 5-year strategy for JGIS. The General Manager of JGIS also facilitated the training on marketing, networking and fundraising for the attendees.
Behaviour Change Hackathon by WISE–WASH in Southeast Asia

13 July 2019
The Behaviour Change Hackathon is a six-series workshop targeted at youths aged between 15 to 35 years, by WISE – WASH in Southeast Asia. It promotes effective behavioural change solutions to meet Singapore's social and environmental needs. Participants undergo training on basic behavioural change theories and tools. They are concurrently grouped in teams of five to design a behavioural change solution to an existing problem, in partnership with a non-profit organisation or social enterprise. This session was the 4th session and 30 participants learned basic methods to collect and analyse data, enabling them to interview and conduct surveys about their target behaviour.
The hackathon is funded by National Youth Council, Central CDC Singapore. Supporting partners include ACRES, Bold at Work, Erth & Co, HOME, Green Nudge and Halo Health Asia and the SSA.
Engagement event by Global Mangrove Alliance

3 July 2019
The Global Mangrove Alliance (GMA) is a global partnership of conservation organisations and scientific research groups working together to expand global mangrove forest coverage. It is led by The Nature Conservancy, World Wildlife Fund, Conservation International, International Union for Conservation of Nature and Wetlands International.
Attended by more than 30 people, this event brought together numerous mangrove scientists in Singapore, ahead of the global Mangroves, Macrobenthos, and Management conference in July 2019. GMA presented its existing projects and ideas for other conservationists and scientists to engage with each other in a collaborative way.
Northland Secondary School's Student Learning Activity "Goose Chase"

2 July 2019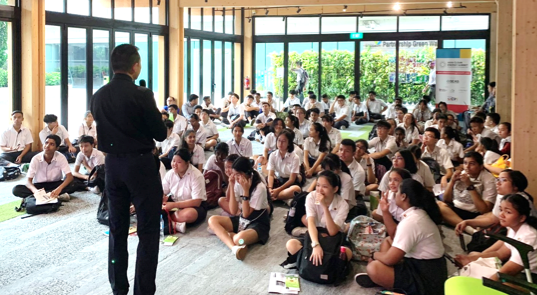 Back for the second year, Northland Secondary School held their student learning activity, "Goose Chase", at CDL's City Square Mall. 180 students learnt about green buildings through an experiential activity to observe, understand and record eco-smart designs that conserved energy and water in City Square Mall and SSA. In two batches at the SSA, the students learnt about global and local sustainability trends and CDL's green building technologies, with the aim of implementing new green ideas in their school.
Pre-MMM5 Mangrove Specialist Group Workshop

30 June 2019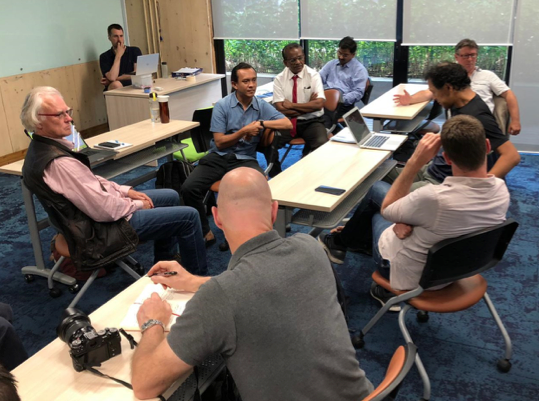 This closed-door workshop was organised by the International Union for Conservation of Nature's (IUCN) Mangrove Specialist Group and Zoological Society of London, ahead of the Mangroves, Macrobenthos, and Management conference. About 35 members of the IUCN Mangrove Specialist Group gathered to discuss the progress made on mangrove conservation, red listing and membership with the Global Mangrove Alliance.
Under the Dome: Film Screening & Discussion

25 June 2019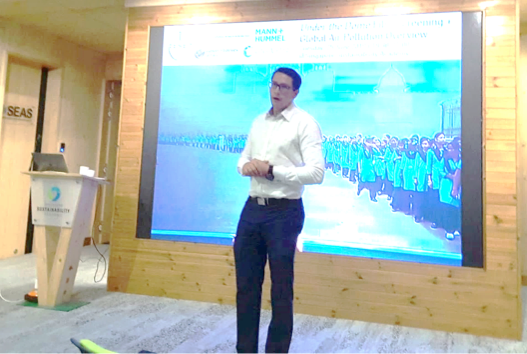 The World Health Organization ranks air pollution as the top threat to human health with over 90% of the world's population living in extremely polluted conditions. Recent research suggests that air pollution affects "every organ in our body" and, contrary to what many believe, it is a problem that can be tackled.
Mann + Hummel (Singapore), GIGA (Shanghai) and Green Initiatives organised a screening of "Under the Dome", a film by reporter Chai Jing, that investigates the sources and impacts of China's deadly smog. The film also explored how other cities like London and Los Angeles reduce air pollution through a combination of technology and law enforcement. Following the screening, the audience of 60 engaged in a discussion and networking session.
Visit by Rocky Mountain Institute

24 June 2019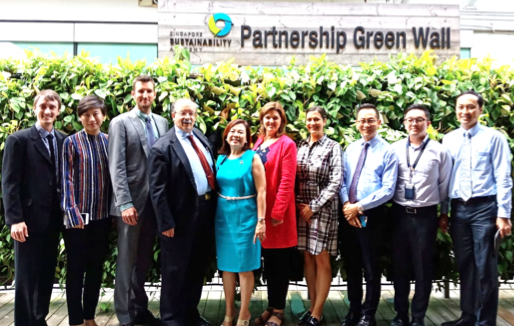 Rocky Mountain Institute (RMI) is a leading US-based think tank that advocates a low-carbon future and aims to tackle climate change with global market-based solutions. It is founded by Dr Amory Lovins, who was named by Time magazine as one of the World's 100 Most Influential People in 2009. CDL was honoured to host the RMI entourage at the zero-energy SSA and shared about CDL's green building technologies and low carbon strategy. The lively exchange of thoughts enabled CDL to learn about the global best practices shared by RMI and CDL's alignment to some of them.
Ngee Ann Polytechnic Educational Tour

24 June 2019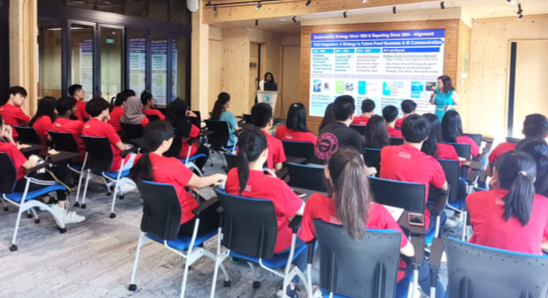 40 first-year Ngee Ann Polytechnic students and their teachers from the Diploma in Environmental & Water Technology faculty visited the SSA to learn about the green building movement in Singapore and CDL's contribution to that, as well as green building technologies. The presentation by CDL CSO Esther An was followed by a tour of South Beach, a Green Mark Platinum building and Singapore's largest mixed-use development using sustainable design.
Behaviour Change Hackathon by WISE–WASH in Southeast Asia

22 June 2019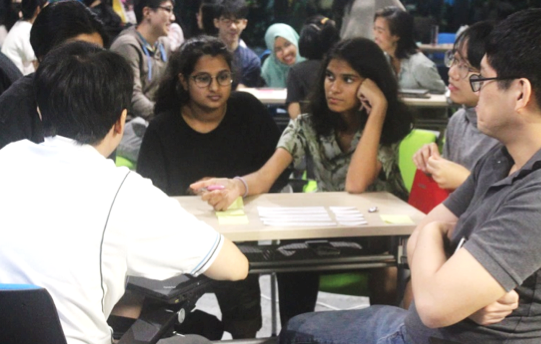 The Behaviour Change Hackathon is a six-series workshop targeted at youths aged between 15 to 35 years. It promotes effective behavioural change solutions to meet Singapore's social and environmental needs. Participants undergo training on basic behavioural change theories and tools. They are concurrently grouped in teams of five to design a behavioural change solution to an existing problem, in partnership with a non-profit organisation or social enterprise. Close to 40 participants attended this first session.
The programme is supported by the National Youth Council and project partners include Animal Concerns Research & Education Society, Humanitarian Organization for Migration Economics and Green Nudge.
FASTRACK: Tech for Zero Carbon Cities

21 June 2019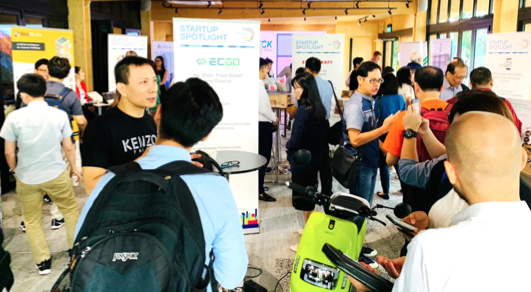 ENGIE Factory, in collaboration with tech media platform e27, held a public event to catalyse discussions on sustainable living as urban residents. With cities contributing to 70% of global emissions and 65% of global energy demand, FASTRACK explored technology's role in driving building, mobility and food systems towards zero-carbon cities. SSA, being a zero-energy academy, was an apt venue for the event.
Speakers from Big Idea Ventures, CDL, CRF, GrabWheels, Electrify, IDinvest, Life3 Biotech and SustainableSG were invited to share on topics such as:
Energy Renovation
Making Buildings Smart and Eco-Responsible
Green Mobility for All
Accessible and Sustainable Transportation
Feeding the Future
Sustainable Food Systems for Urban Residents
The Transition Towards a Modern, Zero-Emissions Society
About 160 attendees were treated to freshly made vegan burgers by Impossible Foods, electric car and scooter rides, and an earth-friendly bazaar of sustainable lifestyle goods. The event also showcased building, mobility, food and waste start-ups.
Bagathon by Bit by Bit

16 June 2019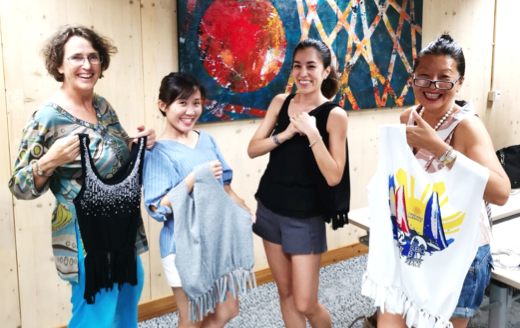 Bit by Bit is a group that aims to make a difference regarding single-use plastics in Singapore, by creating an active and gracious community that naturally cares for the environment and promotes zero waste living. A family-friendly workshop was held at the SSA where 22 participants enjoyed a screening of the documentary "A Blue Planet". An upcycling workshop also saw partipants creatively turn their old T-shirts into a reusable bag using only scissors.
Stewardship Masterclass on Family Businesses

7 June 2019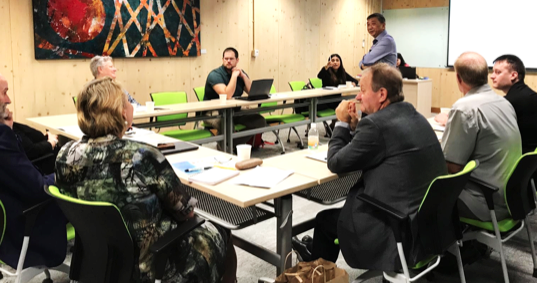 Family businesses face an inherent challenge: the need to balance family—their succession and the needs of the next generation—with business. Stewardship is a critical factor that would enable them to emerge over time as engaged, forward-looking and adaptable enterprises. This would also allow them to build a strong foundation for long-term wealth creation that would not compromise the demands of the present, while safeguarding the interests of the community and future generations.
Co-organised by Stewardship Asia Centre, Family Business Australia and Business Families Institute, the masterclass was attended by over 20 business leaders who helm family businesses. A discussion was led by Mr Ong Boon Hwee, CEO of Stewardship Asia Centre, who introduced the elements and core concepts that form the basis of stewardship and the applications of the "Stewardship Principles for Family Businesses". CDL Chief Sustainability Officer Esther An also shared with the visitors the CDL's business case of integrating sustainability into every aspect of the organisation and its operations.
Secondsguru Zerowaste Bootcamp #2

1 June 2019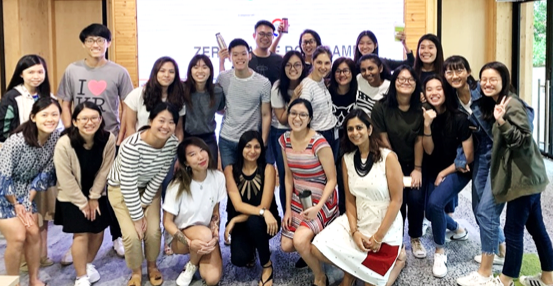 This zero-waste bootcamp, attended by over 25 youths passionate about environmental change in their communities, was the second session in Secondsguru's four-part educational programme.
During the session, the youths collaborated in groups to create an actionable plan that would help tackle Singapore's mammoth waste problem. They presented their ideas in an Ecothon, guided by facilitators. Their plans will be rolled out in their communities over two months, after which they will reconvene to present the achievements, learning points and challenges from their community efforts.
Wildcat Lecture Series: Asiatic Lion Talk

17 May 2019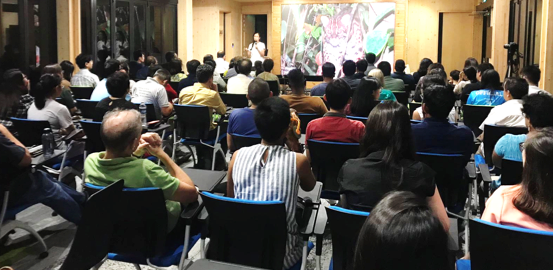 60 nature lovers attended the second Wildcat Lecture organised by the Singapore Wildcat Action Group, where the spotlight was on the Asiatic Lion. Guest speaker Dr Ravi Chellam is a wildlife biologist and conservation scientist who has dedicated his last 30 years to studying the wildlife of India, especially the Asiatic lions of the Gir forests. During the talk, he traced the conservation history of the lions, assessed their current status, and shared his views on what conservation actions are needed.
Sustainable Cities with IoT: Waste Management & Environment Monitoring

13 May 2019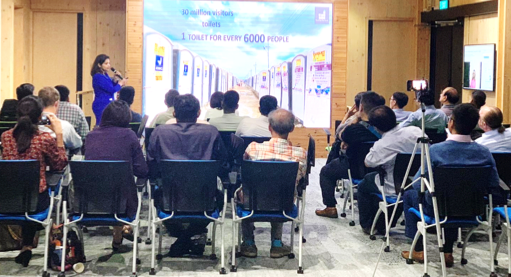 The well-being of residents is a critical consideration for sustainable cities. Besides access to education, health and public transportation, a sustainable city requires efficient waste management services, good air quality and other modern living necessities. As cities grow, the challenges of managing the environment grow exponentially. IoTSG invited two speakers—Saloni Goel, Environment & Sustainability Change Maker and Milind Ghorpade, CEO, Mobiquest—to share with the audience of 45 guests their expert insights on addressing environmental challenges. Founded in Singapore, IoTSG is the biggest IoT and advanced technologies-focused special interest group in Southeast Asia.
Wildcat Lecture Series: Tracking the Elusive Snow Leopards of China

12 May 2019
"Tracking the Elusive Snow Leopards of China" was the inaugural lecture that launched the Wildcat Lecture Series by the Singapore Wildcat Action Group. It aims to raise awareness in Singapore of the world's myriad wildcat species through educational and informative presentations given by experts.
The snow leopard is listed as "vulnerable" in the International Union for Conservation of Nature's Red List of Threatened Species, which means it is facing a high risk of extinction in the wild. According to the Snow Leopard Trust, climate change threatens two-thirds of the snow leopard's habitat, which includes China, Bhutan, Nepal, India, Pakistan, Afghanistan, Russia and Mongolia.
Strategy Workshop for Centre for a Responsible Future

4 to 5 May 2019
Centre for a Responsible Future (CRF) and Conjunct Consulting held a 1.5-day strategy workshop for 15 staff and executive board members from CRF and Conjunct Consulting. The intensive brainstorming session allowed CRF to review the foundational work done in the past, the value proposition of its current programmes and services, and co-create its organisational structure for the future.
Secondsguru Zero Waste Bootcamp #1 Review Session

4 May 2019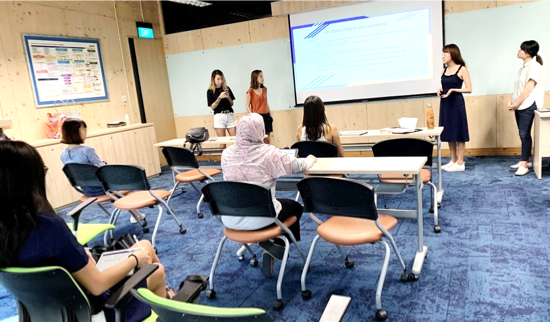 Secondsguru, a social enterprise that advocates sustainable living, launched its first zero-waste bootcamp on 2 March 2019 as part of a series to guide youths and their communities towards a zero-waste lifestyle. This is in support of the Ministry of the Environment and Water Resources' Year Towards Zero Waste for 2019.
In that inaugural bootcamp, 15 youths learnt how to embark on their personal zero-waste lifestyle and crafted zero-waste plans for their communities. After rolling out their zero-waste community action plans for two months, these green ambassadors returned to present their community rollout efforts, highlighting the challenges, successes and learnings they encountered. The winning team, Food Fighters SG, was then awarded a grant of $500 and a hamper of experiential goodies.
Sustainable Fishing Discussion

30 April 2019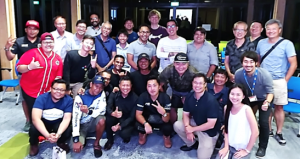 Fishing is a popular recreational hobby in Singapore and passionate anglers recognise that conserving Singapore's fish populations will help ensure the long-term sustainability of their pastime.
40 individuals and industry partners gathered to discuss the sustainable use of local marine resources and explore responsible recreational fishing methods such as minimum sizes, bag limits and catch-and-release. Organised by Marine Stewards (Singapore), the discussion was led by Dr Zeehan Jaafar, a lecturer at the NUS Department of Biological Sciences and lead editor of the Singapore Blue Plan 2018.
Cities of Love Awards Ceremony

27 April 2019
Into its second year, the Cities of Love Awards was launched to celebrate individuals and businesses who demonstrate how we can live sustainably by acting with love toward our cities. From small homegrown projects to large-scale corporate and academic schemes, it is dedicated to share these inspiring stories. Amongst the many impressive submissions, a project from the Singapore University of Technology and Design (SUTD), SUTD‐MIT International Design Centre (IDC) and UglyFood led by SUTD students clinched the distinguished and Top Prize award for the corporate / environmental category. The awards ceremony was graced by Dr Teo Ho Pin, Mayor of the North West Community Development Council.
Why Conservation Matters (Even If Animals Don't Matter to You) by Nature Society (Singapore)

24 April 2019
Modern medicine has been with us for roughly one hundred years, but evolution has been at work since life began 3.5 billion years ago. Every time we lose a species, we lose something that may affect humanity.
Nature Society (Singapore) held a talk to share the importance of conservation and invited Peter Allison, a renowned writer and safari guide to share how you can be a conservationist and have fun at the same time. And why conservation matters even if you are not interested in animals, with a focus around discoveries that are still being made about animals that can have medical or material benefits for us. Examples include the incredible work being done on how elephants avoid cancer, a recent discovery based on dragonfly wings that could create natural anti-bacterial wipes and also how butterflies may hold the clue to invisibility.
CDL-GCNS Young SDG Leaders Award 2019 Briefing

15 April 2019
Sustainability has become a mainstream business agenda. The global challenges such as poverty, climate change, biodiversity loss and gender inequality, can be tackled through greater action by businesses, accelerating the progress to a more sustainable world where no one is left behind. Formerly known as Young CSR Leaders Award launched in 2011, it has been renamed CDL-GCNS Young SDG Leaders Award since 2018. The annual case competition aims to raise awareness of the UN SDG and groom youths to champion sustainable development.
In a briefing session held to prepare the participants for phase 1 of the competition focusing on assessing CDL's business case, CDL's CSO Esther An articulated the company's ESG integration journey over the last 2 decades. Jae Lee, a youth champion from last year's Award winning team shared his experience on how to prepare for the competition and his tips to score well.
This year, more than 65 student teams are aspiring to be our next Young SDG champions. 10 finalist teams will get an exclusive opportunity to intern at organisations to help them improve their sustainability strategy. The final judging will take place in August 2019.
UNDP Private Sector Advisory Group Inaugural Meeting

10 April 2019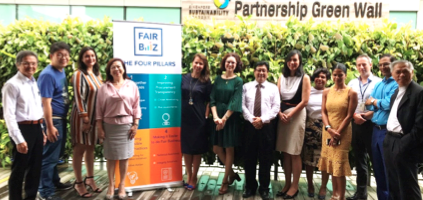 Fair Biz, a UNDP programme, held its first Private Sector Advisory Group (PSAG) Meeting at the SSA to promote a fair business environment in ASEAN. This by-invitation meeting was attended by 20 PSAG members, who were specially selected from the ASEAN members. Besides CDL CSO Esther An, the distinguished participants include David Smith, Head of Corporate Governance, Aberdeen Asset Management Asia Ltd (Singapore); Arin Jira, Chair, ASEAN Business Advisory Council (Thailand) and Y.W. Junardy, President, UN Global Compact (Indonesia). To kick-start the meeting, Mr Bradley Busetto, Interim Director, UNDP Global Center for Technology, Innovation and Sustainable Development and H.E. Scott Wightman, British High Commissioner, Singapore provided their opening remarks and set the stage for the lively discussions that ensued.
MBA students visit from the University of St Gallen, Switzerland

9 April 2019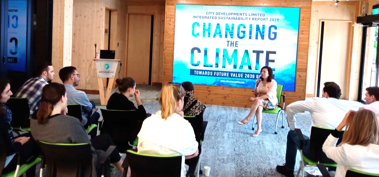 20 students from the University of St Gallen, Switzerland visited the SSA as part of their course syllabus to understand CDL's business case of sustainability integration. They were keen to understand the vision and mission of the Academy as well as the design and technology that have achieved net zero for the building. CDL CSO Esther An gave a presentation and addressed the students' questions on the role developers play in accelerating the green building movement and climate action in Singapore, a cause CDL has been championing for over two decades now.
After a short discussion, the students proceeded to visit CDL's South Beach development to learn more about CDL's implementation of green features in our developments.
MINDS MYG FY19/20 AGM

30 March 2019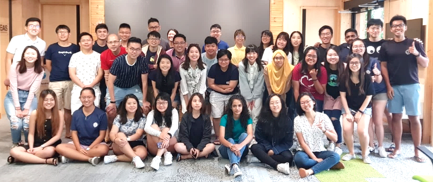 Movement for the Intellectually Disabled of Singapore Youth Group (MINDS MYG) is a volunteer wing of MINDS and is fully run by volunteers belonging to a total of 11 projects located island-wide. This sharing session was held to take stock of its achievements, the challenges faced in each project and its year plan for FY2019/2020. This platform provided an opportunity for the volunteers to also build connections and learn from each other.
"Designing for Behaviour Change" Workshop by WISE

23 March 2019
The Designing for Behaviour Change Workshop is an introductory workshop that equips learners with a basic understanding of the essential skills and knowledge to design interventions that promote positive changes in people's behaviour.
32 youths and changemakers who are passionate about making positives changes on the societal, community and individual level, attended this eight-hour workshop. The session covered engaging lectures, discussions, and hands-on activities to explore factors that influence behaviour, methods to identify barriers and motivators of behaviour change, techniques to change behaviour, and how to craft effective behaviour change messages.
By the end of this workshop, participants gained a better understanding of how to design projects that would achieve positive changes in behaviour more effectively. The Designing for Behaviour Change Workshop is part of WASH in Southeast Asia (WISE)'s training and mentoring program to build the capacity of organisations and individuals to create social impact in the areas of water, sanitation and hygiene (WASH). WISE WASH is a youth-led NGO that is active in Singapore, Indonesia, Cambodia and Vietnam.
The New Plastic Economy: Beyond the Buzzwords by Norwegian Embassy in Singapore

21 March 2019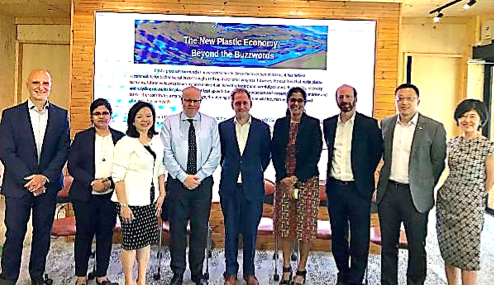 Plastic litter has become a mammoth challenge today, threatening the world's marine life, marine ecosystems and ultimately human health.
An international group of over 50 attendees came to SSA on 21 March 2019 for a panel dicussion organised by the Norwegian Embassy in Singapore, to hear industry experts share the best practices from their organisations and their views on the new way forward in dealing with the plastic economy. The event speakers included Ms Esther An, Chief Sustainability Officer of CDL, Mr Morten Høglund, Norway's Ambassador to ASEAN, Mr Kim Stengert, Chief Strategic Communication and External Relations of WWF Singapore and was moderated by Ms Kakuko Nagatani- Yoshida from the UN Environment.
Energy In The Sustainable Age - How Women Lead The Change by WIEA

19 March 2019
In celebration of International Women's Day, Women in Energy Asia (WIEA) organised a panel discussion on the topic, "Energy In The Sustainable Age – How Women Lead The Change".
The panel of speakers who spoke to the audience of over 80 business professsionals included: Ms Esther An, Chief Sustainability Officer, City Developments Limited; Ms Yeo Lian Sim, Special Adviser Diversity of Singapore Exchange; Ms Isabel Chatterton, Manager of Asia Pacific Private Public Partnership, International Finance Corporation and Dr Lerwen Liu, Managing Director of NanoGlobe Pte Ltd.
SDG Games by iGNICA

16 March 2019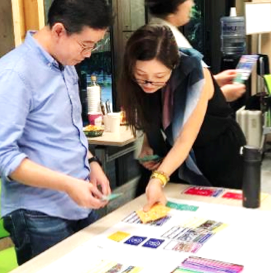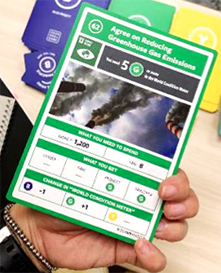 20 participants gathered at the SSA to take part in the first public SDG 2030 Games organised by iGNICA in Singapore. It is a card-based game that simulates taking the "real world" into the year 2030. Designed in Japan in 2016, this experience has become a powerful and impactful social phenomenon in Japan, earning extensive media coverage and reaching over 50,000 participants over the last two years.
Participants found the SDG Games session a novel and fun way of making them realise and ponder how the SDGs relate to their lives at a personal and social level.
Lepak In SG, Guide to Nature Guiding

9 March 2019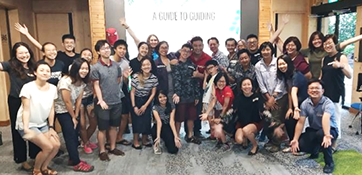 In this training facilitated by Ms Ria Tan, founder of Wildsingapore.com, 30 participants from the environmental community learnt the tips and tricks of being a good nature guide. Their classroom learning at SSA was followed by an outdoor field session the next day, to apply what they learnt into practice. The group joined volunteers from the Naked Hermit Crabs on a tour of the Berlayar Creek mangrove boardwalk, where experienced guides from the green community demonstrated the "how-to" for nature guiding.
International Women's Day panel, "Balance For Better" by Cushman & Wakefield

7 March 2019
International Women's Day on 8 March is a globally recognised day to celebrate the social, economic, cultural and political achievements of women from all generations.
In line with the 2019 campaign theme #BalanceforBetter, Cushman & Wakefield's Women in Networking (WIN) Committee held a panel discussion at the SSA, featuring speakers from CDL, Tembusu Partners, WORD Agency and Cushman & Wakefield who discussed the topic of gender balance in the corporate world. More than 80 industry professionals attended the event.
Secondsguru - Zero Waste Bootcamp for youths

2 March 2019
Secondsguru, a social enterprise dedicated to promote eco-awareness, conducted its one-day Zero Waste Bootcamp at the SSA. This workshop was their first in a series of four sessions this year, to train youths aged 18 to 30. Participants worked in groups of four to create action plans for guiding their target audience in the community to embrace sustainability.
This inaugural bootcamp series was launched in support of Singapore's Year Towards Zero Waste and as a fringe event in conjunction with Ecobank 2019. Dr Amy Khor, Guest-of-Honour for EcoBank's opening and Senior Minister of State for the Ministry of the Environment and Water Resources, interacted with the workshop participants while she was at City Square Mall, joined by CDL's senior management,Group CEO Mr Sherman Kwek, Group GM Mr Chia Ngiang Hong and Chief Sustainability Officer Ms Esther An.
Nature Society - How One Bird Changed Ecuadorian Conservation Forever

22 February 2019
Over 60 nature lovers attended a talk organised by Nature Society featuring author, ornithologist and conservationist, Mr Robert Ridgely, as the special speaker. Robert is a leading expert on the birds of South and Central America and a proponent of private reserve systems as a conservation strategy for endangered species.
Attendees were enthralled by Ridgely's discovery of a new species of antpitta (subsequently named as Jocotoco Antpitta) during his trek through the Andes in Southern Ecuador with a fellow birder. The bird is peculiar because of its unique call: it hoots, and it barks.
Ridgely also shared stories of how he and his colleagues founded the Jocotoco Foundation, to protect the species from imminent extinction. The Jocotoco Foundation now protects a total of nearly 60,000 acres at 14 reserves, the most recent being Isla San Cristobal in the Galápagos.
Climate Conversations, Facilitator Training Workshop

16 and 23 February 2019
Climate Conversations, a volunteer-run organisation, conducted a two-day workshop at the SSA to train their new volunteer facilitators on how to conduct small-group, in-depth discussions about the seriousness of climate change and motivate people to take action for a sustainable future.
By growing awareness and public support for climate solutions, Climate Conversations empowers people to take meaningful steps towards integrating sustainability into their daily lives.
WWF PACT Aggregator Roundtable

11 February 2019
Plastic is one of the biggest environmental issues in the world and demands urgent action from all sectors. Under the voluntary business-led Plastic ACTion (PACT) initiative by WWF in Singapore, WWF convened a corporate roundtable with around 30 corporate players from the real estate and service platform industries to discuss about concrete actions to reduce plastics usage within their operations. In the roundtable, attendees discussed the impact of corporate contributions and shared on their commitment to reduce plastic usage. CDL CSO, Esther An, was a participant at the roundtable and shared about CDL's best practices and initiatives in engaging tenants and home owners to be more environmentally-conscious.
Visit from BMS College of Architecture students, India

1 February 2019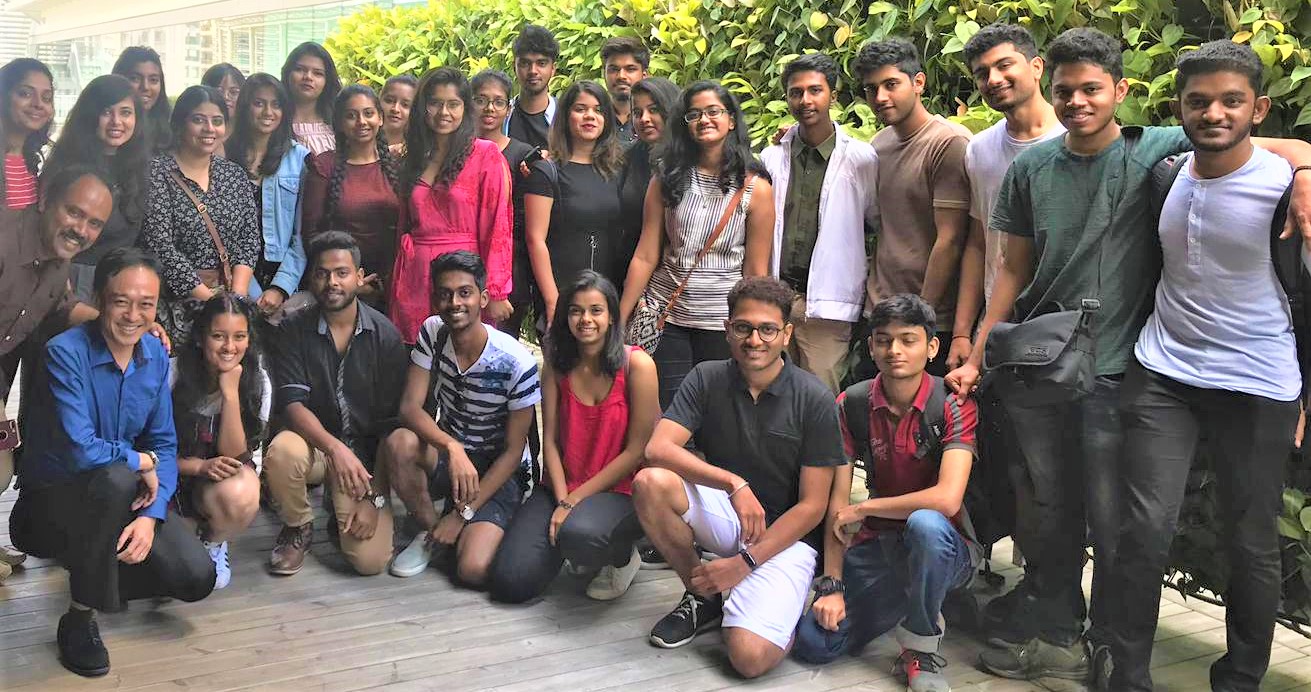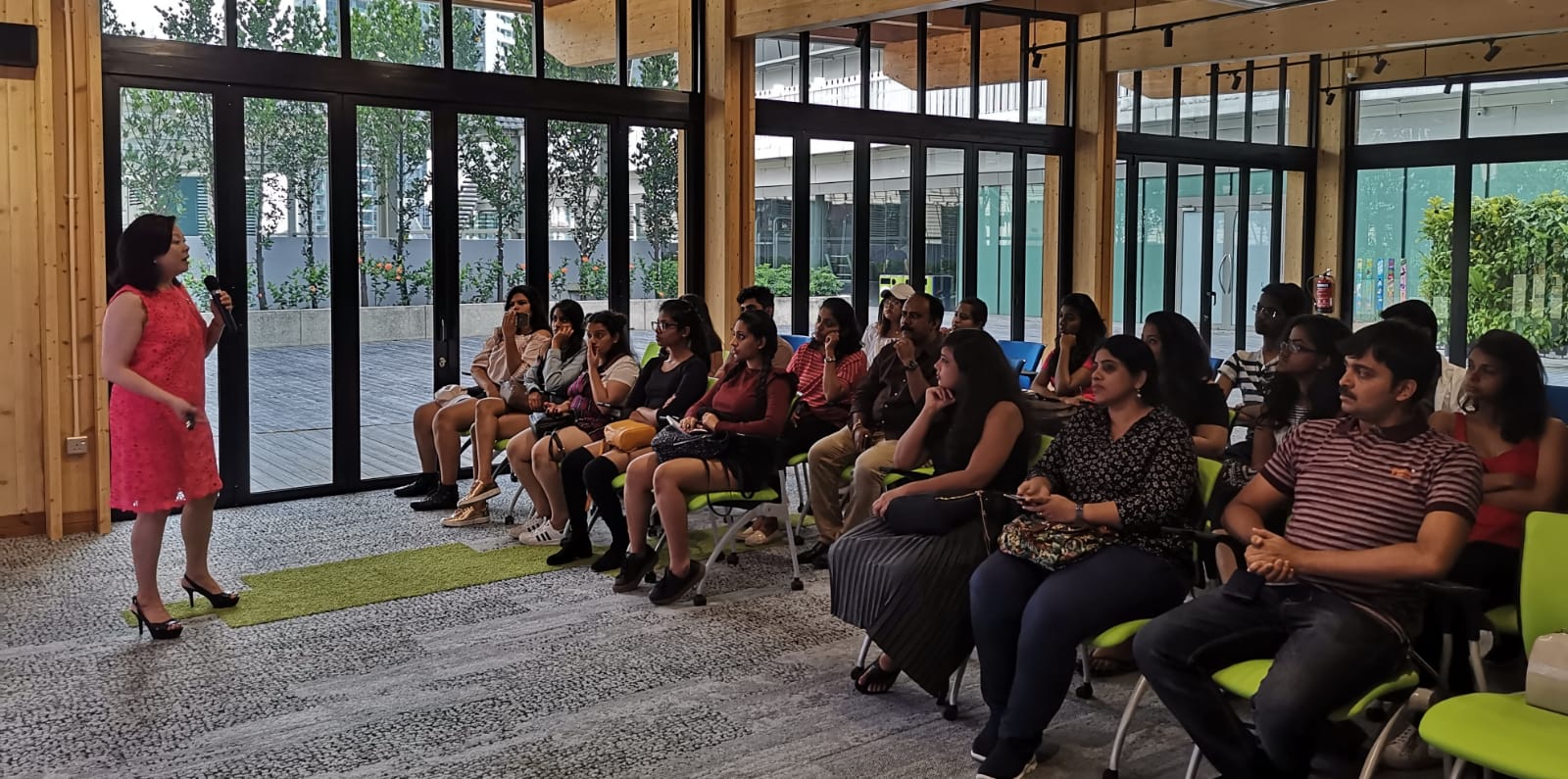 24 Bachelor of Architecture students and 5 faculty members from BMS College of Architecture, Bengaluru, India visited Singapore as part of their curriculum that examines sustainability in urban scale projects.
The students heard from CDL CSO, Esther An, on CDL's success story of creating future value and building partnership through sustainability. Following that, CDL Senior Manager, Projects, Alfred Ng, shared about the construction process of the SSA and the sustainable materials that went into its construction. The students and faculty members displayed enthusiasm during the Q&A, and a fruitful discussion about functionality versus sustainability ensued.
NEA Pre-school EEA networking

31 January 2019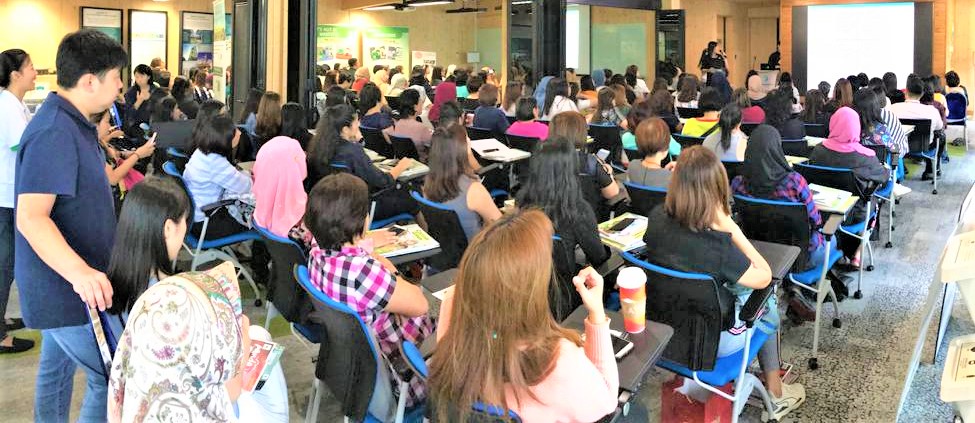 A total of 141 Environmental Education Advisors (EEAs) from 111 pre-schools attended the Pre-School EEA Networking Session organised by the National Environment Agency (NEA) at the SSA. The networking session is a platform for EEAs to network, share best practices on environment education and learn more about NEA's initiatives that could incorporate values-based environmental education into their centre's programmes.
Following the presentations by NEA and its partners, a dialogue session, EEA Ask!, was held to uncover synergies between the pre-schools and NEA. The teachers also had the opportunity to speak to Plastic-Lite Sg, Preschool Market, Public Hygiene Council, Restroom Association Singapore, Tetra Pak, The Food Bank Singapore and World Wide Fund for Nature to learn about the environmental activities available for pre-schools.
WWF Halt Technical Meeting

29 January 2019
The WWF Halt Technical Meeting was a private meeting between the world's largest palm oil traders and WWF, regarding a palm oil traceability project. The 25 participants concluded the meeting with a renewed confidence that work will continue to be collaborative between private industries and WWF.
14th EHS 5-Star Awards

25 January 2019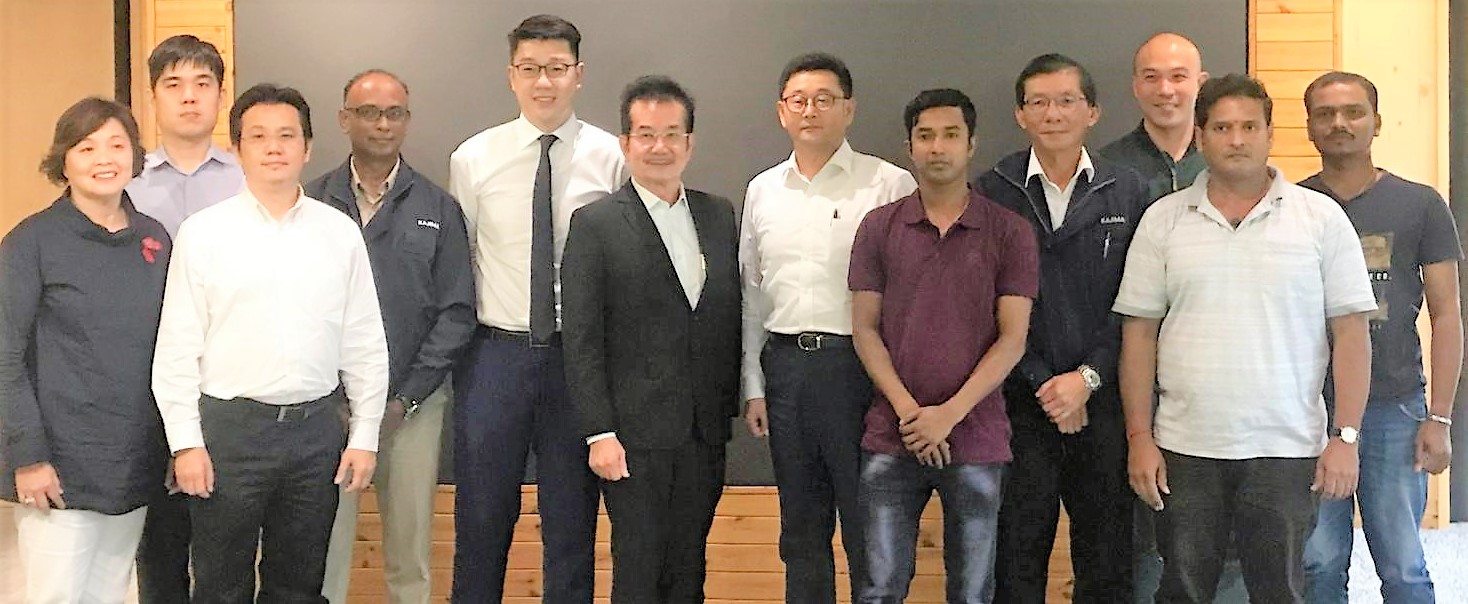 CDL's 14th EHS 5 Star Awards recognised the outstanding builders and suppliers who have been instrumental in enhancing and maintaining high workplace health, safety and well-being standards.
Pioneered by CDL in 2001, the 5-Star assessment system is an independent audit tool to assess, measure and improve builders' EHS management and performance. CDL was the first private-sector developer to proactively structure a comprehensive, audited and appraised approach towards EHS involving all its builders.
The CDL EHS Excellence Awards were presented to contractors who attained the top tier for their EHS scores, while three workers from Kajima, Woh Hup and Ssangyong won the CDL Workers' Welfare Award, which honours builders who have devoted excellent effort to ensure workers' welfare, including caring for their health, safety, living conditions and well-being.
The awards was attended by over 50 guests representing CDL's builders, architects and other consultants.
BCSD Singapore - Global Platform for Sustainable Natural Rubber Workshop

22 – 23 January 2019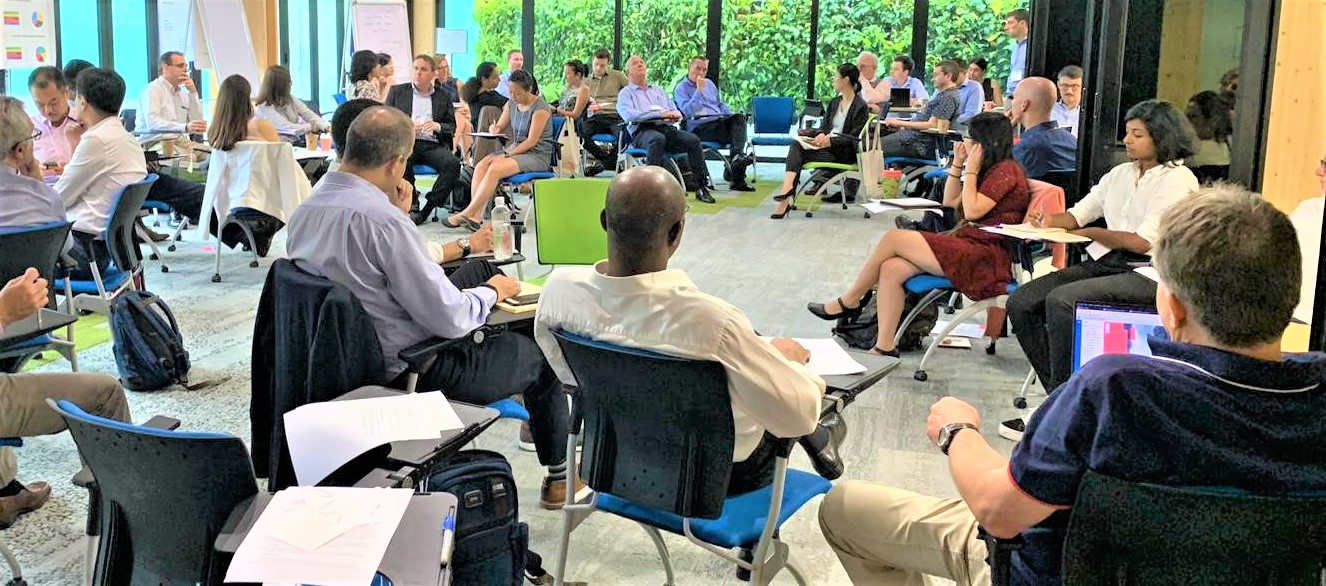 The Global Platform for Sustainable Natural Rubber was established to lead improvements in the socio-economic and environmental performance of the natural rubber value chain towards a fair, equitable and environmentally sound natural rubber value chain. The multi-stakeholder workshop organised by the Business Council for Sustainable Development (BCSD) Singapore aimed at bringing the platform's 56 founding members and interested stakeholders together to agree on a governance model and action plan for the platform.
NUS x NEA: Preparing Students for a Sustainable Future Workshop | Games for Change

19 January 2019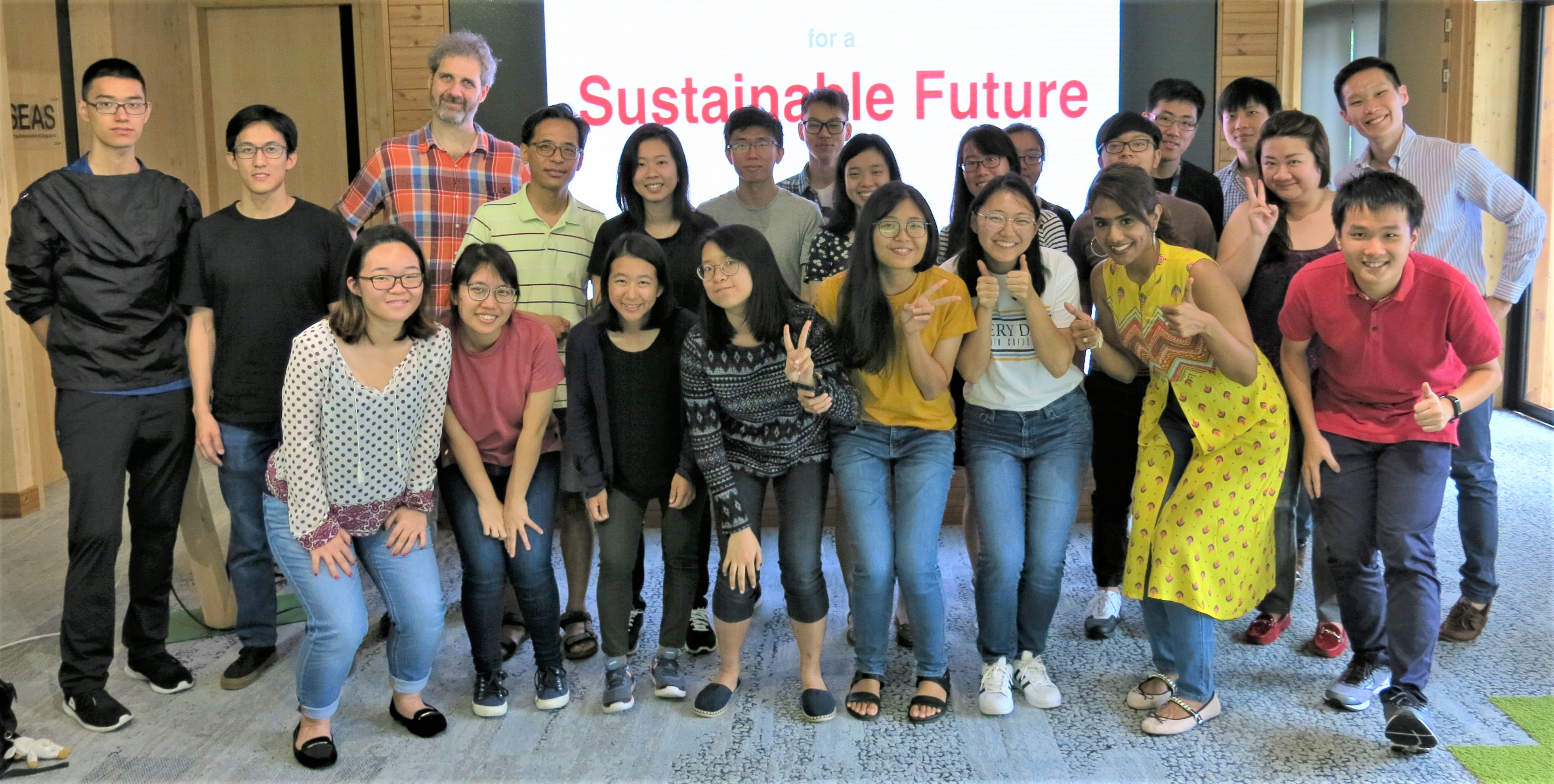 NUS and NEA co-organised the Youth Networking Session which was attended by 35 youths from various tertiary institutions from NUS, NTU, and SUTD. Participants played games to experience the complexities of environmental management decisions, and explored the consequences arising from their decisions. The workshop also aimed to equip participants with tools that can be used to communicate environmental messages in a more engaging manner. Dr Pablo Suarez, Artist-in-Residence at Lloyd's Register Foundation Institute for the Public Understanding of Risk, facilitated this interactive workshop.
WISE – WASH in Southeast Asia Limited Designing for Behaviour Change Workshop

12 January 2019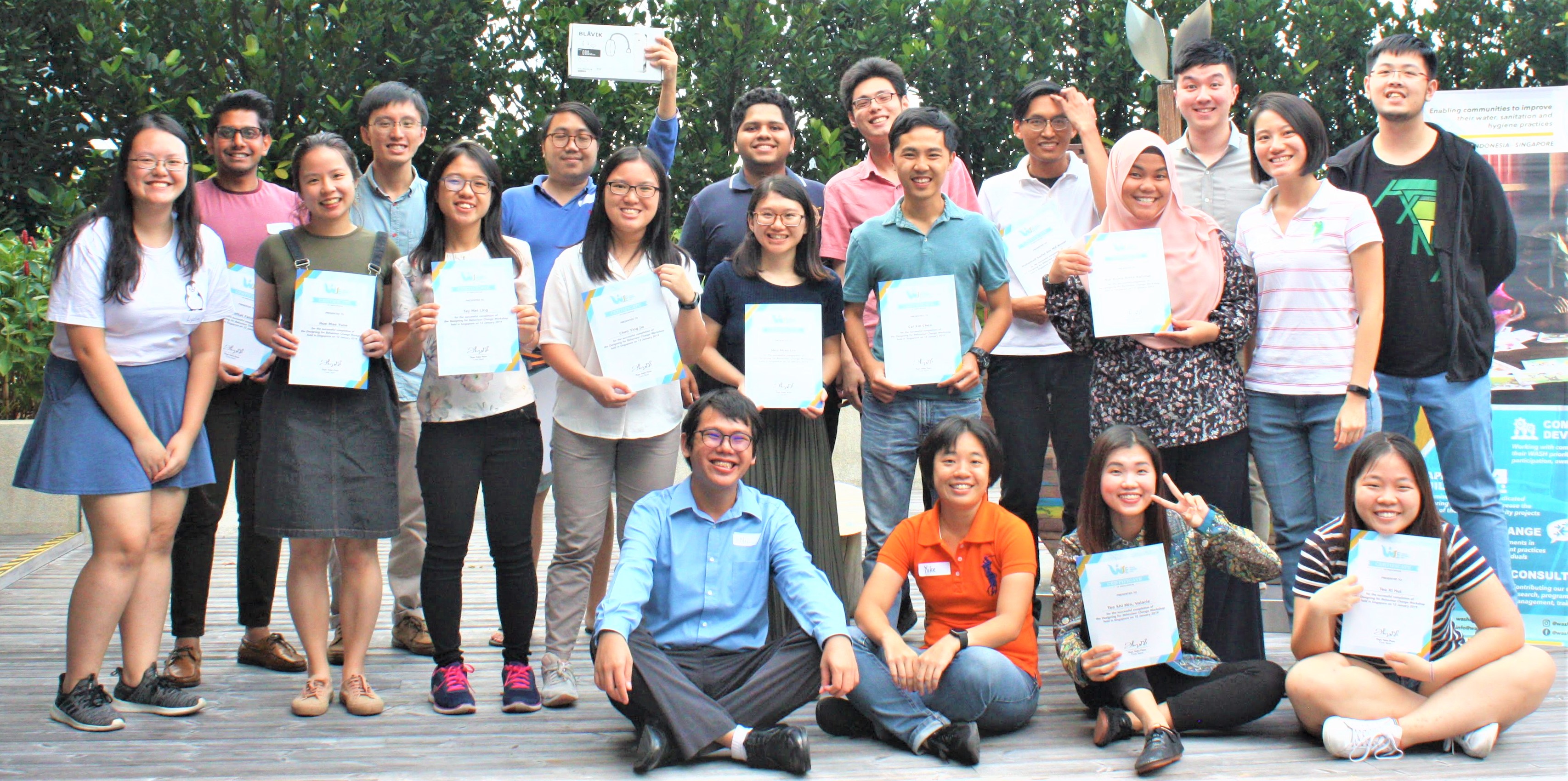 Every action begins with a thought. To drive behaviour change, WISE – WASH held an introductory workshop for members of the public interested in making positives changes in society. This full-day workshop consisted of engaging lectures, discussions, and hands-on activities. Participants explored factors that influence behaviour, methods to identify barriers to and motivators of behaviour change, techniques to change behaviour and craft effective behaviour change messages.
Shared by one of the participants, "It was truly enjoyable learning about behaviour change from the fun and knowledgeable instructors at WISE. They managed to share a lot, and deliver effectively, in the time we spent."
By the end of this workshop, participants are better equipped with skills to design projects that would achieve positive changes in behaviour more effectively.
The Designing for Behaviour Change Workshop is part of WISE – WASH's training and mentoring program to build the capacity of organisations and individuals to create social impact.
MINDS MYG Learning Day

12 January 2019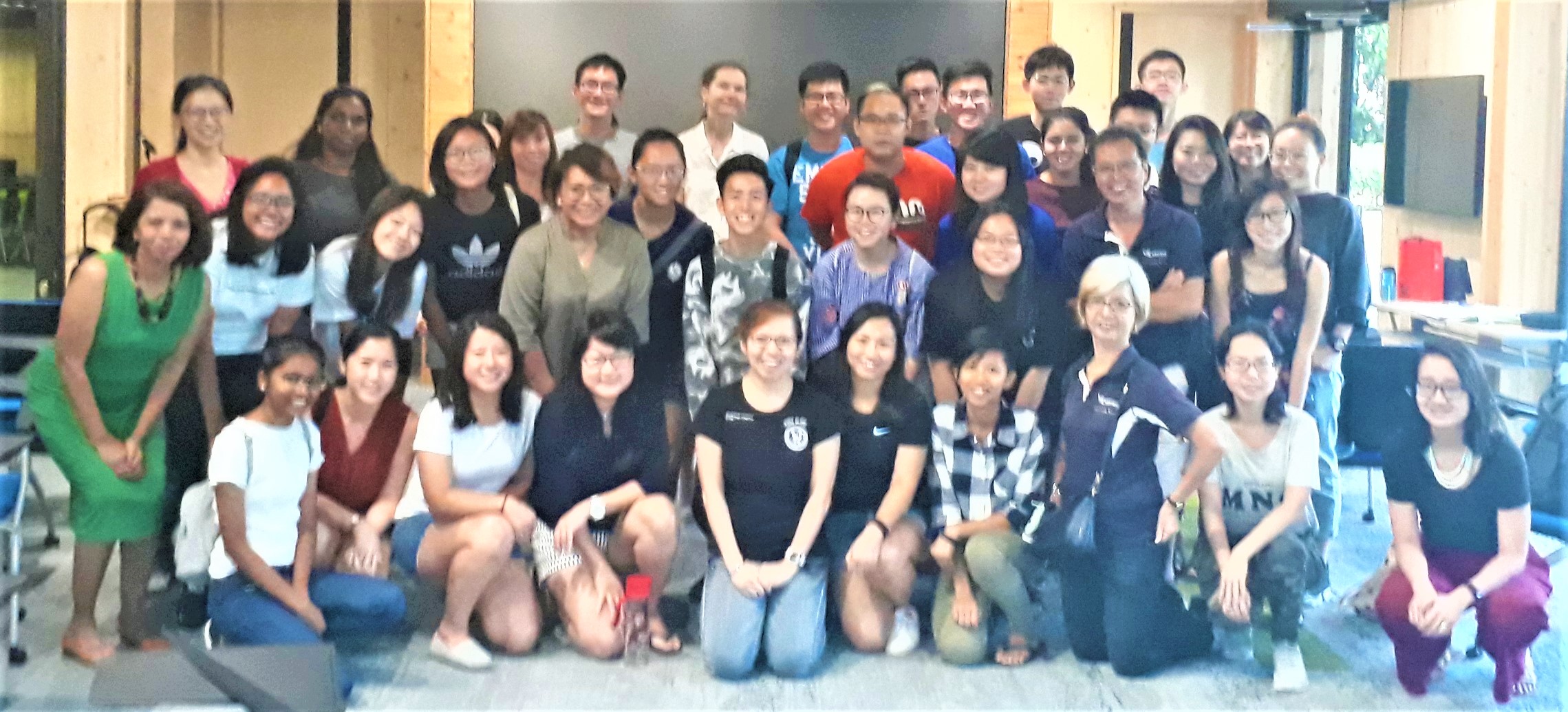 Approximately 50 participants from Movement for the Intellectually Disabled of Singapore (MINDS) MYG, a volunteer wing of MINDS, attended the MYG Learning Day on 12 Jan 2019. The session aimed to connect clients and caregivers to resources that they can tap on, as a reflection of their effort in cross-sector collaboration. Through the facilitation by experienced trainers, the caregivers had heightened awareness of available resources, identification of red flags pertaining to clients' needs, and learnt how to provide care without diminishing their clients' autonomy.
Trash or treasure: What does a zero waste business look like?

10 January 2019


In support of Singapore's declaration of 2019 as the Year Towards Zero Waste, CDL and Eco-Business jointly held a panel discussion that attracted an audience from the 3P sectors. Approximately 120 people listened to industry experts from Eco-Business, Greenpac Singapore, Fuji Xerox Singapore, Unilever Singapore and Food Bank Singapore on how they integrate sound environmental practices into everyday operations and transform waste streams into value for businesses, the community and the planet. Eco-Business also shared a sneak preview of its upcoming special feature on Southeast Asia's love-hate relationship with e-waste.
Related Links
2018 EVENTS
SEC Eco-Office Share & Learn Session

21 December 2018
Supported by CDL, Project Eco-Office is a programme by Singapore Enviroment Council (SEC) since 2002 that aims to encourage office workers to adopt low-carbon practices – the 'heartware' that complements the 'hardware' of green infrastructure and office buildings. This Eco-Office Share & Learn Session held at SSA brought together 30 participants from the people, private and public sectors. Besides having an enriching talk by SEC, participants had the opportunity to exchange success stories, thoughts and ideas on overcoming challenges faced when greening their workplaces.
Wish Wash - Designing for Behaviour Change Workshop

15 December 2018
WISE is an organisation that enables communities in Indonesia, Cambodia and Singapore to improve their water, sanitation and hygiene practices through community development, capacity building and behaviour change. Their December workshop, supported by National Youth Council, received active participation from attendees in the private and non-profit sector. The full-day course equipped these 30 attendees with the skills and knowledge for designing interventions and promoting positive behavioural changes in people.
Launch of "A SEA of Change" by Young Sustainable Impact (YSI) SEA

13 December 2018
Young Sustainable Impact SEA is a youth-led community in Southeast Asia that aims to nurture youths into social innovators, and helps them to form regional alliances and solutions aligned to the SDGs. A sharing session was held by the YSI SEA about  their Singapore Innovation Programme (SIP) at our SSA. The audience were also treated to a screening of the documentary named "A SEA of Change", directed and filmed by Ong Kah Jing. Ong Kah Jing is a recipient of the 2017 National Youth Film Awards and was nominated as the ASEAN Filmmaker of the Year at the 10th International Kuala Lumpur Eco Film Festival. The session wrapped up with an update and call for applications for SIP 2019 by YSI SEA's co-founder, Irsyad Ramthan.
BCA Built Environment (BE) Young Leaders Retreat

6 December 2018
Photo Credits: BCA
Over 90 young leaders of the built industry attended the BCA Built Environment Young Leaders Retreat on 6 Dec 2018. The event was graced by Mr Zaqy Mohamad, Minister of State of Ministry of National Development and Mr Hugh Lim, CEO of Building & Construction Authority. They shared their knowledge and insights of the future of the built environment over an engaging dialogue session. The young leaders also shared their views on ways that innovation can be supported and how data can be harnessed in the built environment, over a table discussion.
Workshop on the Singapore Blue Plan by LepakInSG

2 December 2018
The Singapore Blue Plan was drawn up in October 2018 to preserve Singapore's marine habitat. It was an extensive effort by more than 100 contributors, including biologists, environmental lawyers and NGOs. About a month after its launch, over 50 people gathered on a Sunday afternoon in this workshop at SSA to examine ways to act on the Blue Plan's recommendations.
Dr Zeehan Jaafar, Lead Editor of Singapore Blue Plan 2018, led the discussion in groups. Together, they bounced off ideas on how to bridge the gaps in science communication at schools and how to generate more interest among youths about marine life in Singapore.
Programme for Endorsement of Forest Certification - IT Solutions for Sustainable Forest Management in South East Asia

29 November 2018
Over 70 professionals participated in an interactive session aimed at bringing together forestry stakeholders, leading technology providers, innovators and sustainability experts to exchange views on what is needed, what is working and where are the opportunities for scaling up innovative applications of technology for forest management.
The sessions engaged participants in the ideation for a collaborative approach to address real situations in Myanmar and Laos pertaining to Sustainable Forest Management. The solutions from the ideation process is expected to be shaped into a partnership project to be implemented in the respective regions. Subject matter experts who presented include Trimble Forestry and Double Helix Tracking Technologies, which certified the wood used in the construction of the SSA.
AVPN Year-End Recap and Fireside Chat

29 November 2018
On 29 November, AVPN organised a year-end gathering for its members at the SSA to recap the association's engagements in 2018 to catalyse social investments in Asia and chart out their next steps ahead. Attendees were representatives of funders and resource providers who are committed to sustainable investing and maximising impact in the Asian region.
After a welcome speech by Ms Naina Subberwal Batra, CEO of AVPN, CSO Esther An joined her in a fireside chat to share insights on sustainable investing to the audience of 60 participants. Said Ms Naina about the event: "We are proud to be partnering CDL to host our delegates at the exemplary Singapore Sustainability Academy (SSA). The SSA reflects our core efforts to support our members with effective social investments, and I look forward to collaborating further with the SSA to drive a movement towards greater awareness of the sustainability issues surrounding Singapore, Asia, and across the world."
Character building for children from the Limbang community by CDL's City Sunshine Club

27 November 2018
CDL's staff volunteering group, City Sunshine Club (CSC), held a character building outing for 20 children from the Limbang community at the SSA. This initiative which started in 2017 strives to educate primary school children aged 7 to 12 on understanding, appreciating and applying ethical values through fun and interactive ways. Some of the core values taught to the children through games included truthfullness, responsibility and orderliness. Overall, the children had a fun day, bringing smiles to the CSC volunteers as well.
Nature Society Talk on "The Current State of the Global Environment"

27 November 2018
This talk organised by the Nature Society attracted a strong turnout of 100 attendees. The event highlight was the presentation by Dr Jim Frazier, rated by the BBC as one of the world's top wildlife cinematographers. He has won over 40 national and international awards for his work including an Academy award and an Emmy Award. Dr Frazier is well known for his nature documentaries with Sir David Attenborough, setting the standard for wildlife television with award-winning series like "Life on Earth" and "The Living Planet".
At the talk, Dr Frazier shared about his film project titled, "Symphony of the Earth", a wildlife feature film aimed at making a statement about the condition of our planet and its inhabitants. Dr Frazier also imparted his global perspective of the impact that humans have inflicted on Planet Earth, such as the extinction of some animal species. He also covered issues such as climate change, deforestation, ocean pollution and their devastating effects on birds and other animal populations worldwide.
Experience Sharing: Singapore's Sustainability Journey by ASEAN CSR Network

22 November 2018
At this half-day sharing event organised by ASEAN CSR Network (ACN), a group of 20 participants from Thailand's business sector had the opportunity to learn about Singapore's sustainability practices. The speakers were Ms Sarah Kerrigan, Manager (Sustainability Services) of Deloitte Singapore and Mr Chia Boon Chong, Director (Group Sustainability) of Singtel.
As a regional organisation, ACN provides a platform for networking and cooperation at the ASEAN level, supports capacity-building and training activities, helps to rally collective action on key issues, and provides a link with regional and international bodies interested in supporting the advancement of CSR in the region.
Kick-off for CDL's E-Generation Challenge 2019 in conjunction with Talk on "Sweden, Singapore And The Arctic" by MFA, Sweden

21 November 2018
Organised by the Swedish Embassy of Singapore, over 80 attendees came to hear from His Excellency Mr Bjorn Lyrvall, Swedish Ambassador for Arctic Affairs, Ministry for Foreign Affairs Sweden on his experience as a diplomat and participatant in the Arctic Council, which is made up of eight member countries, namely: Canada, Denmark, Finland, Iceland, Norway, Russia, Sweden, and the United States.
As an expert in the Polar region, Ms Katarina Gardfelt, Director General (Swedish Polar Research Secretariat) shared her knowledge about the changes of climate change in the Arctic region as well as several scientific expeditions that the research centre is embarking on.
CDL and its partner, the Global Green Economic Forum (GGEF), also announced the launch of CDL E-Generation Challenge 2019 that same evening. The two winners of the 2019 Challenge will embark on a trip to the Arctic, together with Sir Robert Swan's expedition in June 2019. The competition will open in January 2019.
Diving into Citizen Science: Marine Chit-Chats by Our Singapore Reefs

21 November 2018
Our Singapore Reefs organised its first marine chit-chat session to provide a platform for like-minded Singaporeans to exchange ideas and encourage marine stewardship among youths in Singapore.
The talk led jointly by Mr Nathaniel Soon, founder of documentary collective "Our Seas, Our Legacy" and local marine researchers, Ms Joy Sim and Ms Sam Shu Qin attracted 105 attendees, with a number of them from the diving community. The event ended with a Q&A session and networking which promoted collaboration for the conservation of Singapore's marine environment and biodiversity.
UNGC Regional Meeting and Learning Journey

20 November 2018
Over 30 overseas delegates including ambassadors from the region, guests from United Nations Local Networks, and business leaders from around the region came together at the SSA to discuss the latest in sustainability trends across Asia and Oceania and gain insights into what sustainability initiatives are implemented in different countries.
Ms Lise Kingo, CEO and Executive Director of the United Nations Global Compact (UNGC) also graced the event to meet the delegates and tour the SSA. About 30 participants of UNGC's Learning Journey Tour also joined the lunch networking session. All attendees were given a short presentation on the SSA by CSO Esther An.
Urban Sustainability Course by Skillseed Singapore

13 November 2018
Skillseed Singapore facilitated 22 students from Dalton Academy in Beijing for an experiential learning journey in Singapore about urban sustainability. City Square Mall, Singapore's first eco-mall and the SSA, as a zero-energy structure, became natural choices for the learning programme. The students tried their hands on making eco-bricks, which are building blocks made from plastic bottles filled with compacted clean, dry and used plastic waste. Following that, they explored the surrounding areas of City Square Mall to appreciate the native flora and gained an understanding of the waste management process in the facility.
In his feedback about the SSA, Mr Melvin Yeo from Skillseed said: "Great venue where the attention to detail shines through. A cleaning lady (who works at City Square Mall) shared with us her experience about how forward-looking this mall's sustainable practices are, compared to other malls in Singapore."
ASEAN+Social Good Forum by Impact Hub

12 November 2018
The ASEAN+Social Good Forum is an event organised by Impact Hub KL at the SSA to inspire conversations and showcase innovations that promote achievement of the United Nations (UN) Sustainable Development Goals (SDGs). Four top teams from the 2018 ASEAN Impact Challenge pitched their ventures to the audience comprising of over 50 investors and members of the public, as well as the panel of judges consisting of Mr Chris Yeo, Regional Head of Grab Ventures, Ms Leza Parker, CEO of SC Beauty Network and Mr Eugene Ho, Head of Corporate Affairs of SAP.
In addition, the judges and Dr Shariha, co-founder and board member of Impact Hub KL, shared their knoweldge and experiences over two panel discussions on how to build businesses aligned with the UN SDG goals and create an impact for social good.
Animal Concerns Research and Education Society (ACRES) Forum "Let's Chat About Protecting Our Environment"

1 November 2018
The issue of plastic bag usage has been gaining attention in the media. One of the more notable call-for-action was the motion to impose a charge for plastic carriers by Member of Parliament, Mr Louis Ng in October 2018. Mr Louis Ng is also the co-founder of Animal Concerns Research and Education Society (ACRES). To gather more feedback and encourage dialogue about the over-consumption of plastic bags in Singapore, ACRES held a public forum at the SSA. Issues that were discussed during the session included various environmental concerns in Singapore as well as policies that could be improved to protect the environment. About 30 members of the public attended the event, contributing to the lively discussion that evening.
Colours of Singapore by Fashion Pulpit

14 October 2018
As part of the Singapore Eco Film Festival programme, about 20 audience heard from Raye Padit, founder of the Fashion Pulpit, regarding the journey of discarded clothing and the detrimental environmental impact caused by unethical businesses in the fashion industry. Participants also had the chance to create an art installation by weaving T-shirt yarns together, taught by Ms Agy, a textile artist. The art piece was crafted in the style of Peranakan tiles, and depicted the flora of Singapore. The mission behind this handmade artwork was to break the Singapore Book of Records for Singapore's Largest Knotted Artwork made of upcycled T-shirts. Overall, the event organised by Colours of Singapore was a fun and educational way to deepen one's awareness of sustainable fashion.
Sustainability Camp by Tingkat Heroes

13 October 2018
Tingkat Heroes is a local NGO focusing on zero waste, founded by a passional youth, Pamela Low. Its first sustainability camp for youths, was held at the SSA on 13 October 2018. Attended by 47 participants, the workshop dived into a variety of topics including fashion, diet, plastics and e-waste. There was also an interactive dialogue between the youths and CSO Esther An. Esther shared about CDL's sustainable practices, SSA's role as a collaborative space to advance the sustainability agenda and how youths can become active contributors to the green cause.
In line with the event theme, the campers enjoyed a wholesome vegan lunch made from "ugly vegetables" collected by SG Food Rescue. To sum up their learning, the participants gathered around in World Café style to share their reflections and urged one another to press on even after this event, in their pursuit for sustainability.
Civil Service College - Social Sector Milestone Programme

8 October 2018
The Social Sector Milestone Programme is a 12-day programme by the Civil Service College, for officers holding middle management positions under the Public Service Leadership Programme (PSLP) Sectoral Phase, PSLP (Education Service), and equal calibre officers from social sector agencies. SSA hosted about 20 participants in this programme on 8 October 2018.
The participants explored how citizens can create value beyond being mere consumers of goods and services. They identified ways to engage citizens in the design and delivery of government programmes and policies, and deepened their understanding on how the government can provide stronger support towards ground-up initiatives.
CSO Esther An, was invited to share about the creation of the SSA, a zero-energy sustainability academy that exemplifies successful 3P partnership. Since its opening in June 2017, the SSA has hosted a myriad of sustainability-themed events from zero waste, marine conservation, climate action workshops and thought leadership events. Esther also shared about CDL's 3P partnership initiatives like #BeatPlasticPollution campaign, EcoBank and Feeding the 5000.
Wildtype Media Group, The Big Problem of Microplastics

27 September 2018
Scientists predict that there will be more plastic than fish in the ocean by 2050. Up to 30% of plastic released into oceans each year could be microplastics, entering into the human food chain through seafood consumption.The potential detrimental effects of microplastic pollution require urgent action.
At the talk held on 27 September 2018 titled "The Big Problem of Microplastics", giant clam researcher, Dr Neo Mei Lin and Singapore's leading coral reef expert, Professor Chou Loke Ming shared interesting findings about the impact of microplastics on the ocean and marine life to over 100 conservation enthusiasts.
Temasek Ecosperity, Futures-Thinking Workshop

22 September 2018
With the increasing number of environmental sustainability initiatives facing everyone these days, how do people even begin to respond to buzzwords like 'sustainability' and 'liveability'? How do we start thinking about new possibilities?
To address these questions, Temasek Foundation Ecosperity organised the 'Envisioning a Liveable Singapore' workshop for students from the NUS. The focus group discussion was facilitated by Young Sustainable Impact Southeast Asia (YSI SEA) and saw the NUS students brainstorming vision statements and new ideas for sustainability in both visual and textual forms. The event provided an avenue for the 30 participants to forge collaborations for sustainability leadership within their volunteer communities. Participants also had the opportunity to hear more about the work of Temasek Foundation Ecosperity and YSI SEA in the sustainability innovation sector, and how they catalysed the development of innovative and transformational solutions. To walk the talk on sustainability, the students even brought along their own reusuable cutlery and containers for the event's lunch reception.
WWF Regional Meeting and WWF Sustainable Finance Workshop

17 – 21 September 2018
The Asian Finance Practice community gathered in Singapore at the SSA in mid-September 2018 for its regional meeting. Hosted by WWF Singapore, the meeting was attended by over 50 participants from 11 countries to discuss and share information on implementation of the Finance Practice Strategy and the Areas of Collective Action and Innovation (ACAIs).
The meeting also benefited from the active participation of regional experts from UNEP FI, ABN AMRO Bank, Ernst & Young, Moody's and the Stock Exchange of Singapore on its first two days, as well as other speakers who touched on Climate and Energy, Forests, Food, Governance and Wildlife Practice, Public Sector Partnerships and Communications.
The meeting was an excellent opportunity to share the work being done on sustainable finance around the region and to share information with regional focal points on latest happenings in the Finance Practice within ACAI communities. The SSA subsequently hosted another 20 people to delve into WWF's Sustainable Finance in ASEAN. A workshop was held to discuss upcoming projects for the next three years and the discussions involved strategic planning, deliverables and execution of activities for the different offices under WWF.
LepakInSG's Sea Our Shores – Marine ID workshop

16 September 2018
As an island-country, Singapore is blessed with seagrass lagoons, coral reefs, rocky shores and mudflats which are home to a multitude of marine species. To enhance the public's knowledge of these marine species, LepakInSG held a workshop at the SSA for 42 participants. Nature enthusiast Ms Ria Tan from WildSingapore also shared expert tips on how to identify tricky-to-spot marine species. Through the event, these members of the public learnt how to identify marine creatures seen on Singapore's shores and got acquainted with reliable online marine-identification databases.
International students visit SSA

10 September 2018
The NTU Asian Business Case Competition (ABCC) is an annual case challenge centred on business and sustainability, organised by the Nanyang Business School. As part of the competition, some 70 international university students visited the SSA for its green building features. They learnt first-hand from CSO about CDL's sustainability strategy and green building innovation. The knowledge acquired from the visit helped to spark ideation among the participants in developing their case submission for the competition.
Nature Society Singapore, Birding in Singapore With Your Eyes Closed

6 September 2018
The large community of birders in Singapore showed the strength of their numbers during their talk on 6 September 2018 at the SSA. Organised by the Nature Society (Singapore), the 150-strong audience were entralled by the talk led by Dr Yeo Seng Beng, a veteran in birding. He shared about the popularity of birding in Singapore and pointed out how bird sounds and calls are an integral part of the birding experience. The audience were taught how to identify bird species based on their calls. In addition, they learnt about the mechanics (equipment used and basic analysis) of bird sound recording and its use in bird conservation. At the end of the talk, the audience left with a deeper appreciation of avian biodiversity and the role they can play in the conservation of bird life.
BCA-CDL Green Sparks 2017/2018 Finals

3 September 2018
The BCA-CDL Green Sparks Competition is a nation-wide biennial green building competition and a public-private initiative by the BCA and CDL. Into its fourth edition, the competition received over 30 entries this year. The tertiary students conceptualised innovative green solutions to make Bukit View Secondary School positive energy or zero energy. The finals for the competition was held at the SSA, where each team showcased their proposals to the judges. The winning entries of the BCA-CDL Green Sparks Competition 2017/2018 were recognised and subsequently exhibited later in the same month at the BCA Pavilion during BEX Asia 2018.
GCNS Youth Seminar on the Arctic

1 September 2018
To most people in Singapore, the Arctic is perceived as an inhospitable, far-flung location with sweeping tundra, glaciers and ice caps. As for the 100 attendees who were at the seminar on "What A Changing Arctic Means For Singapore", they became aware why Singapore should be more concerned about the effects of climate changes in this region more than 7,000 km away from our country.
As the Arctic region opens up and integrates deeper with the global economy, its impact on Singapore will come in many ways. This seminar for youths was organised by Energy Studies Institute, GCNS and supported by the Ministry of Foreign Affairs (MFA). The Guest-of-Honour was Minister of State, Ministry of Foreign Affairs & Ministry of Social and Family Development Mr Sam Tan Chin Siong, who shared about his experiences at the Arctic in his closing remarks.  
Climate Conversations, Facilitator Training Workshop

1 September 2018
Many people are concerned about climate change but do not feel that they know enough to act. To bridge this gap, Climate Conversations, a non-profit volunteer organisation, held a workshop under its facilitator training series at the SSA, to equip participants with the skills to become change agents for climate change. One of the trainers at Climate Conversations who conducted the facilitator workshop is Ms Kei Franklin. Ms Franklin is an outreach manager and course architect at Skillseed, where she crafts and curates socially-impactful experiential learning journeys for youths. She is also an editor and writer for Brack magazine, a platform for socially engaged artists in Southeast Asia. Ms Franklin shared that facilitation is a powerful way to contribute to social change. Creating space for conversation can be a powerful first step that contributes to the climate movement.
NTU SEC Challenge- Participant Visit to SSA

30 August 2018
As part of CDL's commitment to youth development and pioneering sustainable urban solutions, CDL hosted participants of the Sustainable Enterprise Challenge (SEC) 2018 at the SSA. SEC is a local case challenge which aimed to seek solutions and recommendations from the Nanyang Technology University (NTU) student community to enhance the sustainability of the NTU campus. Attended by close to 25 students from diverse faculties, the visit and a sharing by CDL Chief Sustainability Officer (CSO) Esther An enabled students to gain a deeper understanding about CDL's efforts towards sustainable development in an urban landscape. This played an integral role in sparking ideation in the SEC participants to find sustainable solutions for green campuses and eco-buildings.
CDL-GCNS Young SDG Leaders Award

17 August 2018
Jointly organised by CDL and Global Compact Network Singapore (GCNS), the CDL-GCNS Young SDG Leaders Award is an annual case competition that offers youths a platform to champion sustainable development and SDG integration into business for positive change. This year, aligning with the global goals for sustainable development, the Award seeks to educate and empower young leaders with SDG knowledge and skills, while inspiring companies in Singapore to take action on the SDGs.
A total of 83 teams from universities, polytechnics, junior colleges and high schools submitted their entries. After an intense round of evaluation, 10 finalist teams were chosen. The final assignment involved analysing their case companies' sustainability strategy and assessing how they can better align their sustainability strategy with SDGs, which included coming up with innovative and sustainable products or services. At the final judging, the panel of judges were impressed with their professionalism and innovative ideas, reflecting their sound understanding of the SDGs and case companies' sustainability strategies.
Results of the winners will be announced in November 2018.
Accommodate SG: Accommodating Climate Change

12 August 2018
As a means of understanding climate change's impact on Singapore's urban planning and redevelopment, 48 participants played a land-use simulation game that was designed to focus on climate change. Participants stepped into the shoes of policy-makers and built a Singapore that they envisioned, while considering the land constraints and priorities of the country. Through the process, participants explored the relationship between economic and population growth, climate change and urbanisation.
With deeper understanding of climate change's impact to Singapore and the desire to fight climate change, the participants collectively took the Climate Action Pledge by Ministry of the Environment and Water Resources (MEWR) and commited to be more climate-friendly in their daily lives. Later in the session, 4 speakers from the People, Private, Public sector spoke about actions that could be done to combat climate change.
Chua Ying Xuan and Sammie Ng, co-founders of Accommodate, said about the SSA, "The thoughtful layout of the SSA makes a particularly brilliant location for public engagement events like Accommodate. The space itself being sustainable in terms of its building material and carbon neutrality is also extremely inspiring and heartwarming to us organisers and participants who are passionate about sustainability, making it a perfect place for fulfilling SDG 17, which is Partnership for the Goals."
BCSD Singapore - Sustainable Natural Rubber Platform

31 July - 1 August 2018
Engagement with stakeholders is critical in understanding the issues that an organisation's stakeholders care about. Business Council for Sustainable Development (BCSD) Singapore conducted a workshop, which saw its key stakeholders come together to review and discuss some of the foundational elements of the Sustainable Natural Rubber Platform (SNRP) with regards to its ambitions, organisation, principles and progress towards an official launch in the coming months.
YSI SEA Singapore Sustainability Conference and Showcase

29 July 2018
The event started with the Young Sustainable Impact Southeast Asia (YSI SEA) Sustainability Conference, which brought together 55 investors and guests, representing 24 different organisations. During the product pitching session, 6 impact start-ups (formed from 24 regional finalists) with innovative sustainability solutions made their pitch for product uptake and funding to the floor of investors, consisting of venture capitalists, impact investors and other investors. It was truly a moment of euphoria as all 6 teams successfully secured funding or development support from the investors.
The event progressed to the Singapore Sustainability Showcase, which was held as a grand culmination of the 14-week Innovation Programme. The opening was graced by Minister Desmond Lee, Minister of Family and Social Development, Second Minister for National Development. The theme "Rethinking Innovation" aimed to shift the limelight from solutions to the real problems that motivate sustainability players. YSI SEA's presentation prompted the audience to rethink about sustainable innovation and getting to the heart of problems. The audience were also inspired by the presentations by the booth partners, where they shared about how social-sustainable enterprises function and the passion that drives them. SSA was honoured to have hosted the 500 like-minded individuals investors and guests, who were passionate about driving sustainability solutions to the market.
National Youth Council Youth Conversations on Zero Waste

28 July 2018
The National Youth Council (NYC)'s Youth Conversations is a platform for youths to voice their opinions, connect with their peers from all walks of life, and come up with ideas for change on a range of environmental and social topics of interest to Singapore. It also gives them the opportunity to propose innovative ideas and experiment with solutions with support from the NYC.
This event focusing on Zero Waste aimed to engage youths to discuss and share perspectives on the topic of waste generation and reduction across a range of topics like sustainable fashion, food waste, e-waste and others. They aimed to spur youths to greater individual and collaborative actions, hopefully leading up to more systemic change. Exploring the questions of 'Where are we?' 'Where do we want to go?' and 'How can we lead us there?' around Singapore's waste issues, some 60 youth participants were able to surface their concerns on various waste-related topics and discuss their ideas for action to realise their zero-waste goals. They also heard from civil society initiatives like Straw-Free Singapore and corporates like CDL about their respective efforts to reduce waste and increase recycling.
The Youth Conversation ended with a call for action, where several participants were inspired to share their own plans and ideas to work towards zero waste.
Visit from Ramaiah Institute of Technology School of Architecture students

27 July 2018
30 students and 3 professors from the Ramaiah Institute of Technology in Bengaluru, India visited the Singapore Sustainability Academy during a study trip to Singapore. Hailing from the private college's School of Architecture, the 4th year students were studying architectural designs for urban spaces. They were keen to learn about how the Academy, as a sustainability space in an urban setting, was transformed from a bare skypark into a green building through the use of innovative and sustainable building materials. They also visited the Academy to learn about how the space has been used to promote and advance environmental and social initiatives.
During the visit, CDL's Chief Sustainability Officer Esther An gave an overview of the SSA's programmes and core focus of promoting sustainable development through providing a free space for the community to use. Senior Project Manager Alfred Ng, who led the development and construction of the SSA, then spoke to the students about the architectural design and building process, from the sourcing of the SSA's sustainable timber as verified to the Nature's Barcode system, to its creatively designed roof that keeps out the heat while allowing rainwater to be funneled off for collection. The students were inspired by the SSA's holistic dedication to sustainability.
CDL 5-Star EHS Seminar

25 July 2018
Into its 69th cycle, the CDL 5-Star Environmental, Health & Safety (EHS) seminar provided a valuable platform to promote the importance of EHS among CDL's building industry partners including architects, engineers, quantity surveyors and contractors. Speakers from the Workplace Safety and Health Council and Ssangyong Engineering & Construction (E&C) were invited to share on topics such as mosquito breeding and work safety at height, to close to 100 participants. Results of the CDL 5-Star EHS Audit Assessment for ongoing projects in the second quarter of 2018 were also announced during the seminar to recognise exemplary EHS performance displayed by the builders.
LepakinSG 'Sea our Shores' Blue Nudge Workshop

20 July 2018
Small nudges make a difference! For LepakInSG's '7th Sea Our Shores' Blue Nudge Workshop, they brought together a small group of 15 marine activists and community players to discuss the mounting marine trash problem in Singapore. The workshop aimed to raise awareness about current efforts taken by the government and civil society groups. The attendees were also informed about how they can stay involved and provide their feedback to the various groups involved.
LepakinSG PublicAction's discussion about the Sustainable Singapore Blueprint

11 July 2018
10 environmental community group representatives were invited for a focus group discussion on the Sustainable Singapore Blueprint (SSB), a roadmap for Singapore's national sustainability plan published by the Ministry of Environment and Water Resources (MEWR) in 2015. The discussion aimed to collate opinions and feedback from the ground about the plans laid out in the SSB, to be sent to the relevant government agencies for the next review of the SSB.
UN Environment (UNE) Southeast Asian Youth Environmental Network (SEAYEN) Forum

6 - 7 July 2018
The UN Environment (UNE) Southeast Asian Youth Environmental Network (SEAYEN) Regional Meeting is a gathering of selected youth representatives from 10 ASEAN member nations. It is held every two years to gather prominent youth environmentalists from ASEAN to report on their countries' environmental status and the activities done by young people in their home countries. As the ASEAN Chair for 2018, Singapore was privileged to host this year's Regional Meeting at the aptly-chosen venue, the Singapore Sustainability Academy (SSA). This is also complementary with 2018 set as Singapore's Year of Climate Action. The event was organised by the National Youth Achievement Award (NYAA) of Singapore in collaboration with UN Environment.
At the Forum held in the SSA over two days, talks from sustainability experts from Singapore and capacity-building sessions were held to equip 30 youth leaders with knowledge and skills to enhance environmental actions back home. They were encouraged to 'work local, think global' in order to brainstorm for solutions and new ideas with their peers and glean best practices from other countries.
Global Youth Summit Visit

28 June 2018
Over 180 youths from the Asia Pacific region visited City Square Mall and SSA as part of the Global Youth Summit (GYS)'s Green Dot Learning Journey. The GYS is organised by Hemisphere Foundation, a local non-profit social enterprise, and it provides a youth-led global platform for youths to connect, discuss and initiate innovation for sustainable solutions to protect children, fresh water and the natural environment from further destruction. Through this visit, they learnt about CDL's extensive sustainability efforts and the eco-features of City Square Mall, Singapore's first eco-mall that is also owned and managed by CDL.
Northland Secondary School's Eco Knowledge Quest and Photo Hunt Challenge

25 - 26 June 2018
As part of Northland Secondary School's eco-education programme, several passionate teachers organised a learning journey for 120 students to the SSA and City Square Mall to learn about existing efforts to conserve energy, water and resources. The students took away much knowledge about conservation efforts done on a personal, national and international level, and the students and teachers alike were inspired by the SSA's embodiment of sustainable materials and mission.