Happenings
Past Events
ZeroWaste SG Volunteer Gathering and Briefing
24 March 2018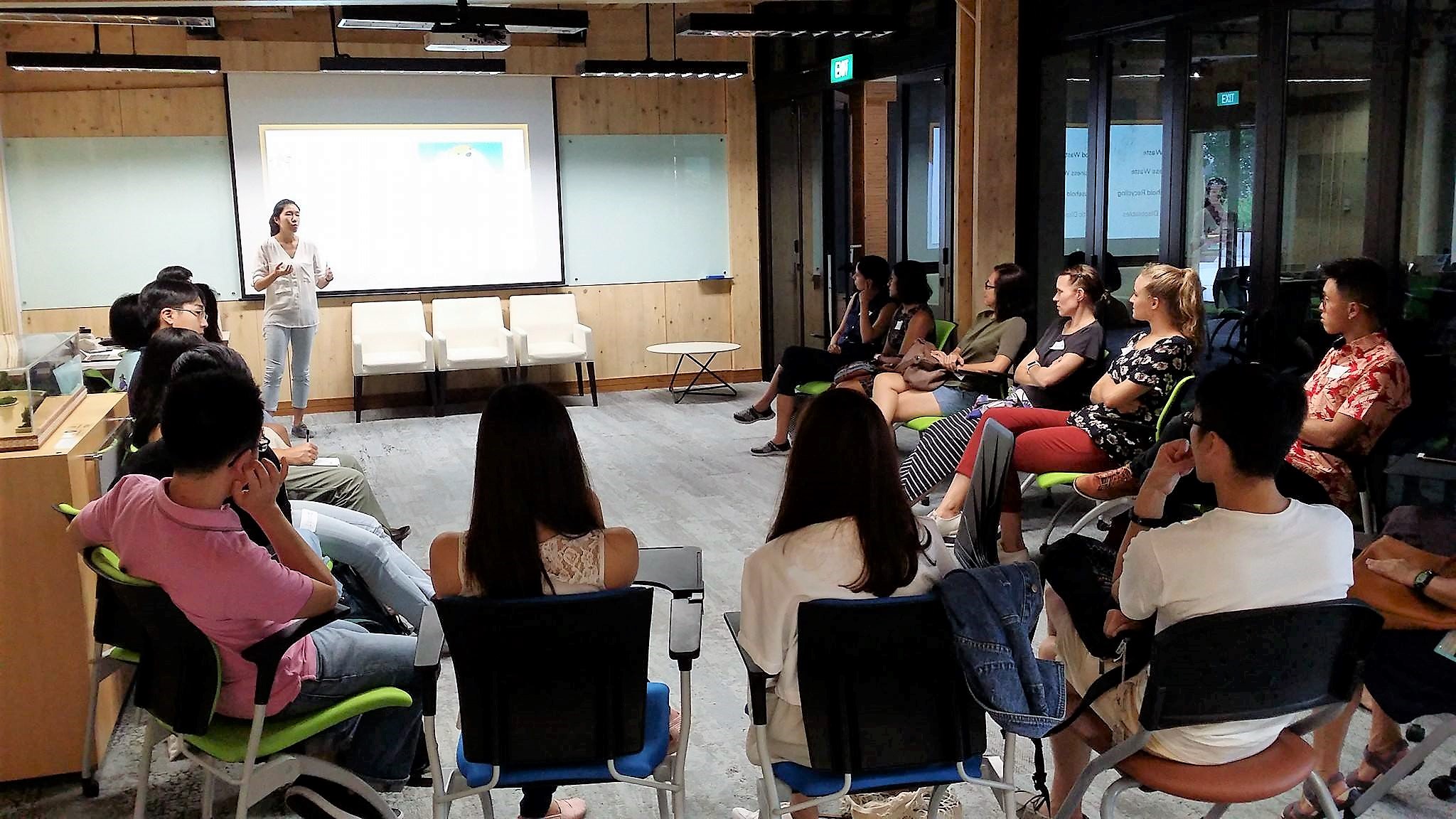 Local non-governmental organization (NGO) Zero Waste Singapore gathered some 20 volunteers to engage and involve them in the NGO's focus areas and activities in 2018. These include public talks about the Bring Your Own (BYO) campaign, recycling, and food waste, as well as social media outreach and engagement. Plastic and food waste have been major concerns for Singapore over recent years, with the government and civil society ramping up efforts to advocate use of non-disposables and methods to prevent food waste through public education and partnerships.
CDP Singapore Workshop
22 March 2018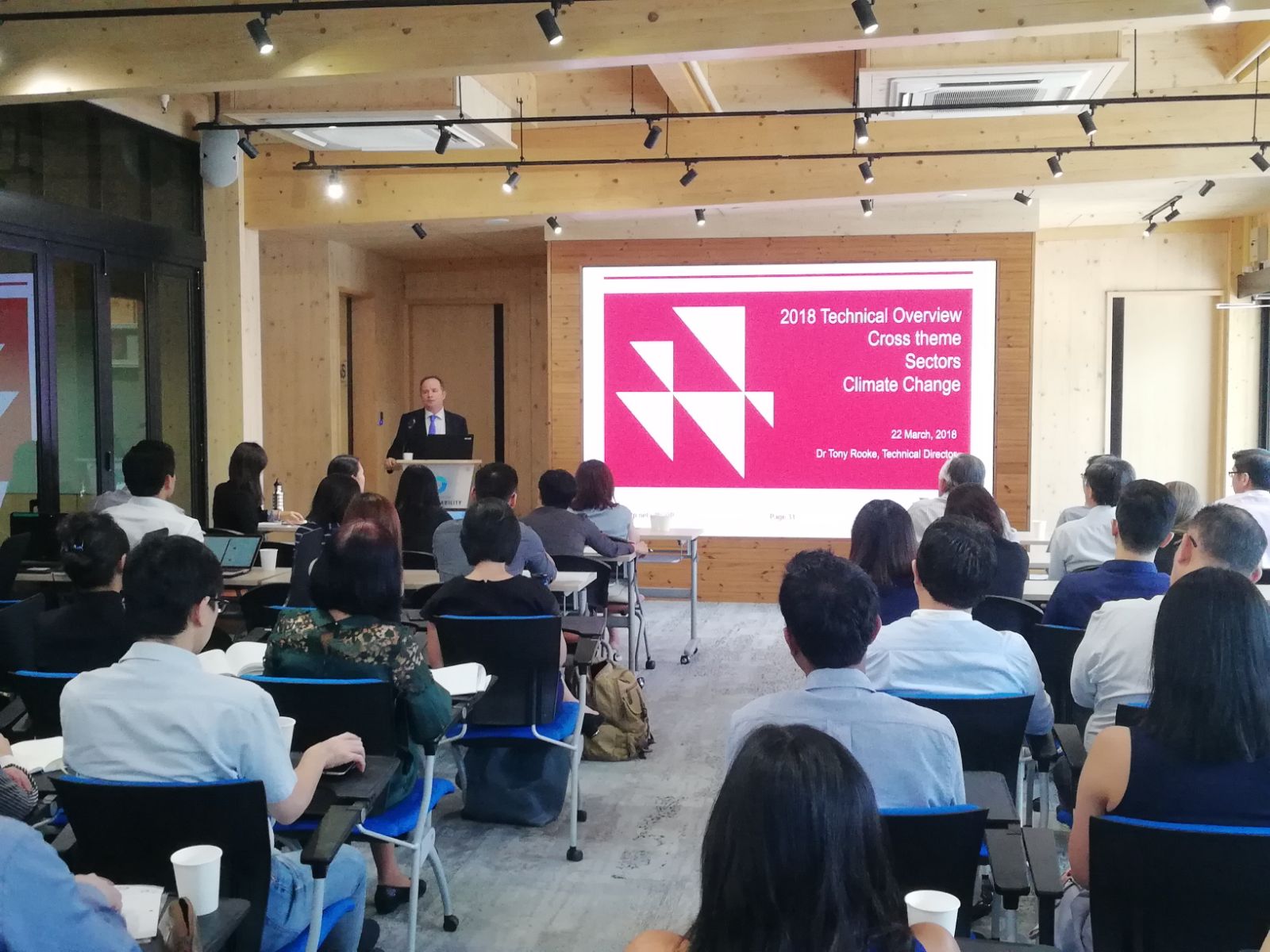 CDL hosted a CDP Workshop at the Singapore Sustainability Academy, conducted by Dr Tony Rooke, CDP's Director of Technical Reporting on 22 March 2018. CDP (formerly the Carbon Disclosure Project) is a not-for-profit charity organisation that runs the global disclosure system that enables companies, cities, states and regions to disclose their environmental data. The workshop was attended by over 60 potential first-time and experienced corporate disclosers such as Singtel, Fuji Xerox, Sembcorp, UOB, and other companies.
Participants were briefed on the changes in the upcoming carbon, water and forestry disclosures, including alignment with the Recommendations of the Taskforce for Climate-related Financial Disclosures. CDL's Chief Sustainability Officer, Esther An also gave a short presentation on CDL's CDP reporting journey. CDL was the first Singaporean company to disclose its carbon emissions with CDP, and attained the Leadership level rating of A- in 2017.
Visit from Professor Indy Burke, Dean of the Yale School of Forestry and Environmental Studies
19 March 2018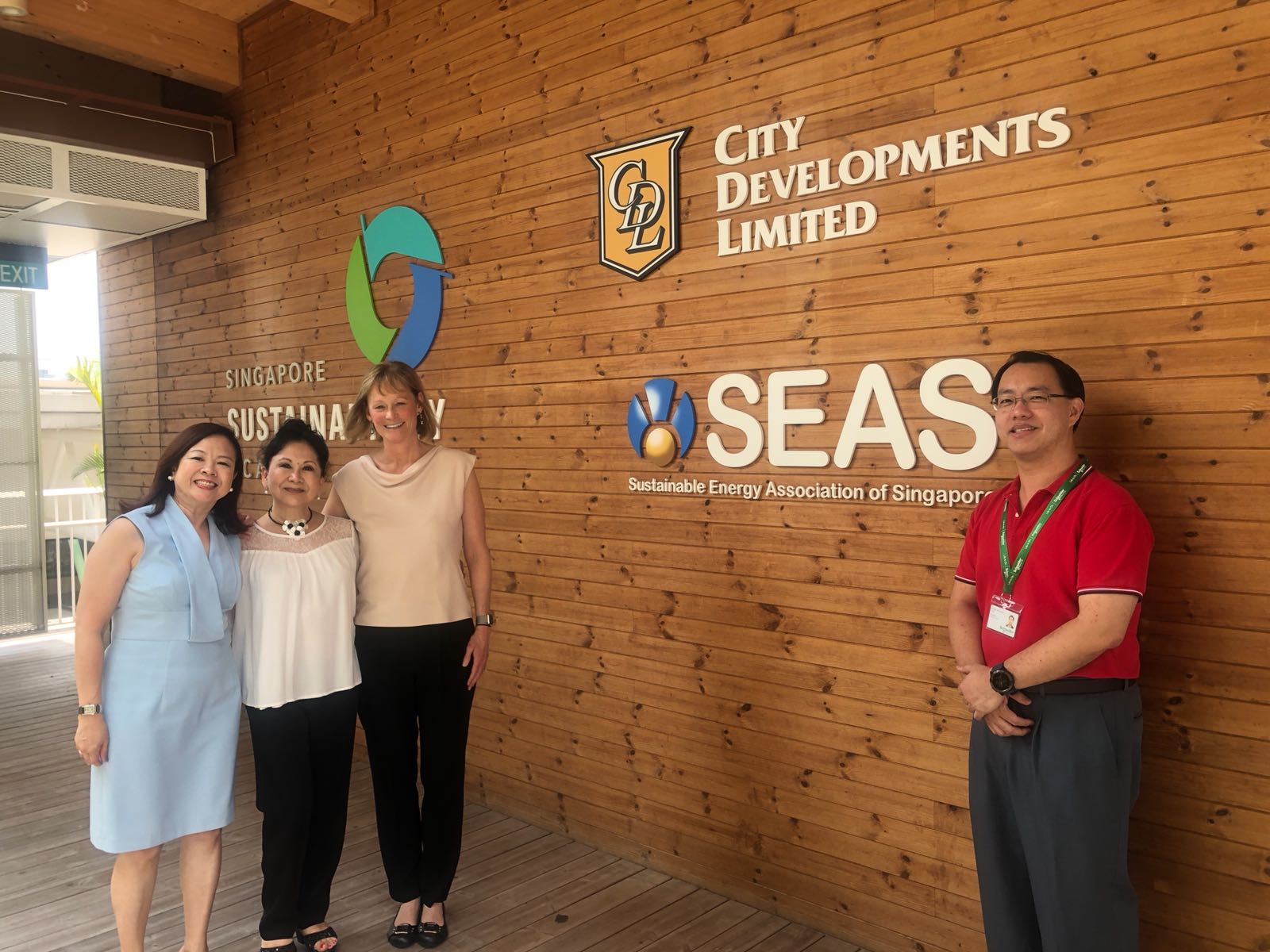 Newly appointed Dean of the Yale School of Forestry and Environmental Studies, Professor Indy Burke visited the SSA as part of a learning trip to Singapore, hosted by the National University of Singapore (NUS) Law school. Taking a particular interest in CDL's efforts at greening the built environment, she was given a tour of the SSA to learn about its green features and community outreach efforts.
Esther An, Chief Sustainability Officer of CDL, gave an overview of CDL's green building expertise and the SSA, and Kavita Gandhi, Executive Director of the Sustainable Energy Association of Singapore (SEAS) spoke about SEAS' work in training energy managers and increasing sustainable energy uptake in the region. The visit was also accompanied by technical experts from CDL and Schneider Electric, who supplemented their professional knowledge on the SSA's sustainable construction materials, design and real-time energy tracking feature.
Visit from Irish Minister John Paul Phelan and the Irish Embassy of Singapore
16 March 2018
CDL and the Singapore Green Building Council (SGBC) co-hosted a visit for Mr John Paul Phelan, Minister of State for Local Government and Electoral Reform of The Republic of Ireland (third from left) and His Excellency Mr Geoffrey Keating, Irish Ambassador to Singapore (fourth from left) at the zero-energy Academy.
CDL's Group General Manager Mr Chia Ngiang Hong and Chief Sustainability Officer Esther An, shared CDL's journey as Singapore's green building pioneer, while SGBC representatives spoke to the distinguished visitors about green building industry best practices. The Minister complimented Singapore's urban planning and CDL's unwavering commitment to sustainability, and has committed to taking away some practices to advance Ireland's green building efforts.
SYCA Climate Community Night
9 March 2018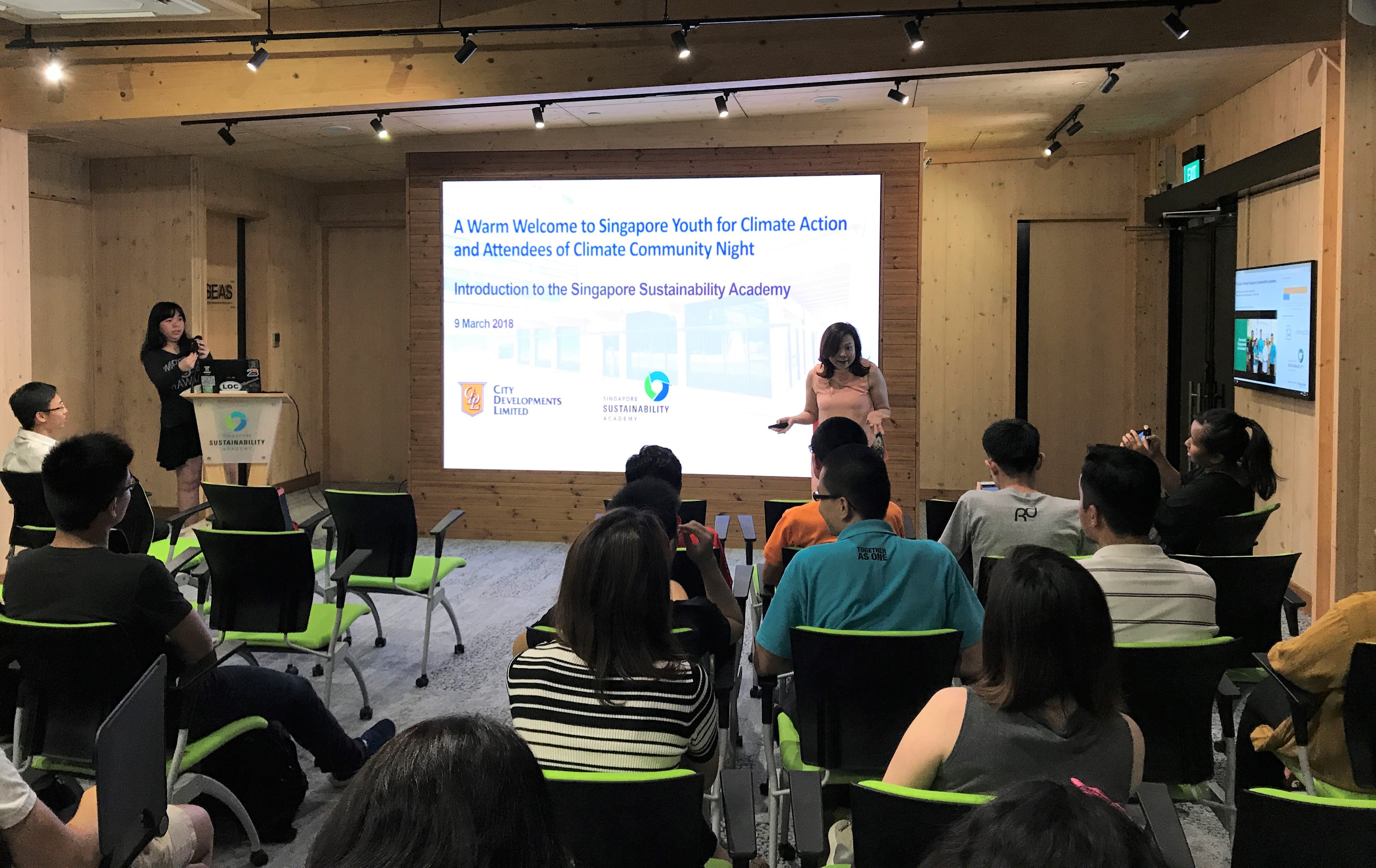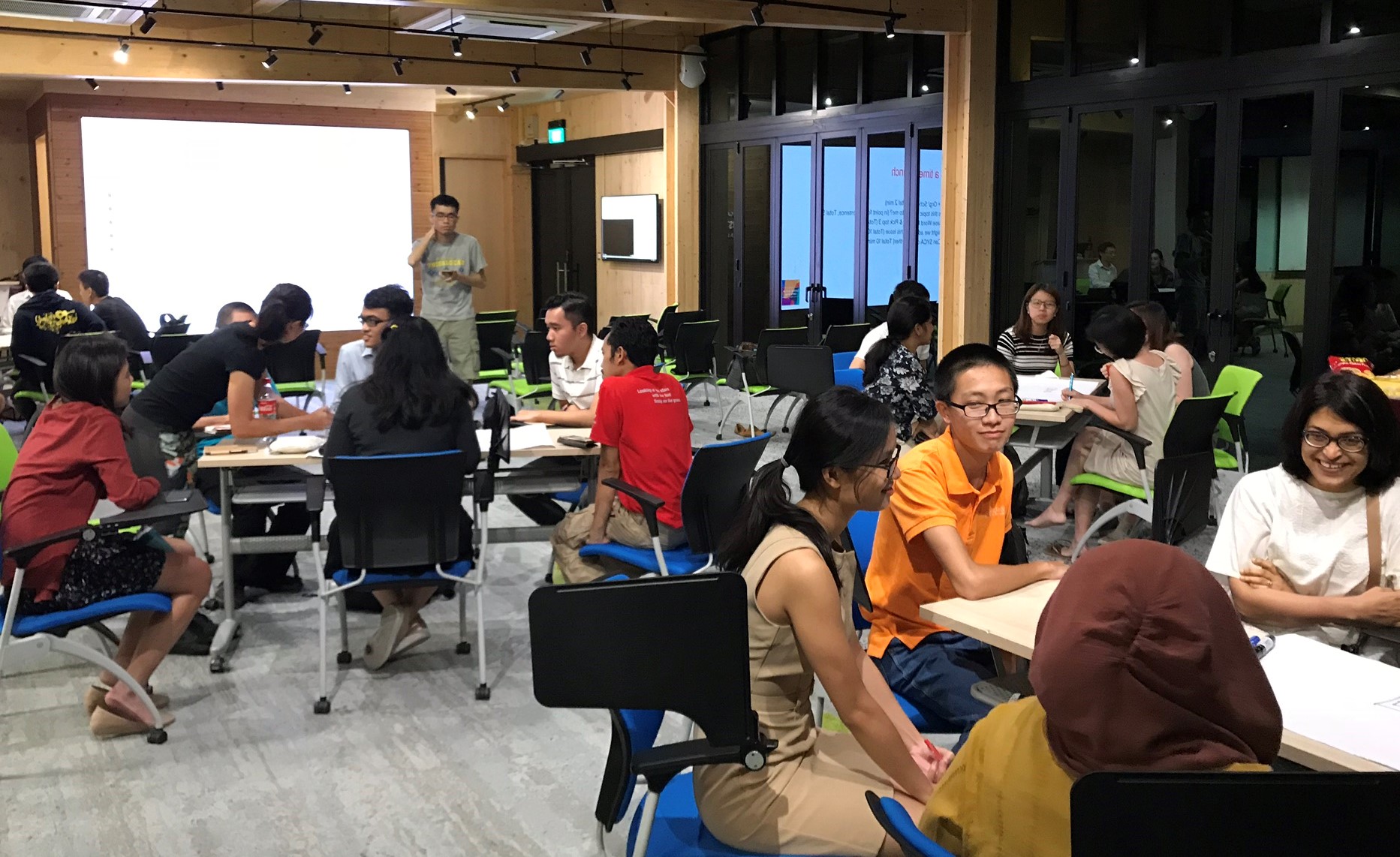 Singapore Youth for Climate Action (SYCA) hosted a Climate Community meetup to discuss the actions that the ASEAN Community can take collectively to meet the region's energy and climate change challenges. Attracting almost 30 participants from civil society, schools, corporates and the non-profit sector, the group held a sharing about SYCA's upcoming plans and projects for the year, and broke out into smaller groups to discuss the topics for the day.
As a non-profit space dedicated to sustainability, the SSA is pleased to support youth groups in advancing their cause and providing a platform for them to part a part in the sustainability movement in Singapore and beyond.
International Women's Day Fireside Chat with CDL's Women Leaders
8 March 2018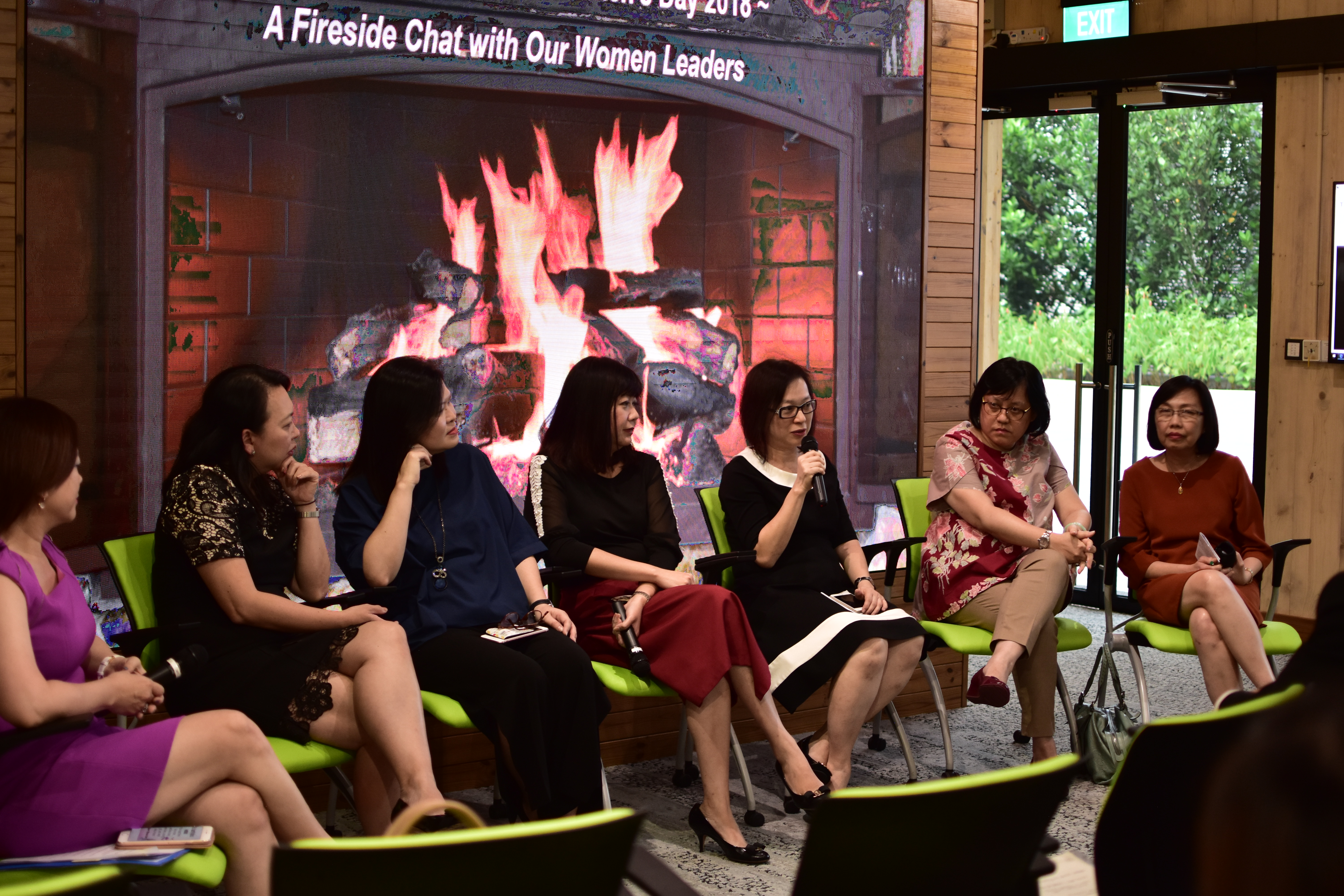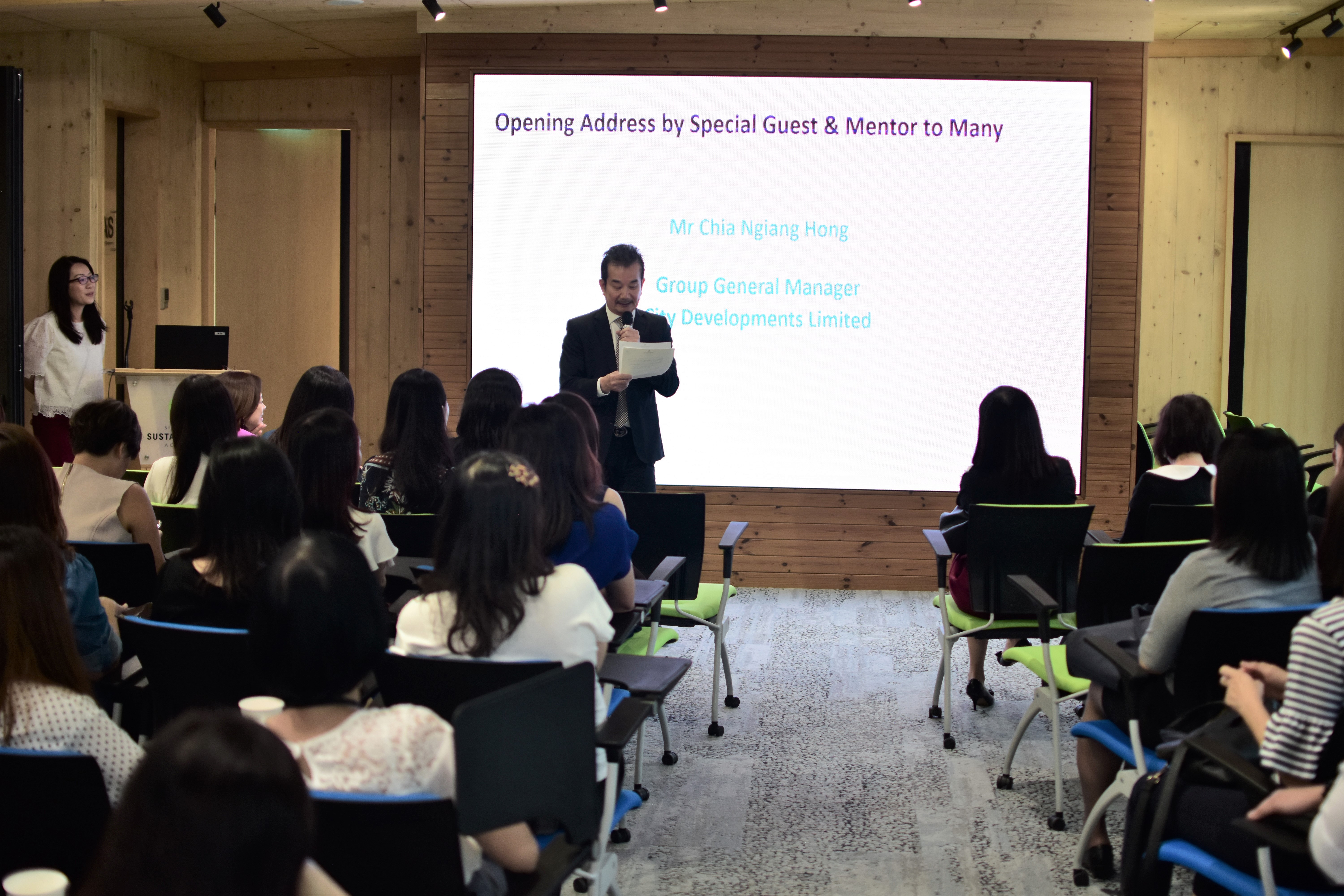 On 8th March, the International Women's Day, CDL Diversity and Inclusion Task Force organised an inaugural employee engagement event to promote gender diversity and women empowerment at its workplace. It brought together some 80 employees from CDL and its subsidiaries, and the SSA provided a comfortable environment for them to meet, mingle and learn from each other, away from the office.
The session was opened by Group General Manager and long-time mentor to many in CDL, Mr Chia Ngiang Hong. He acknowledged CDL's strong female workforce for their contributions and encouraged the company to keep making efforts in diversity and inclusion. Through a cosy fireside chat with seven of the company's long-serving women leaders, who have been with the company between one to three decades, employees then picked up useful advice on how to excel professionally while maintaining work-life balance.  The Task Force also seeks to promote a supportive workplace ecosystem for working women and inspires young employees through female role models.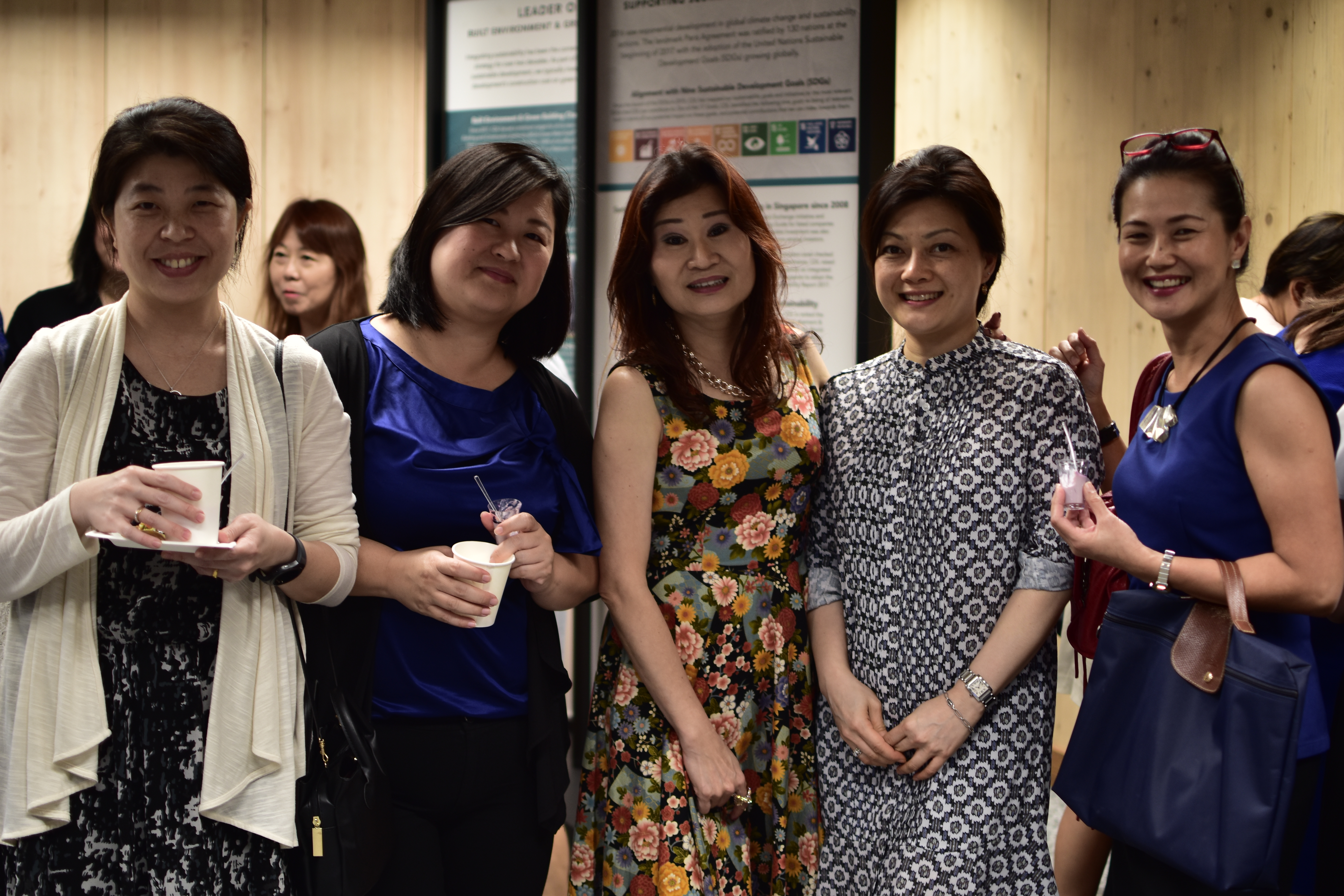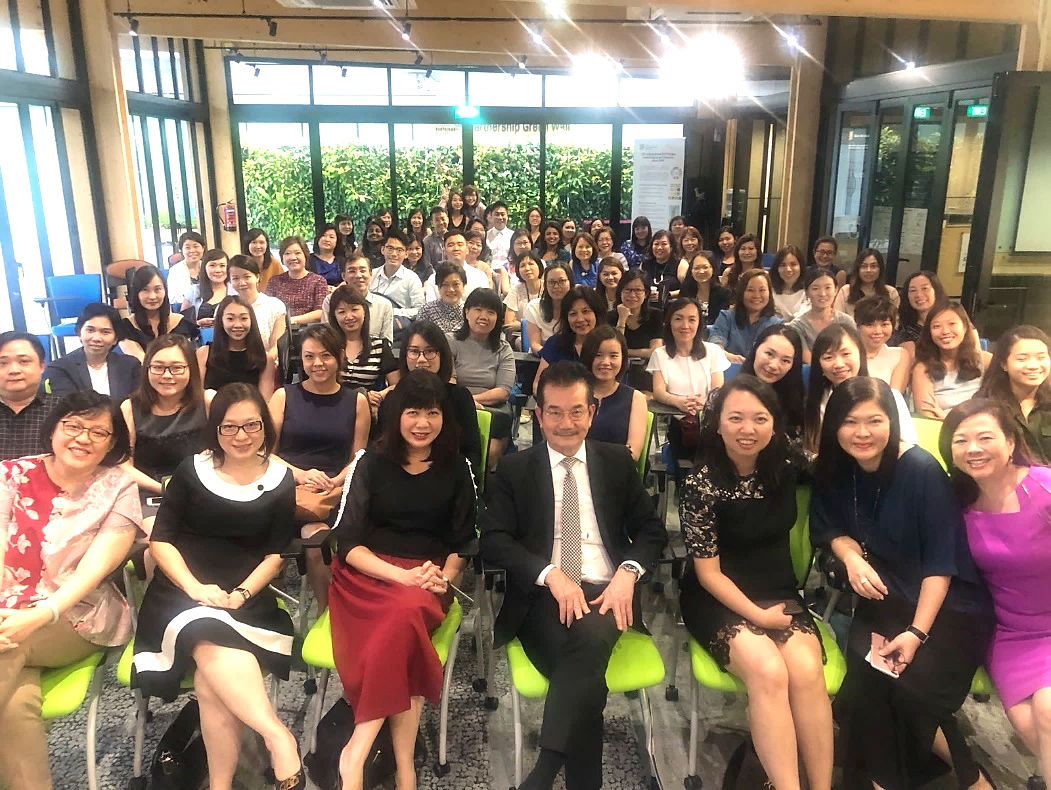 EcoBank 2018: Fashion 3R Upcycling Workshop
4 March 2018
As part of CDL's annual zero-waste campaign EcoBank and launch of responsible fashion initiative Fashion 3R, organizing partner Connected Threads Asia coordinated with upcycling artist and environmentalist Agatha Lee to conduct an upcycling workshop on 4 March, 'Craft it for the Cats!' at the Singapore Sustainability Academy. Close to 30 participants learned how to transform an old T-shirt into a necklace, and half of the proceeds were donated to local volunteer-run cat sanctuary, The Cat Museum.
The workshop showed that climate action and opting for sustainable fashion and accessorizing can be fun and accessible, and people can switch up their style while remaining sustainable.
EcoBank 2018: Fashion 3R Swap Party by Swapaholic
3 March 2018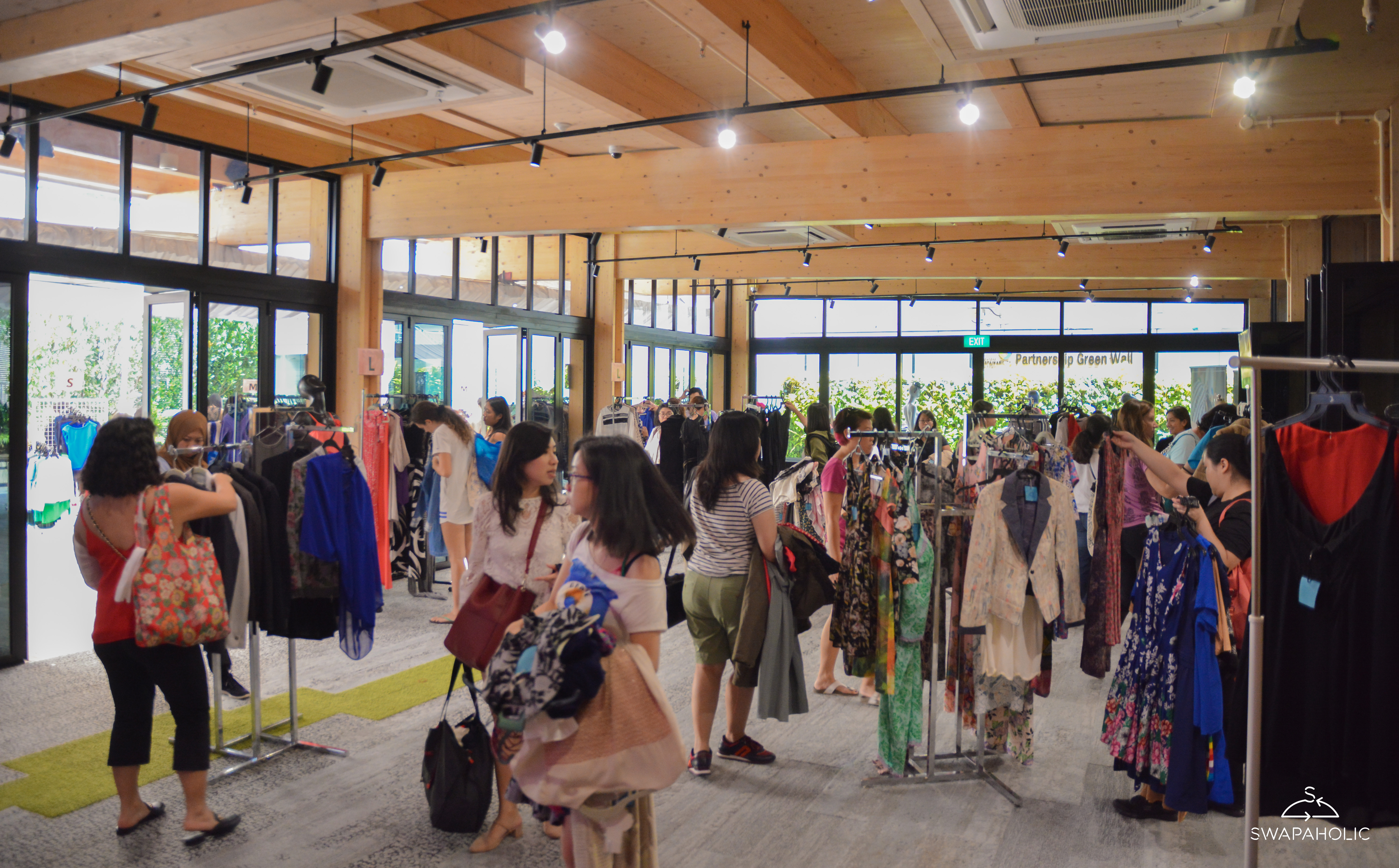 As part of CDL's national zero-waste campaign EcoBank 2018 and its launch of responsible fashion initiative Fashion 3R, CDL hosted a Swap Party by Swapaholic for the first time at the Singapore Sustainability Academy. Fashion 3R is a collaboration between CDL, Connected Threads Asia, Raffles Design Institute, and Eco-Business that aims to promote responsible purchasing and disposal practices among consumers and the public.
Organised by local responsible-fashion NGO Swapaholic, monthly swap parties aim to promote 'Swapping as the new Shopping', providing conscious consumers a stylish retail-type platform to swap great-condition pre-loved clothes instead of buying new ones and contributing to landfill. The SSA was transformed into a retail 'gallery', providing a space both inside and at the sky park outside for attendees to swap in a sustainable space. The swap party attended by over 160 and graced by Senior Minister of State for the Environment and Water Resources, Dr Amy Khor, and CDL Group CEO Sherman Kwek, was a fun-filled time of clothes-swapping and camaraderie for all. Over 1,700 pieces of clothing were collected and found new owners during the swap, effectively saving it from contributing to added carbon emissions. It is a great example of taking action for the climate in a fun and accessible way, part of the SSA's mission to galvanize collaborations and increase engagement over sustainability across all sectors and industries.
Visit from Yale Professor Daniel Esty and Yale-NUS College Students
27 February 2018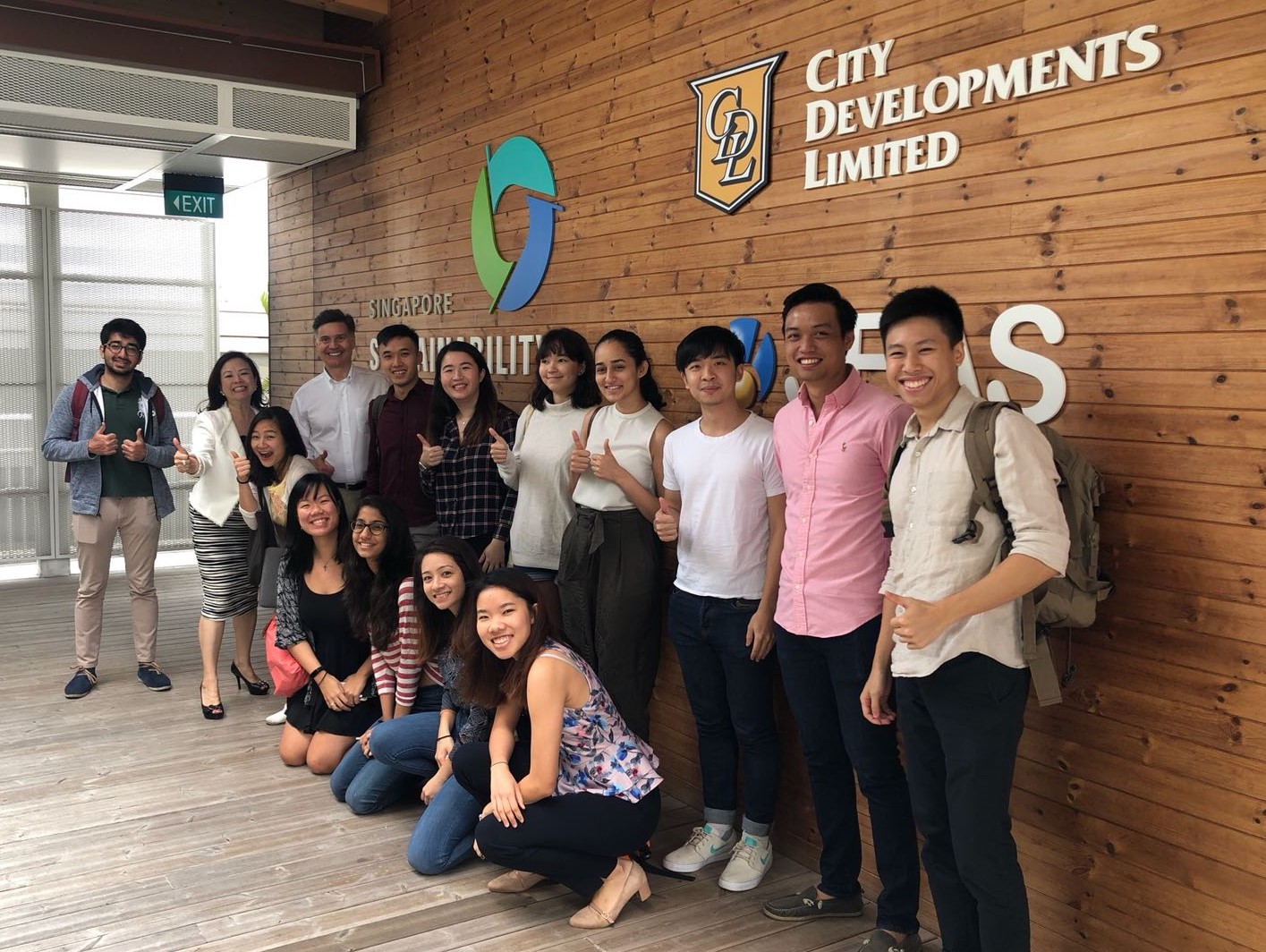 Professor Daniel C. Esty, Hillhouse Professor of Environmental Law and Policy at Yale School of Forestry & Environmental Studies and Visiting Professor at Yale-NUS College, brought a class of 15 Yale-NUS students to visit the Singapore Sustainability Academy and South Beach as a showcase of green-building industry best practices. Teaching a class about 'Climate Change and the Future of Energy, the visit to the SSA demonstrated to the students how corporates can contribute to climate action and the SDGs through leveraging their own expertise and core business strategy. Professor Esty's 2006 book on how smart companies use environmental strategies to innovate, 'Green to Hold', has long served as an inspiration and source of useful pointers for CDL's sustainability strategy to 'Conserve as we Construct'.
The 2nd to 4th year students from the Environmental Studies, Urban Studies and Philosophy, Politics and Economics (PPE) majors were remained curious and interested throughout asking many questions about CDL's history and continuous efforts in pushing sustainability in its business practices and community investment efforts.
Recognition of SASPO's Commitments on Sustainable Palm Oil by WWF and the MEWR
26 February 2018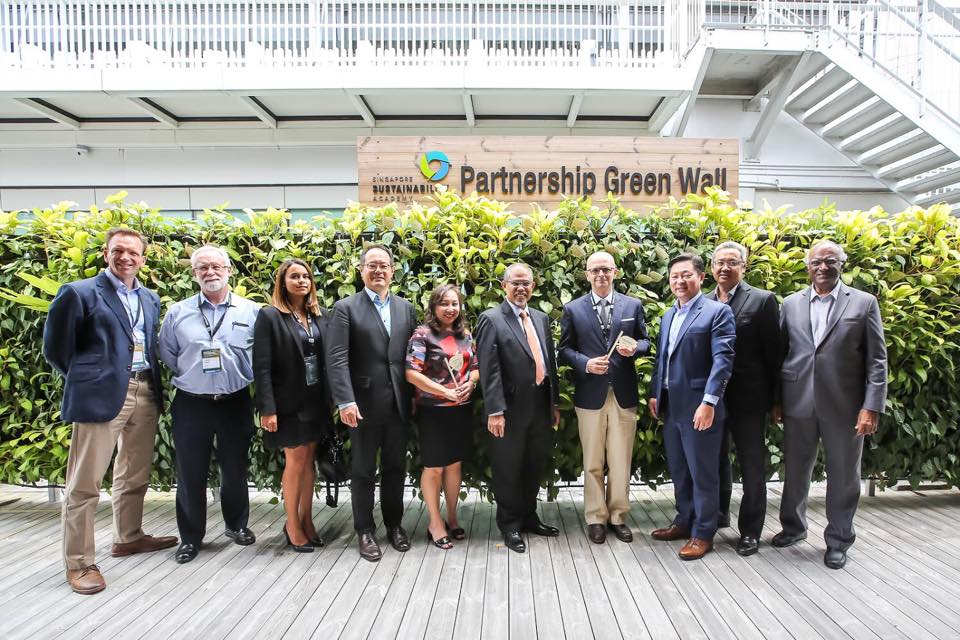 At this landmark meeting organized by the WWF and Southeast Asian Alliance for Sustainable Palm Oil (SASPO), graced by Mr Masagos Zulkifli, Minister for the Environment and Water Resources (MEWR), the SASPO's member companies were lauded for their latest commitments to introducing sustainable palm oil to their supply chains. Minister Masagos also announced 10 new companies joining SASPO, namely Bee Cheng Hiang, F&N, Commonwealth Capital, Compass Group, Paradise Group, Tong Seng Produce, Tung Lok, Super, Delfi and Crystal Jade. SASPO, which champions the use of sustainable palm oil in Southeast Asia, now has 15 member companies.
Together, these companies account for over 200 food and beverage outlets in Singapore, including PastaMania and The Soup Spoon. This is a milestone for the industry-led alliance, and sends a clear signal that businesses in Singapore have taken the lead to transition towards using 100% sustainable palm oil. Some 70 industry leaders and alliance representatives attended the event, providing their support towards SASPO.
After the announcement, a panel comprising of Hervé Simon, group marketing director of Denis Asia Pacific, Mike Barclay, chief executive of Wildlife Reserves Singapore, Andrew Tjioe, chief executive of Tung Lok group and Andrew Kwan, group managing director of Commonwealth Capital, shared why and how their organisations shifted to using sustainable palm oil at SASPO's press event. Despite the challenges, these industry leaders regard the membership with SASPO as a privilege to help raise awareness among consumers the importance of using sustainable palm oil.
SID Business Futures Series 'Sustainability for Directors'
21 February 2018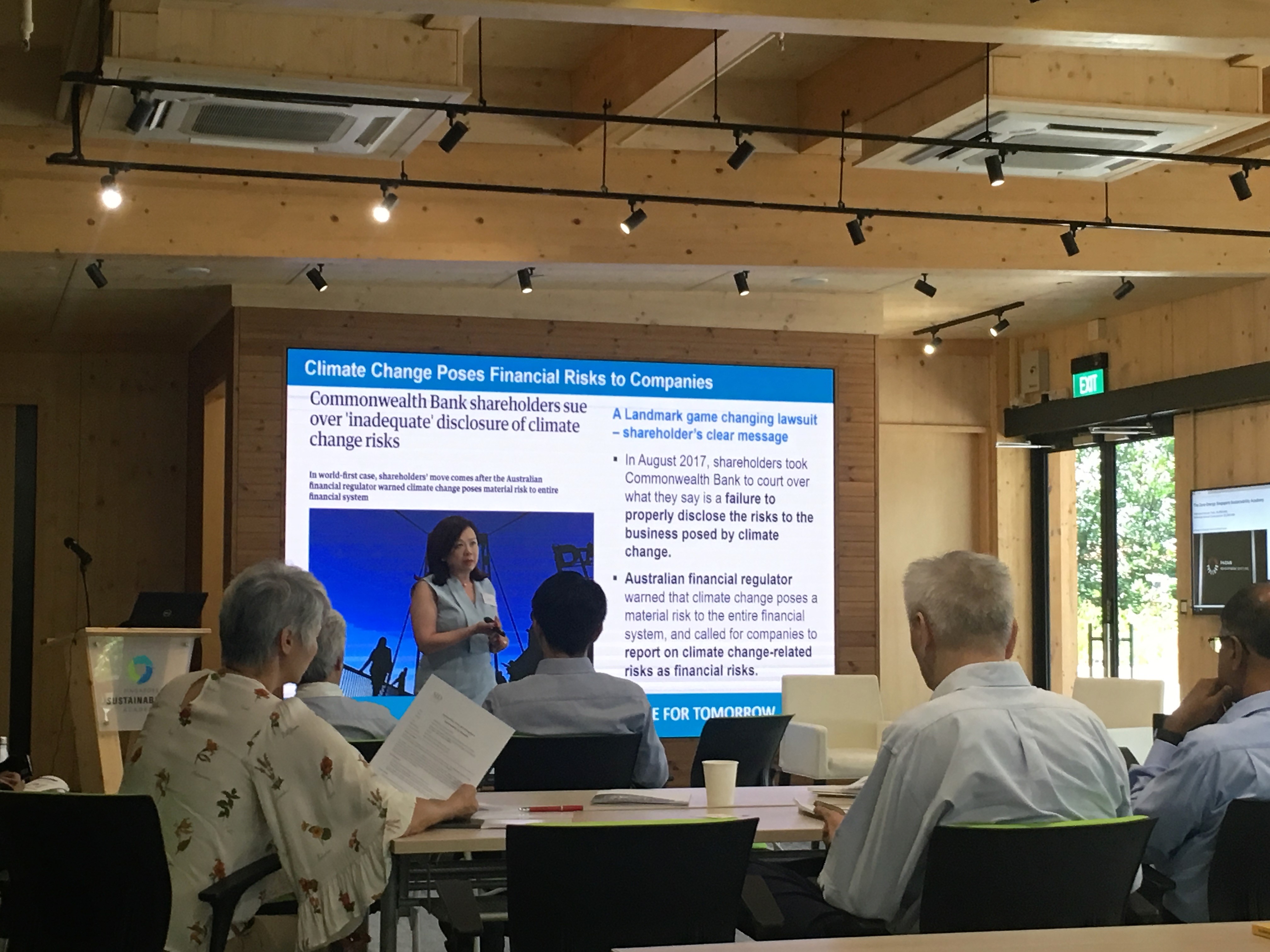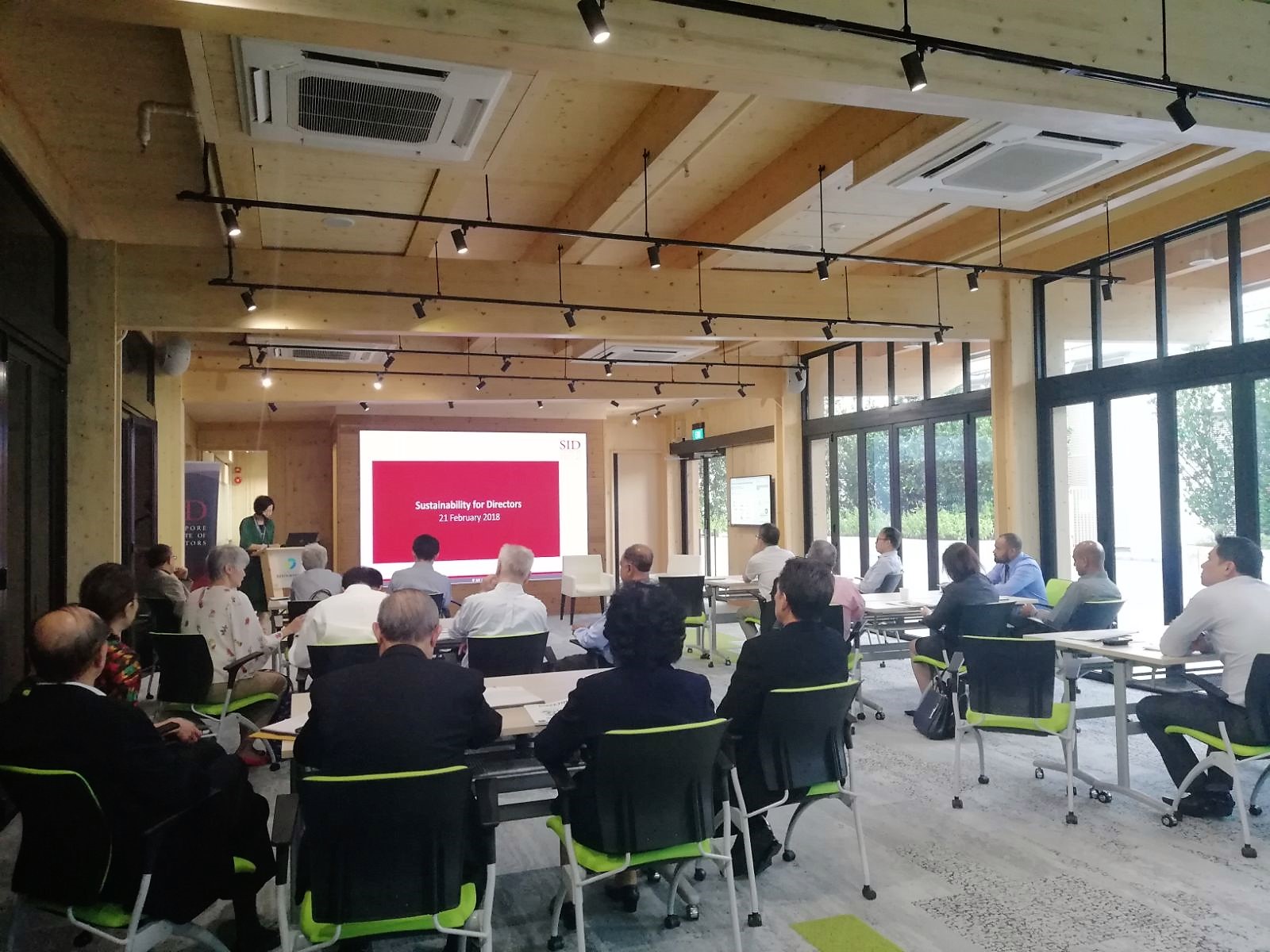 The Singapore Institute of Directors (SID) held its Business Future series on "Sustainability for Directors" at the Singapore Sustainability Academy on 21 February 2018. Attended by over 20 company directors, speakers from Ernst & Young (EY) and CDL gave attendees an overview of the ecosystem of sustainability and why it makes a compelling business case.
Mr. K. Sadashiv, Managing Director (ASEAN) of EY's Climate Change and Sustainability Service, gave an engaging presentation on key sustainability milestones and touched on trending sustainability topics such as green bond financing, the role of the board in ensuring sustainability and global and societal expectations of companies in delivering sustainability. Using industry case studies, he explained how sustainability reporting, which is now required of SGX-listed companies, can be done.
Esther An, CDL's Chief Sustainability Officer, effectively highlighted the many opportunities that adoption of sustainable practices can bring, drawing on examples from CDL's sustainability journey over the past two decades. Attendees also saw first-hand how the SSA is an example of a company creating value through stakeholder engagement and outreach, effectively expanding the community of like-minded sustainability professionals in Singapore.
Sea Our Shores Guiding Workshop by Lepak in SG
10 February 2018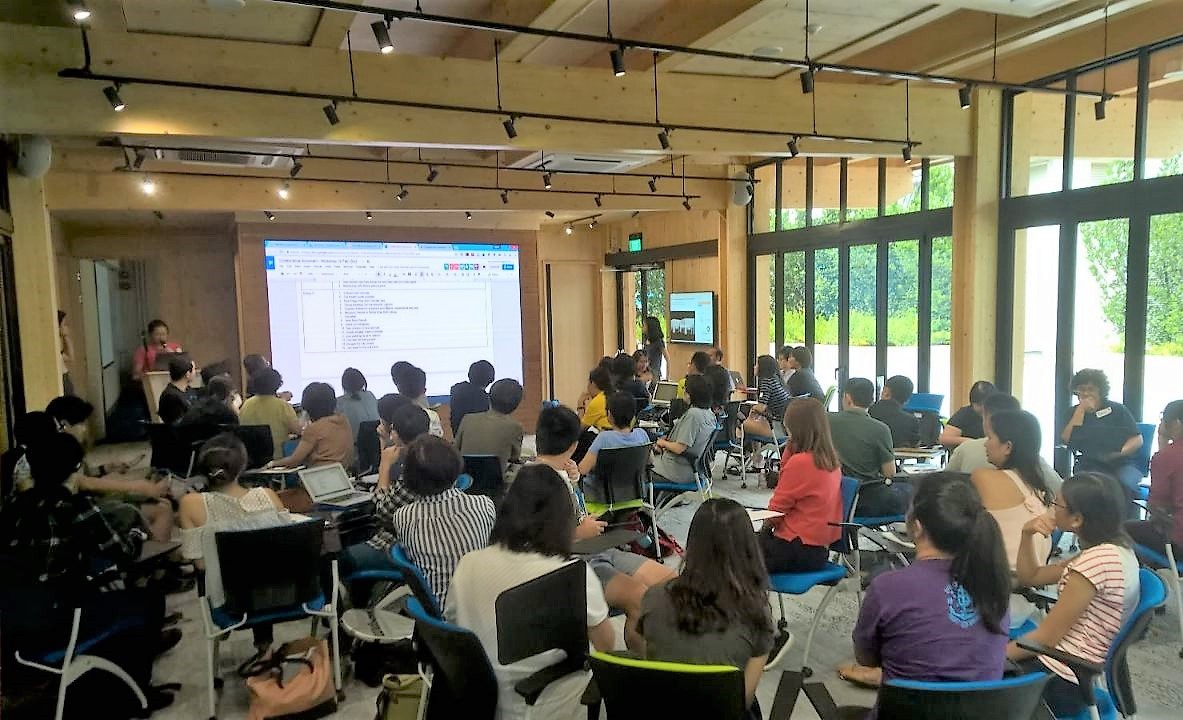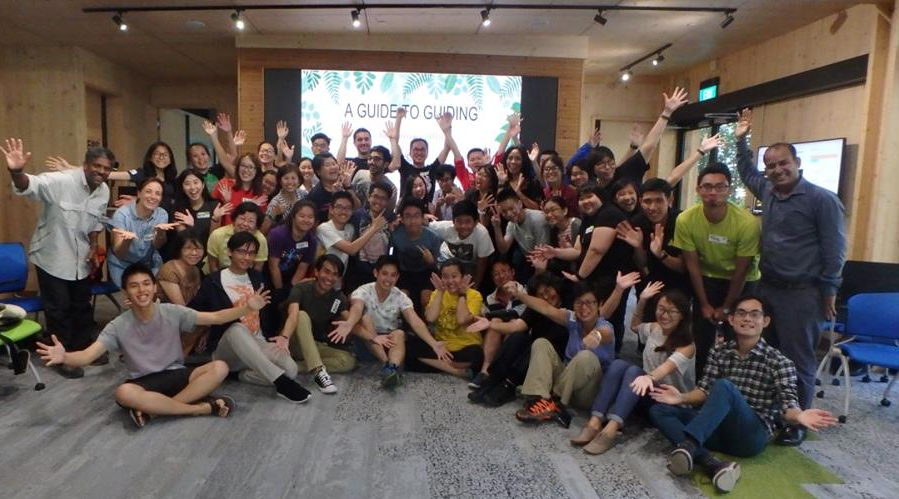 2018 has been declared the 3rd International Year of the Reef (IYOR) by the International Coral Reef Initiative. To commemorate this, LepakinSG has planned a series of activities and events throughout the year, 'Sea Our Shores', to educate and engage the public about Singapore's seas and reefs.
About 40 first timers, together with experienced guides were gathered to participate in the third installment of Sea Our Shores: A Guide To Guiding! Participants shared and discuss what makes a good nature guide (it's not the knowledge!) as Ms Ria Tan of www.wildsingapore.com shares tips on guiding effectively and how to connect with the participants. Facilitated by experienced guides from various green groups in Singapore, participants were guided through hands-on activities to brainstorm solutions to their deepest nature guiding worries. Participants were also prepped to guide a walk held the next day to let them showcase their newfound skills.
Visit from SMU Lien Centre for Social Innovation and Keio University Students
6 February 2018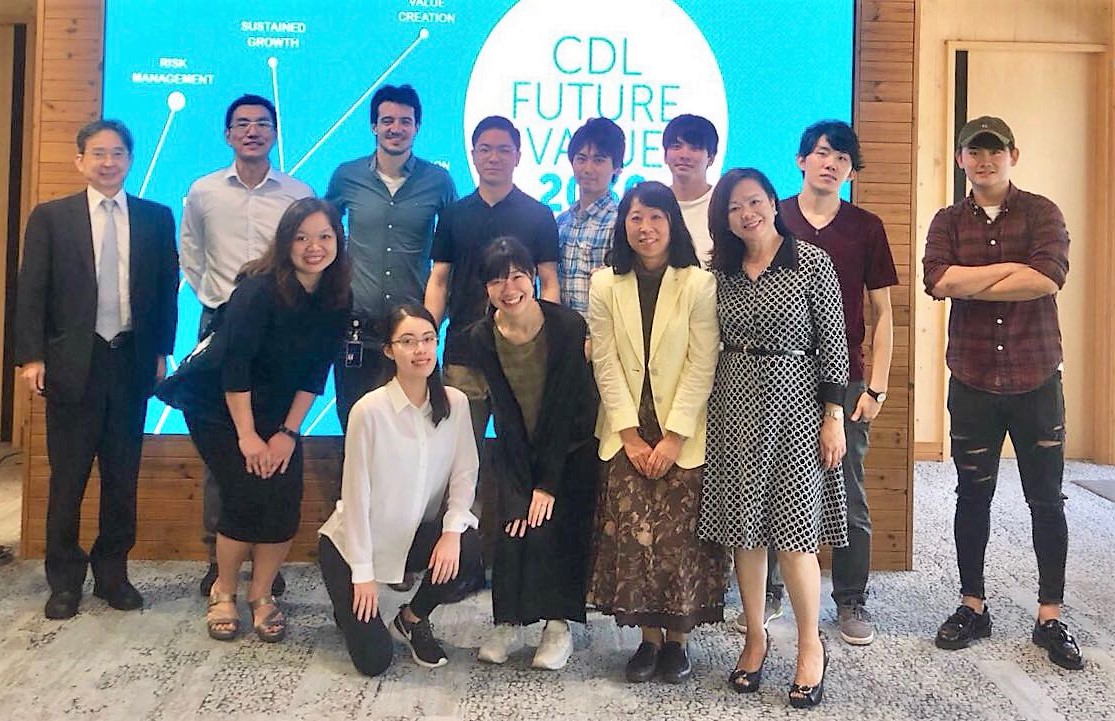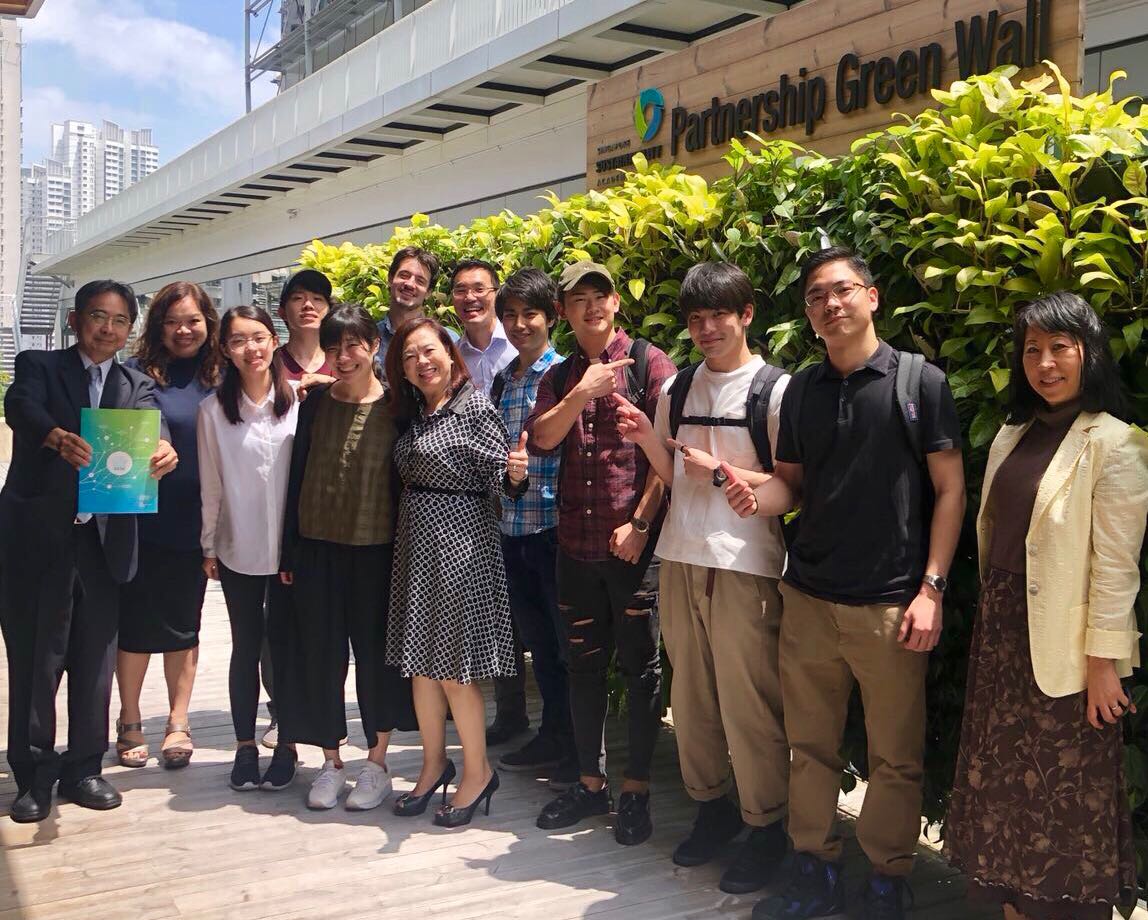 In partnership with the Lien Centre for Social Innovation in SMU, CDL hosted a delegation of six 3rd and 4th-year students and two faculty members from Keio University's Keidai Faculty of Business and Commerce. This is part of their Global Passport Programme, a selective honors program offered in English to upperclassmen from all Keio faculties. The focus of their visit to the Academy was to learn about sustainability and business, a topic that has been a hallmark of CDL's strategy and core business over the past two decades and remains a cornerstone of its success in breaching new heights. Through this, the Lien Centre hoped that CDL and SSA will help Singapore's foreign counterparts to learn how successful business and social value creation are possible in tandem.
Soundbites from students
"I was so surprised by your company's efforts to make the world better through your business. It's important to live with nature in the future. I [gained much] knowledge about the strategy. Thank you for hosting this event."
"The visit to the facility was wonderful. The site included so many eco-minded functions. The presentation was very convincing and comprehensive. The presenter and members of Singapore Sustainability Academy were full of hospitality and care. Thank you for the opportunity."
Dialogue Session between ASEAN CSR Network and its Corporate Partners
2 February 2018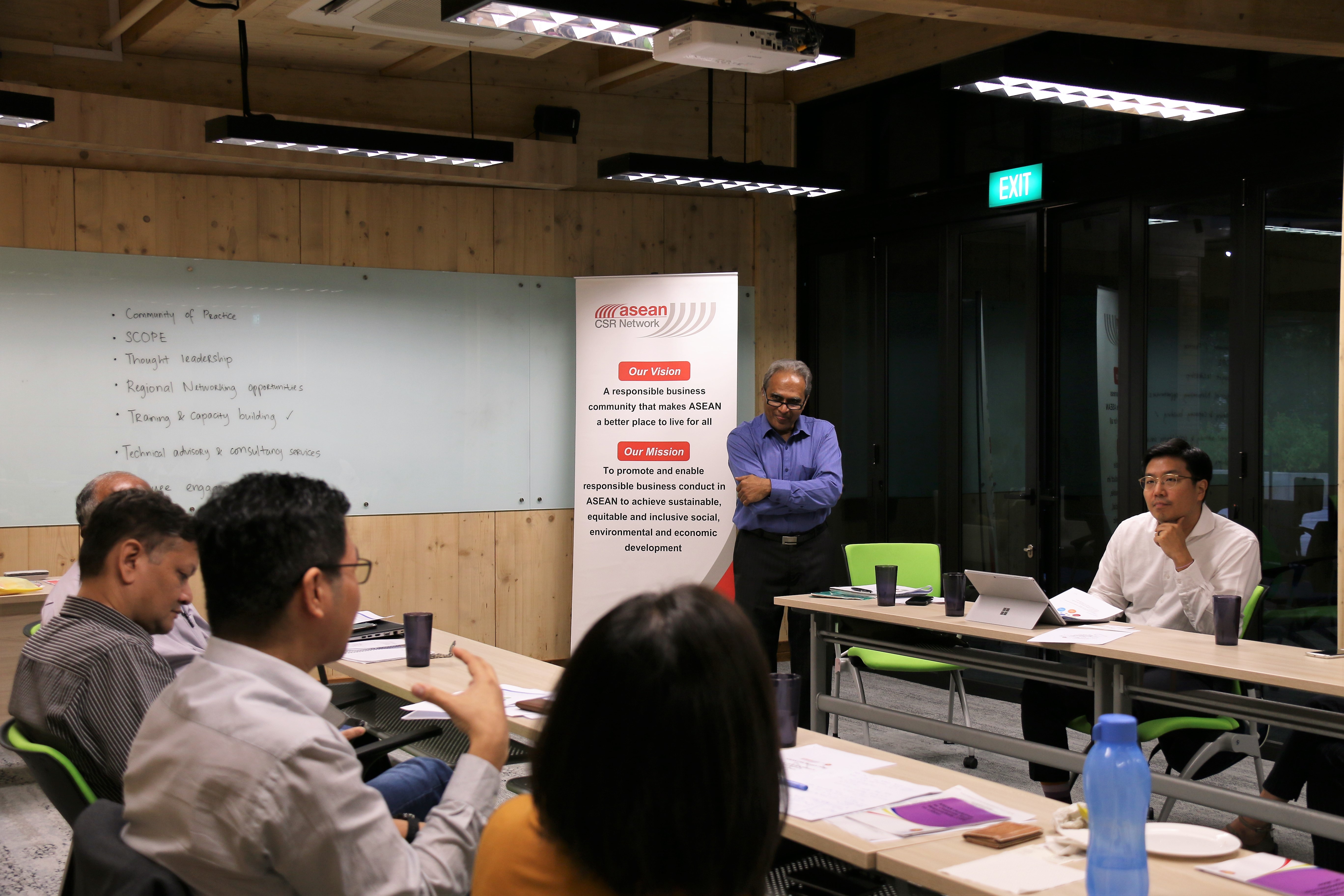 The ASEAN CSR Network (ACN) is an international non-profit body that facilitates sharing of knowledge and best practices from CSR Networks across five ASEAN countries. Leveraging the SSA as a platform to engage business, community and youths over low-carbon, resource efficiency, and the Sustainable Development Goals (SDGs), ACN convened a closed-door dialogue between almost 20 members of its corporate partner networks and ACN's staff and management. They explored areas for alignment between companies' CSR strategies and ACN's work around promoting responsible business in the region.
Through sharing about ACN's vision for promoting sustainable development in the region, its workplan and pillars of work, they sought to identify ways that ACN could bring value to corporate partners' CSR strategies. Having integrated its ethos of 'Conserving as we Construct' into its business operations since 1995, CDL strongly believes that businesses play an important role in advancing sustainability in the corporate ecosystem.
NEA Youth Partners Appreciation and Networking Session
2 February 2018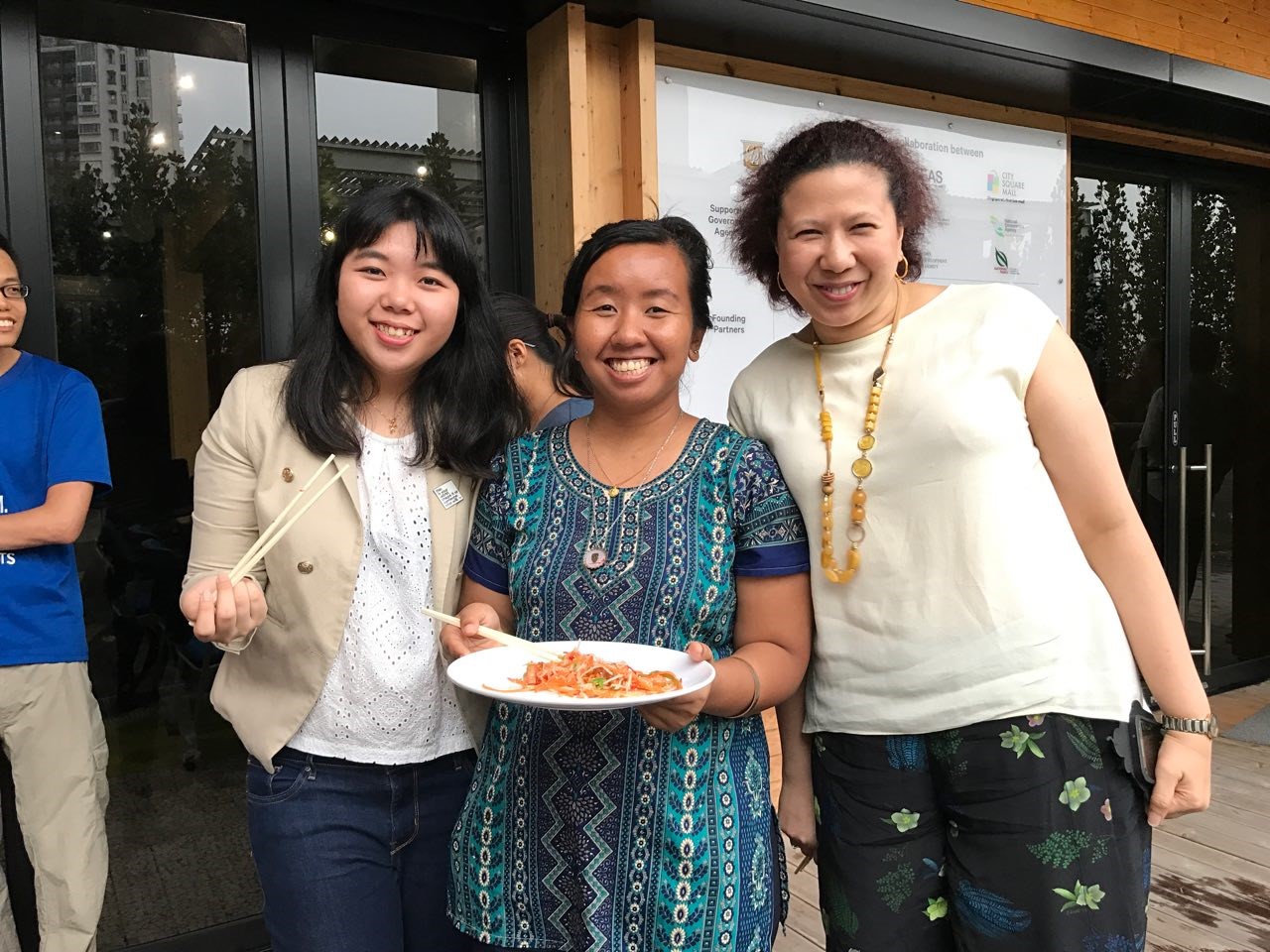 More than 60 youths attended the National Environment Agency (NEA)'s Youth Partners Appreciation and Networking Session held at the SSA. Organised annually to kick start the year, the session gathered prominent and passionate youths in the NEA's youth circles to share about environmental initiatives and issues, followed by a networking dinner. Besides learning about topics like Energy Efficiency and Conservation, 2017 United Nations Climate Conference, and COP 23, the event highlighted the recent efforts and accomplishments of some Singaporean youths in the climate scene.
The event was well-attended by passionate youths from the Tertiary Institutions Council for the Environment, the NEA's Youth Environment Envoys, staff and students from environmental clubs in Institutes of Higher Learning, and other partners from the youth sector. On top of appreciating and acknowledging youth partners for their inspiring work, the session also gave an outlook for upcoming programmes and initiatives in 2018, an especially exciting year for the environmental movement as Singapore's Year of Climate Action.
Climate Conversations Trainings
27 January – 10 February 2018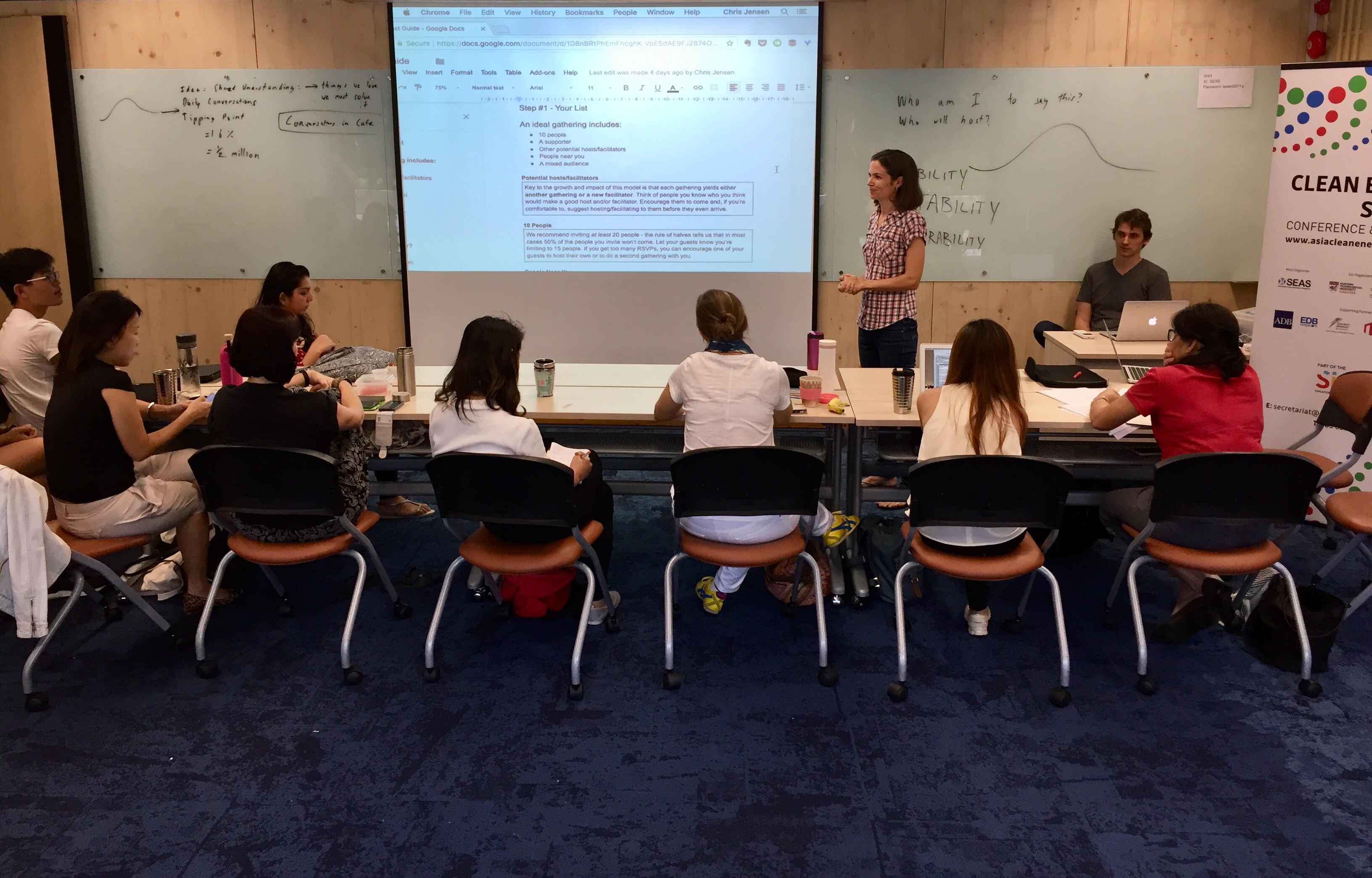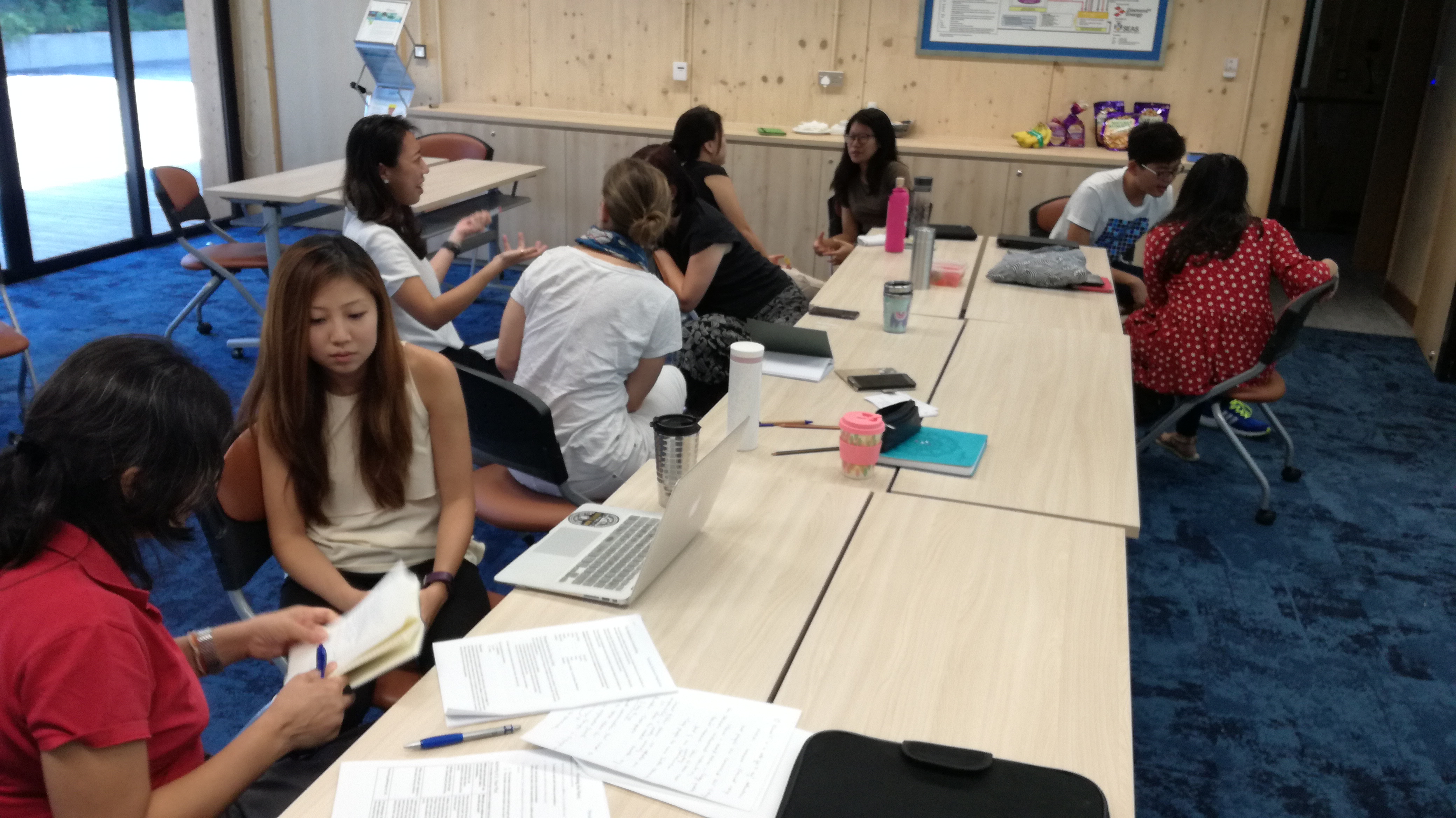 Climate Conversations is a new, non-profit organization that engages the public to have meaningful conversations with friends and family about climate change. It provides training for interested individuals to become facilitators, who will hold conversations with their networks to inspire them to care for the environment and their future while mobilizing them to action. It takes a personalized approach to spreading the word about climate change, empowering people to discuss it meaningfully with others as an effective way of getting them to internalize the importance of acting.
They held a series of training sessions for new facilitators at the SSA over three weekends, where 15 new facilitators were taught the basics of climate communications and how to host an impactful conversation. Aiming to reach out to those who typically are not concerned about climate change or don't know much about it, the Climate Conversations model targets to reach over 10,000 people in the next three years. The Academy was an apt venue to hold the training sessions, as a dedicated platform to ramp up public outreach and engagement over sustainability.
Launch of Singapore's Year of Climate Action
26 January 2018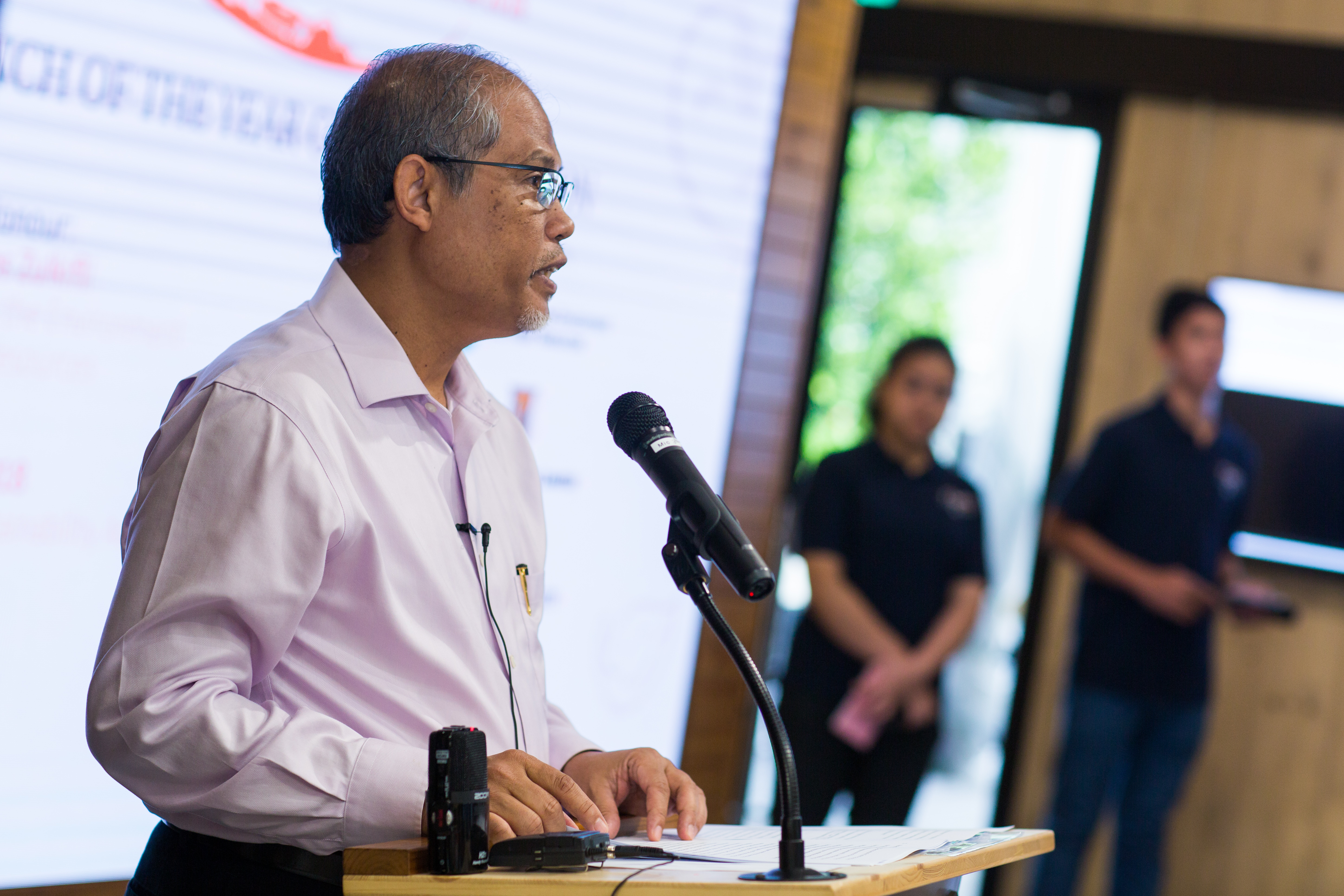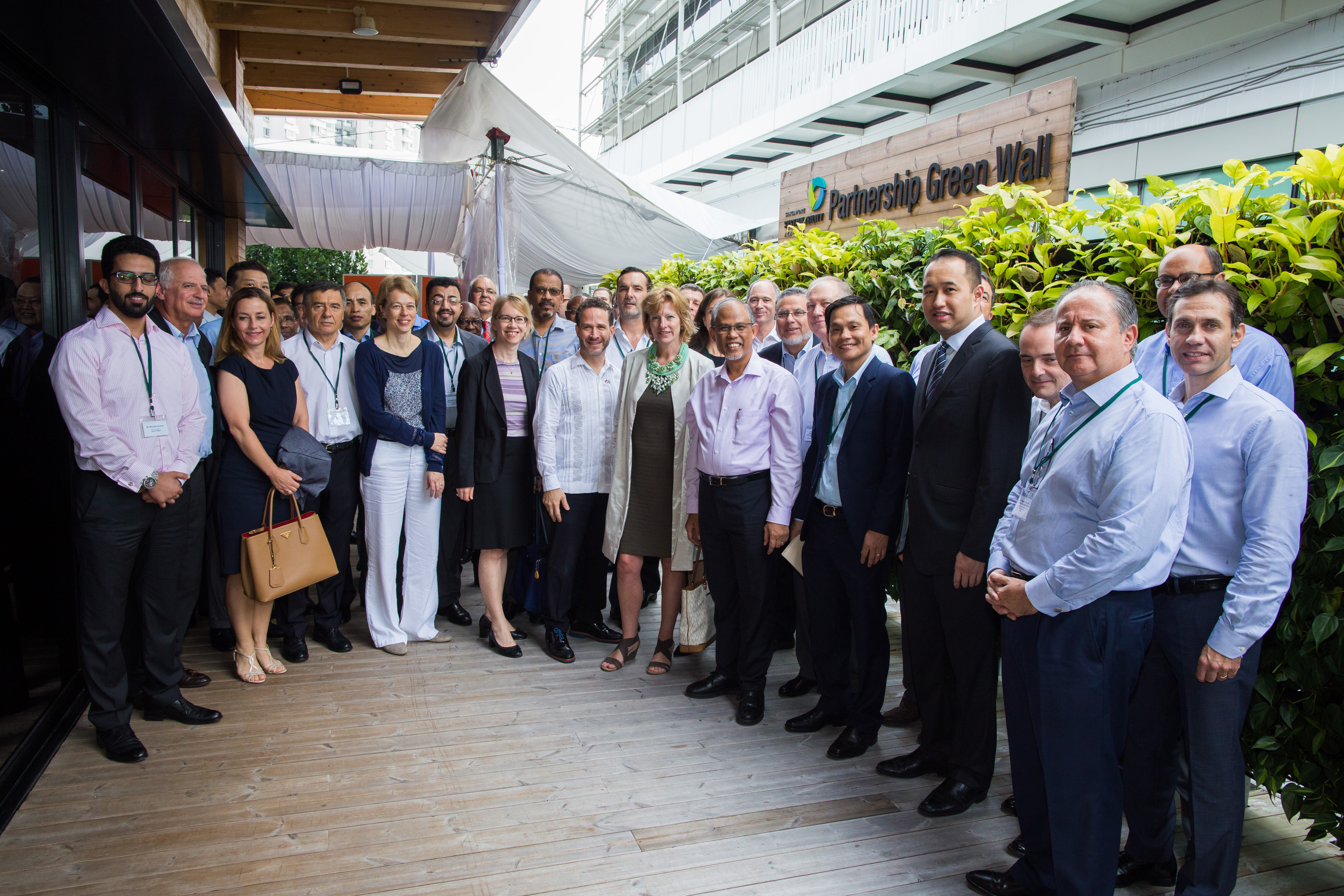 The Ministry of the Environment and Water Resources officially launched Singapore's Year of Climate Action on 26th January 2018 at the SSA. Co-organised with CDL, the event aimed to give prominence to this landmark year for Singapore, and raise national consciousness around the need to take individual and collective action against climate change for a sustainable Singapore. The event was graced by Guest of Honor Mr Masagos Zulkifli, Minister for the Environment and Water Resources, Mr Sherman Kwek, Group CEO of CDL, and over 50 ambassadors and diplomats. It saw a turnout of over 200 representatives from government, corporations and civil society. Minister Masagos delivered a rousing opening speech that credited organizations and individuals who had been taking action for the climate prior to 2018, and encouraged others to follow suit. Mr Sherman Kwek addressed the audience on the need for businesses to embark on sustainability integration, citing CDL's own positive experience in doing so.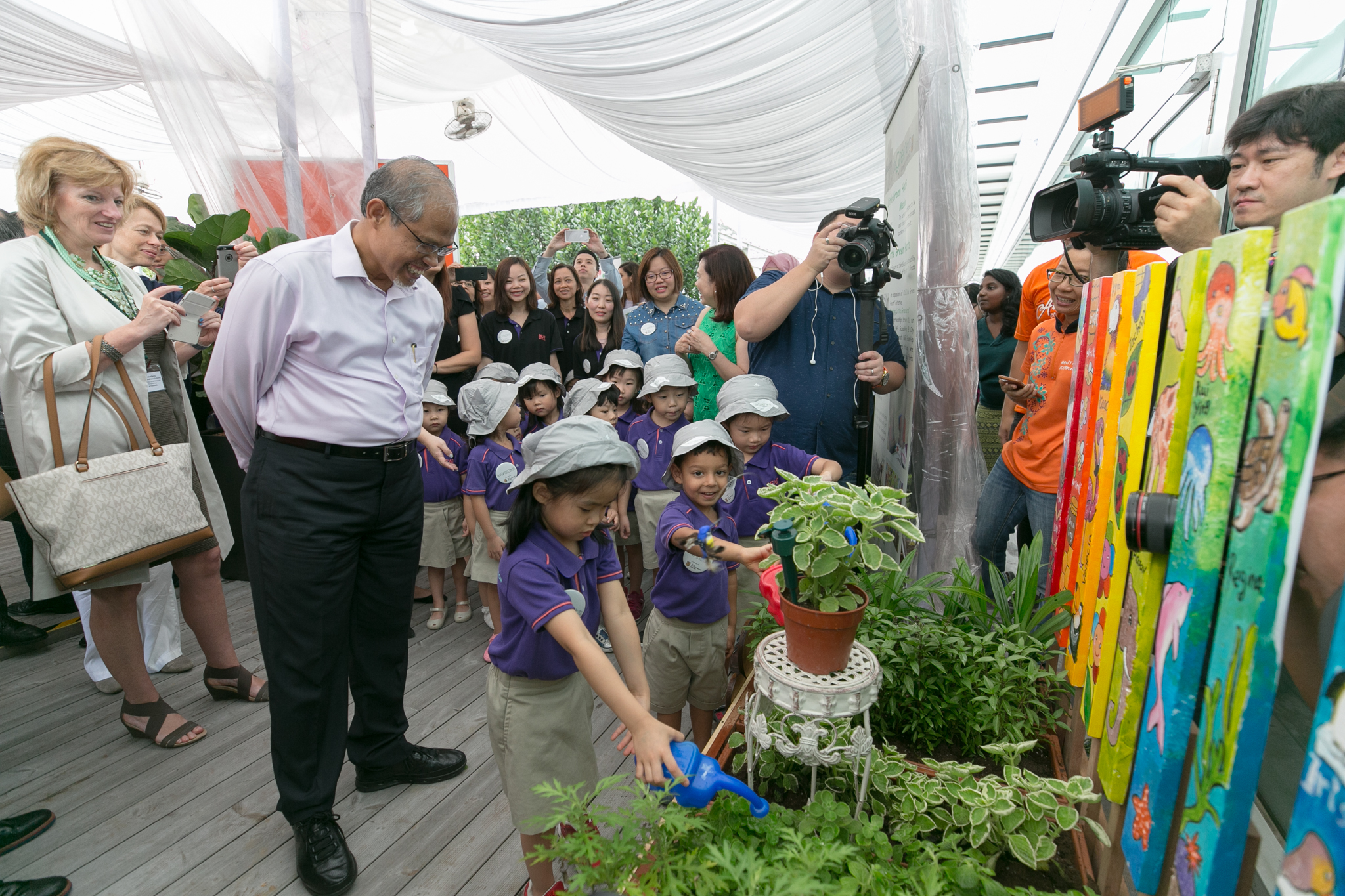 At the event, CDL launched the second edition of its Little Green Hearts series: Budding Little Green Hearts. A new community programme to connect kids to nature organised in partnership with local non-profit Ground-Up Initiative, the initiative involved 35 pre-schoolers from LEAP SchoolHouse in the planting and decorating of a herb planter box at SSA. The CDL 6th Sculpture Award Commissioned Artwork – Towards Zero-waste, using residual wood from SSA construction, was also unveiled by Minister Masagos. CDL E-Generation Challenge Distinction Award Winner Inch Chua, a home-grown local singer, specially composed and performed a song on Climate Action to commemorate the momentous occasion.
The launch also showcased the efforts and initiatives of 10 local organisations to combat climate change through interactive booths and activities. They ranged from ground-up groups like Singapore Youth for Climate Actions to bike-sharing company MoBike, and government agencies like the Singapore Exchange (SGX) and Public Utilities Board (PUB). The booths helped attendees to learn about how different sectors are contributing to climate action. As a key representative from the private sector, CDL is proud to be part of this national movement and fulfil Singapore's pledge for the Paris Climate Agreement
Building and Construction Authority (BCA) Build it Green (BiG) Club Learning Journey to City Square Mall and Upcycling Workshop,
20 January 2018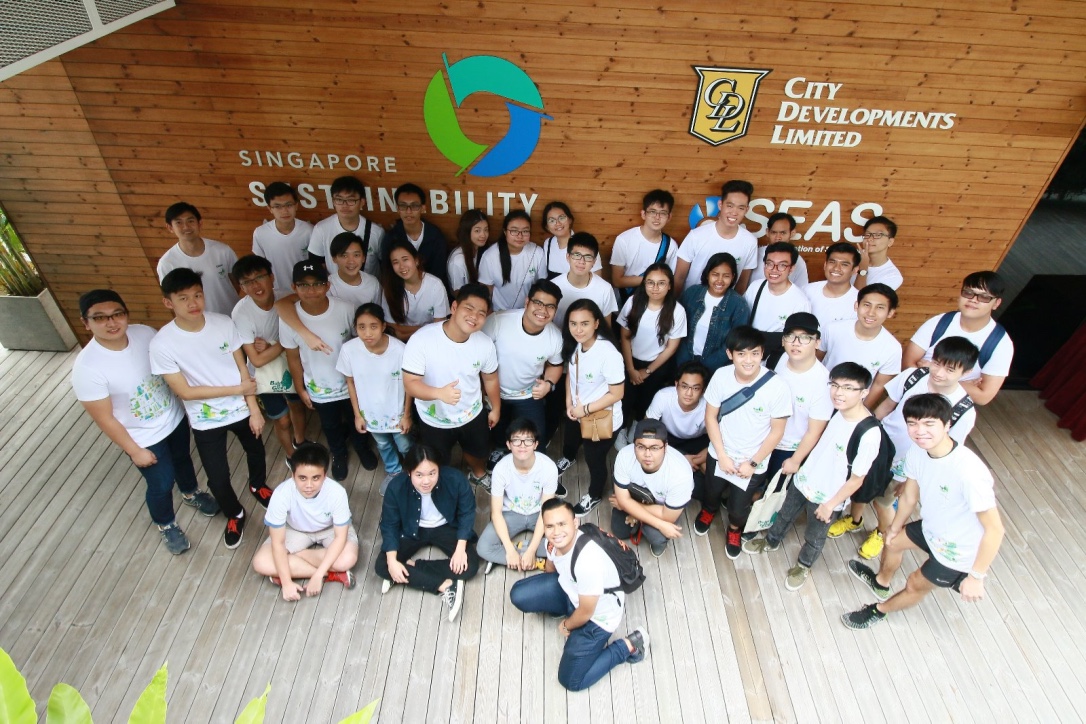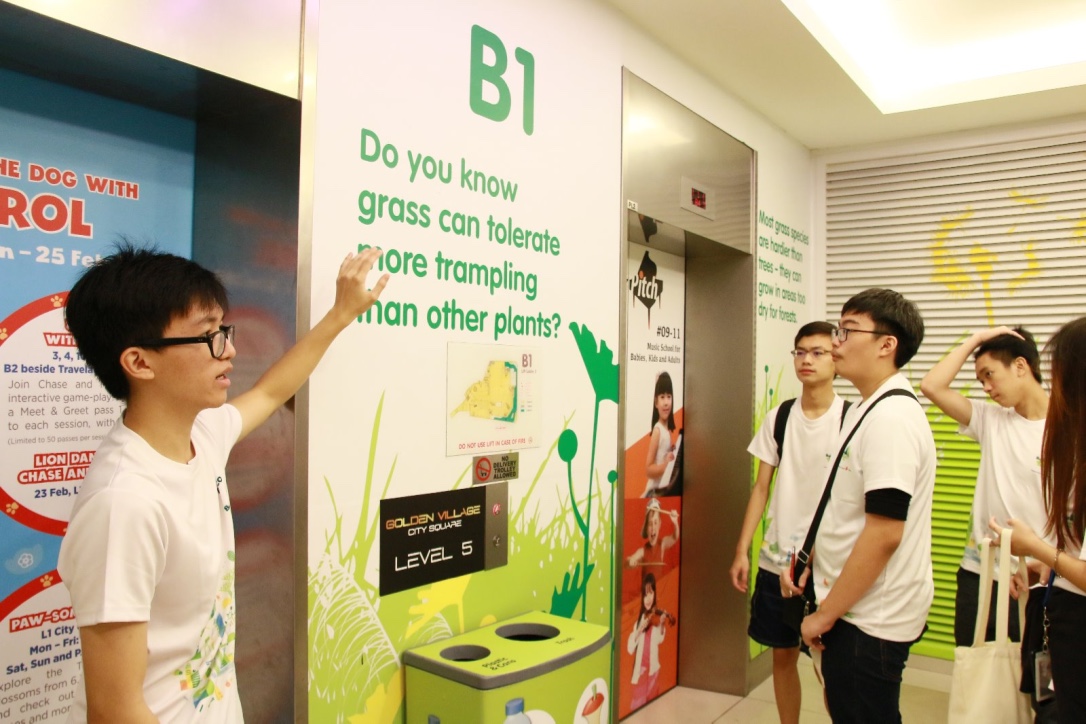 The BCA BiG Club, which promotes greater awareness and understanding of sustainability among passionate youths and future green building professionals, organized a learning journey to the SSA and City Square Mall for 38 club members from local polytechnics. Put together by its youth leaders, the learning journey brought the students on a tour of the Green Mark Platinum-certified City Square Mall to learn about its distinguishing green features, followed by an upcycling workshop in the SSA. The students saw first-hand how the SSA runs on energy produced by the solar panels on its ceiling, as well as how it tracks its energy consumption in real-time during a short tour. The upcycling workshop then gave them the opportunity to learn about how to practice sustainability in their daily lives in a fun way, while building ties between these like-minded youths.
'Thrash It Out': Environmental Civil Society Meeting for 2018 Year of Climate Action
20 December 2017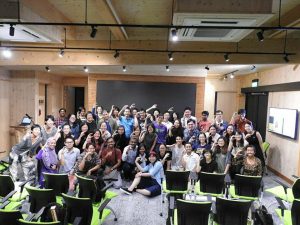 Youth development is one of CDL's main priorities in our community investment programmes. With 2018 having been designated Singapore's Year of Climate Action by Minister for the Environment and Water Resources Masagos Zulkifli, CDL has ramped up efforts to support youth climate actions through the SSA as a platform for collaboration, capacity-building and training. On 20th December, the SSA hosted a meeting and brainstorming session for local environmental interest groups and non-profits, to discuss upcoming plans and partnerships for the year ahead. The meeting was organized by representatives from #LepakinSG and Singapore Youth for Climate Action.
The inaugural session gathered over 50 participants from over 30 local organizations in different fields, representing a range of causes like food waste, plastic pollution, biodiversity, climate communication and awareness, and the arts. Through a series of small group discussions and collective sharing, the group came up with new projects for different sectors in the year 2018 and proposed avenues for further collaboration and actions.
SSA hosts the "Climate Take Back" Ideation Workshop for Young Leaders
16 December 2017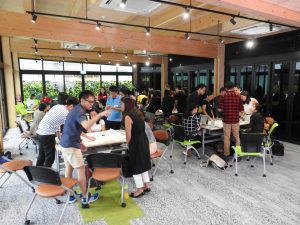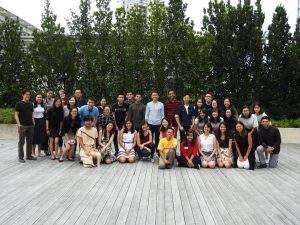 In line with the SSA's mission to contribute to a low carbon society, CDL supports the  'Climate Take Back' initiative organized by Interface, one of SSA's founding partners.   It aims to drive a fundamental shift in global responses to climate change by bringing together leaders in different fields to collectively imagine a new climate future. Knowing the potential for youths to contribute to creating a climate fit for life, the workshop brought together 46 young leaders from Singapore in an outcome-oriented ideation workshop on 16 December, to move the 'Climate Take Back' dialogue forward.
This half-day session gave them the opportunity to learn about tangible examples of what practices have been helping us go beyond a carbon reduction mindset to one of reversal, and to engage with industry practitioners  and other young climate leaders  to look at new approaches to climate action. Participants were first introduced to the Zero-Energy Academy as an example of how companies can facilitate collective action and dialogue around climate change. They were then given an overview of the 'Climate Take Back' initiative before breaking up into groups to work on one of four 'Climate Take Back' pillars: 'Live Zero', 'Love Carbon', 'Lead the Industrial Re-Revolution' and 'Let Nature Cool'. Participants worked in small groups to come up with ideas and action plans to achieve these four pillars, and presented their solutions to the group who voted on the most innovative and comprehensive solution.
Hong Kong Building Delegation Visit to SSA
6 December 2017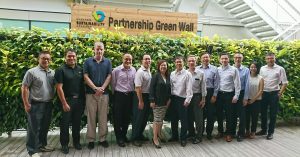 As part of CDL's efforts on knowledge sharing and capacity building, CDL hosted seven delegates from the Buildings Department of the Government of the Hong Kong Administrative Region on  the 6th of December. They began their excursion at the SSA with a brief introduction to CDL by Chief Sustainability Officer, Esther An. Four of SSA's Project Partners, namely REC Solar, Venturer, Schneider Electric and Woh Hup Construction were also present to provide their technical inputs on the SSA's most unique sustainable features, like the solar panels and real-time energy tracker.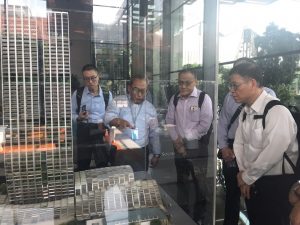 The delegates were particularly keen on learning about the application of Cross Laminated Timber and Glulam which were not only made from renewable sources but due to the prefabricated nature of the structural wood, enabled CDL to complete construction in under six months. Timber specialists Venturer shared their insights and process generously whilst Schneider Electric, who installed the real-time automation control and energy management system edified the group on the inner workings of the system.
The delegation then proceeded to South Beach, CDL's award-winning mixed development located along Beach Road. They were taken for a tour of the area and treated to a view of the photovoltaic modules fitted on the buildings as well as the microclimatic canopy engineered and designed to provide naturally ventilated shelter, encouraging airflow and filtering out radiant heat.
The last stop on the tour was at the Brownstone Executive Condominium which is renowned for its extensive and possibly largest application of prefabricated, prefinished, volumetric construction in the world. Teambuild, the contractors, presented on the key features of this development which achieved higher productivity and lower environmental impact through innovation.
The delegates engaged CDL's technical experts throughout the tour and drew parallels to the status of development and productivity in Hong Kong, thus creating opportunities for both parties to learn from each other.
Youth Actions for the Environment (A Singapore YOUnified Event)
5 December 2017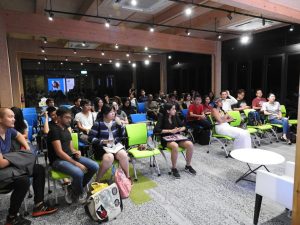 The Young Southeast Asian Leaders Initiative (YSEALI) is a programme by the U.S. Government that aims to empower Southeast Asian youth to collaborate on regional and global challenges. Every year, YSEALI organizes alumni from their Southeast Asian networks to conduct projects and activites to catalyse social and environmental change, under a programme called YOUnified. YSEALI YOUnified projects tackle a wide range of pressing issues, from environmental protection, to minority rights and human trafficking, to youth empowerment and entrepreneurship.
This year, Nor Lastrina Hamid, a prominent YSEALI alumni from Singapore, held one of Singapore's four YOUnified 2017 events at the Academy. The talk and panel discussion featured six outstanding youths with five under 25, and their ongoing efforts to tackle environmental issues, such as waste reduction, biodiversity conservation, haze prevention and others. The youths are:
Malika Avani, The Healing Drum
Hazeera Bi, Eco-SIM
Sankar Ananthanarayanan, Herpetological Society of Singapore
Gauri Shukla, SOS Against Haze
Cheryl Lee, Up2Degrees
Jonathan Halim, Freegan in Singapore
The audience of young people were similarly inspired and excited to connect with other equally passionate and committed youths, asking questions and planning future initiatives throughout the evening.
Connected Threads Asia: Fashion Sustainability: The Business of Sustainable Fashion
30 November 2017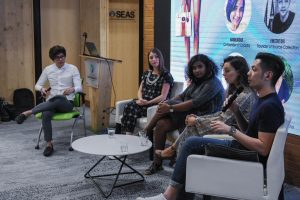 Connected Threads Asia conducted the final session of a series of talks on the topic of Fashion Sustainability. With a focus on "The Business of Sustainable Fashion", four invited speakers from Green is the New Black, Zerrin, Coopita and Source Collections came together to share about how they maintained sustainable fashion businesses in the highly competitive fashion market in Singapore. The speakers also discussed the challenges and opportunities of setting up sustainable fashion brands in Singapore, through their own experiences and successes.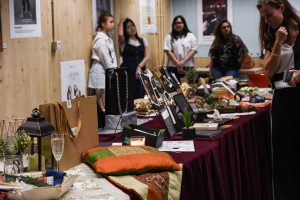 The event was accompanied by an exhibition by students from Raffles Design Institute, who showcased their own works from a project that tasked them to come up with a sustainable fashion line. The audience later voted on their favorite projects from a creative selection featuring clothing, jewelry, accessories and other products made by the students.
Women4Green Impact Series #2: Sustainable Tourism
29 November 2017
CDL's Women4Green Impact Series #2 delved into the topic of sustainable tourism, a key issue in a globally growing industry. The event was attended by over 80 female and male professionals.
The three speakers explored a spectrum of sustainability issues that the industry is facing today and our role as tourists in tackling them. The first, Dr Sin Harng Luh from NUS introduced the topic of sustainable and responsible tourism through examining tourism statistics and discussing commonly seen aspects sustainable tourism, such as environmental management, protection of wildlife, pro-poor tourism, and accessible tourism. She then challenged the crowd with the question "Is it really that easy to be responsible in tourism?" Ultimately, her presentation renewed guests' perspectives on their impact on areas driven by tourism.
The second speaker took the audience on a journey to Kerala, India to explore what life is like in a rural village. Her session focused on experiential travel that has minimum impact on the environment. Amala Menon, founder of SaveAGram provided an avenue to travelers who want a more immersive travel experience as they get the opportunity to live with the villagers in their original homes and experience a slower pace of life compared to urban environments.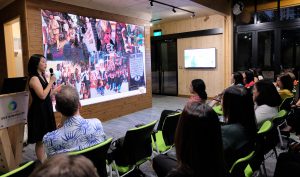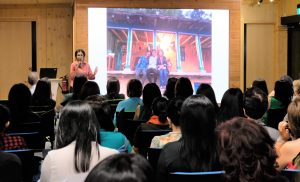 Finally, Dr Marc Van Loo from LooLa Adventure Resort on Bintan Island, introduced the crowd to his resort and explained how ecotourism has improved the lives of the locals on the island through the resort's presence and engaging activities.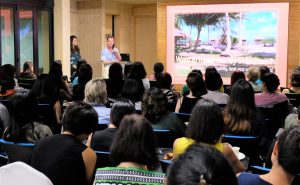 Guests were treated to a delectable menu from sustainable sources throughout the evening. Saladstop, a salad bar chain in Singapore served food representing different regions such as Japan and Singapore. Drinks of the night were supplied by Native Bar, a local, sustainable outfit that forages for natural ingredients across the Southeast Asian region and beyond to create bespoke cocktails.
For more information on the vendors and their sustainable practices, please refer to their respective sites below.
SaladStop! – https://www.saladstop.com.sg/en/
Native Bar – http://tribenative.com/
NEA Corporate Environmental Champions Workshop
27-28 November 2017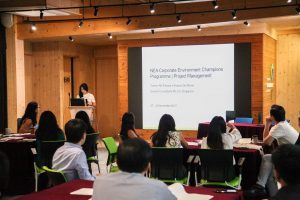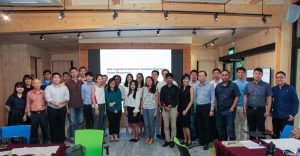 The NEA Corporate Environmental Champions Workshop, held at the Singapore Sustainability Academy on 27-28 November, aimed to equip representatives of corporate and non-government organisations with skills and knowledge to implement environmental initiatives within and beyond their organisations. Seeing increased interest from these sectors around sustainability, the programme was well-attended with over 30 participants from a wide variety of organisations like Khoo Teck Puat Hospital, Nature Society, Ricoh (Singapore) Pte Ltd, Ministry of Health, Interface Asia, LepakinSG and 15 others. The two-day workshop was conducted by Ms Farizan d'Avezac De Moran, Senior Partner of GreenA Consultants, and officials from NEA.
Participants acquired both useful project management skills and valuable insights on sustainability through the workshop. This was designed to help them drive environmental initiatives in the office setting after the workshop, while inspiring and equipping them knowledge through sharing sessions by experienced NEA environmental partners. After the workshop at the SSA, participants then went on an educational site visit to Semakau Landfill. With inputs and lively participation from representatives of diverse organizations, the workshop successfully imparted practical and relevant knowledge to help them push their organizations to greater sustainability.
Urban Land Institute Singapore Women's Leadership Initiative Mentoring Session
24 November 2017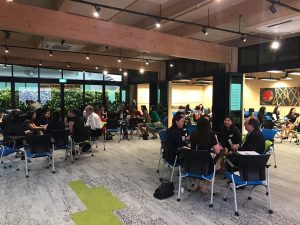 The Singapore Sustainability Academy hosted the exclusive Urban Land Institute (ULI) Singapore Women's Leadership Initiative (WLI) mentoring session on the evening of 24 November. 34 women working in the real estate industry gained advice, inspiration and tips from them on advancing their career in the male-domineering industry. The mentors were:
Peter Hyland, Regional Director, Urbis
Esther An, Chief Sustainability Officer, City Developments Limited
David Edwards, Director, Portfolio Manager – Real Estate, Deutsche Asset Management
Magdalene Chua, Partner, Assurance, PwC
Richard Paine, Managing Director, Paya Lebar Quarter, Lendlease
Ong Choon Fah, CEO, Edmund Tie & Co
Hwang Yu-Ning Acting Deputy CEO & Chief Planner, Urban Redevelopment Authority
Benett Theseira, Managing Director and Head of Asia Pacific, PGIM Real Estate
Stephen Pimbley, Director, Spark Architects
Natalie Breen, Partner and Real Estate Legal Leader, PwC
Organized in a "speed dating" format, mentors were assigned to one of five roundtables where they interacted with mentees and gave them advice. Mentees later moved around to different roundtables to speak with other mentors. The groups discussed career advancement, management, methods to juggle family and work and numerous other topics relevant to the young, high-potential women at the session.
4th Annual Hong Leong Group Sustainability Forum
20 November 2017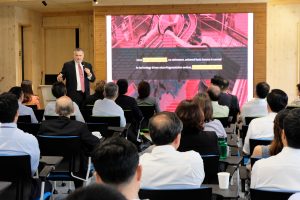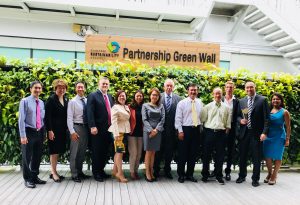 The 4th Annual Sustainability Forum for CDL and the Hong Leong Group was held at the Academy on the 20th of November. Attended by some 90 directors, senior management and sustainability committee members from 11 Group companies, the Forum convened a high-level panel of sustainability experts to explore and discuss about 'Emerging Trends in Sustainability'. Sustainability is gaining traction globally, especially among businesses looking to tap into new opportunities that also create shared economic, environmental and social value. The annual event sought to rouse interest and conversation among directors and top management on how their own companies could leverage on upcoming sustainability trends to create business value.
The Forum began with opening remarks by CDL CEO Mr. Sherman Kwek who spoke about how CDL's early adoption of sustainability since 1995 has strengthened our resilience and ability to adapt to new global challenges. The keynote address by Mr. David Galipeau, Chief Impact Officer of Asia-Pacific, United Nation Development Programme, was highly engaging and insightful.  Mr Galipeau shared how businesses can embrace urbanisation and the Sustainable Development Goals (SDGs) for economic opportunities and create positive impact on their stakeholders and communities.
Two experts in green financing, Mr. Mikkel Larsen, Managing Director and Co-Chair of Sustainability Council, DBS Bank and Ms. Herry Cho, Head of Sustainable Finance, Asia Pacific, ING Bank, addressed the audience on the opportunities present in green bonds and social impact investment, and how collaborations and innovations can drive financing for sustainable development. Subsequently, Ms. Karen Lee, Sustainability Lead for Asia, Interface, gave a manufacturer's perspective on how sustainability integration creates business value, as the world's largest maker of carpet tiles and a pioneer organization in sustainability practices.  Finally, covering the crucial but often-overlooked topic of gender diversity on boards was Ms. Janet Ang, Member of the Diversity Action Committee Singapore and Vice President of Industry Solutions and Smarter Cities, IBM Asia Pacific.
The presentations were followed by a panel discussion moderated by Ms. Esther An, CDL Chief Sustainability Officer, which saw a highly-engaged audience seeking strategic and practical advice from the esteemed panel on how to embrace sustainability best practices such as SDG integration and gender diversity, especially for medium enterprises and first-time adopters.
Republic Polytechnic Green Building Energy Management Students' Visit to SSA
1-6 November 2017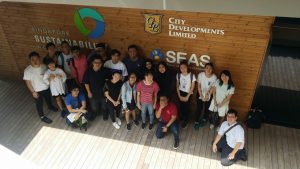 The Academy received 80 students and two lecturers from the Republic Polytechnic Diploma in Green Building Energy Management over four days in November. The students who are 16-17 years old are completing a course on 'Green Building Technology and Design'.  They toured and learnt about the green features and initiatives of City Square Mall, Singapore's first Eco-Mall opened in 2007.    They then proceeded to the Academy on the Mall's Skypark where they further expanded their knowledge on green building features and solar technologies.
The CDL Sustainability team showcased the Academy's positive energy achievement and real-time energy monitoring system. Students also learnt first-hand about the Nature's BarcodeTM certified Glued Laminated Timber and Cross Laminated Timber used to construct the SSA.  The team also shared about the sustainability-related programmes and events that have been held in the SSA for businesses, the community and youths. The students were inspired by what they learned, and left especially impressed by the Academy's advanced solar technology and commitment to walking the talk in sustainability.
SMU Business Families Institute - Universitas Ciputra Graduate Students Visit
2 November 2017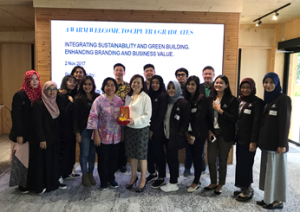 16 graduate students from Universitas Ciputra (Ciputra University) in Surabaya, Indonesia, visited the Academy to learn about best practices in business and sustainability from a Singapore company. The visit was organised by the Singapore Management University's Business Families Institute, Southeast Asia's pioneer regional business family-centric institute focused on addressing the needs of business families in the region. The students run their own family businesses in Indonesia across a range of industries. They visited the Academy to observe a key showcase of partnership and collaboration between the People, Public and Private sectors.
Chief Sustainability Officer, Esther An, shared with the visiting students about how CDL sustainability efforts have evolved beyond a mere corporate social responsibility initiative, to becoming a core business strategy that creates long term value for the company and its stakeholders.   After a tour of the SSA to observe the successful integration of green building features, the students also visited City Square Mall to learn more about its green technologies and initiatives as Singapore's first eco-mall.
SMU 'Managing Sustainability' Class Visit to the SSA
20 October 2017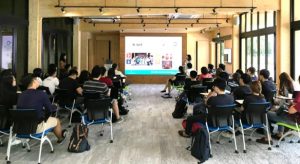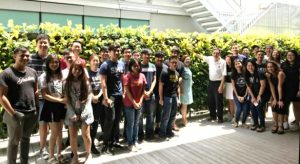 45 local and international students from the Singapore Management University (SMU) visited the Academy as part of a class on 'Managing Sustainability' on 20 October. The class, SMU's first dedicated module on corporate sustainability, is co-designed and taught by CDL Chief Sustainability Officer, Esther An. The students hail from a range of countries, with diverse majors such as Accountancy, Business, Economics, Information Systems and others.
The tour of the Academy was accompanied by a presentation by Esther and followed by a visit to CDL's mixed developments, South Beach. Esther showcased the Singapore Sustainability Academy (SSA) as an example of how businesses can create shared value and goodwill among the business and nonprofit community, and future youth leaders of tomorrow. The positive-energy SSA has generated both tangible and intangible value for CDL and its stakeholders through its annual electricity savings, capacity-building for energy managers, and sustainability advocacy and outreach to hundreds of business partners and youths since its opening. The students were enthused and inspired , continuing to ask questions and observe the Academy's green design and features after the tour.
NEA Professional Sharing Series: Circular Economy and Resource Efficiency, Best Practices from the UK
5 October 2017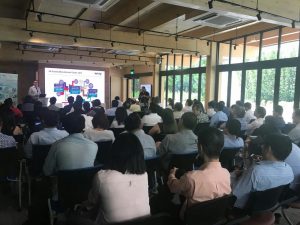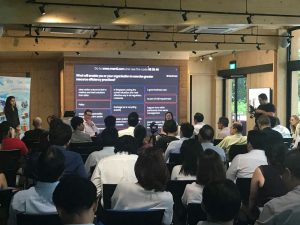 The National Environment Agency (NEA) invited Dr Marcus Gover, Chief Executive Officer of the Waste and Resources Action Programme (WRAP) from England to speak at their Professional Sharing Series that was held in the Singapore Sustainability Academy on 5 October 2017.
Some 70 experts from business, government, NGO and academia sectors attended this session. Dr Gover shared insights on the challenges and best practices on resource efficiency and circular economy in UK from WRAP's research and initiatives with stakeholders; and the challenges and opportunities ahead for industries globally.
NEA Environmental Sustainability and Project Planning Training Workshop for Youth Environment Envoys
23 – 24 September 2017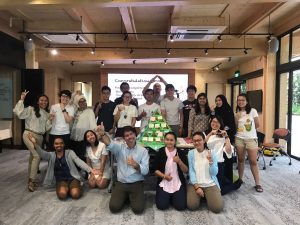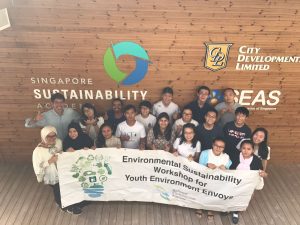 At the workshop, NEA held Environmental Systems Thinking Workshops for their Youth Environment Envoys (YEE), where over 20 future youth leaders received conceptual and practical training on sustainable development. They were groomed to develop teamwork, communication, networking, systems thinking and project management skills by sustainability consultants from Systainability Asia. The workshop also enabled them to design, develop and launch their own environmental projects.
SGX Sustainability Roundtable for Directors of Catalist Companies
14 September 2017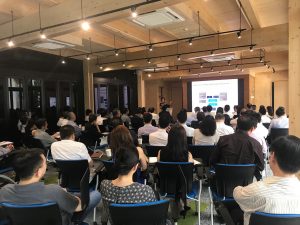 Singapore Exchange Limited (SGX) organized a briefing for 80 directors of listed Catalist companies to learn more about the basics of sustainability reporting, and how a first-time reporter should start. The briefing opened with a welcome by June Sim, Head of Listing Compliance at SGX. Esther An, Chief Sustainability Officer of City Developments Limited, also welcomed participants to the zero-energy Academy and spoke on its vision, mission, and making. Then, Yeo Lian Sim, SGX Special Adviser (Diversity), gave an overview of Sustainability Reporting and the SGX Guide to reporting. Following that, Christopher Chong, Lead ID of Singapore O&G and Chaiman, Emerging Towns & Cities, spoke on Implementing Sustainability Reporting from a Board Director's Perspective. Finally, Wong Dan Chi, Director of Paia Consulting, gave participants useful pointers from a Sustainability Consultant, on how to begin reporting and the most important things to look out for.
This was followed by a panel discussion and Q&A session. The panel comprising Yeo Lian Sim, Esther An, Wong Dan Chi and Michael Tang, Head of Listing Policy & Production Admission, Regulation, SGX, answered questions and alleviated the audience's concerns about how first-time reporters should start their reporting journey. The directors in attendance benefited from the reporting veterans' insights and tips.
International Green Building Conference Tours of the Singapore Sustainability Academy
11 and 14 September 2017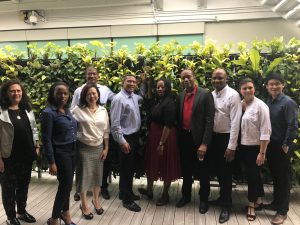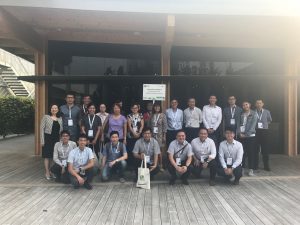 The SSA, a Green Mark Platinum Award development, was featured during the International Green Building Conference (IGBC) as a unique showcase of green building commitment and platform for sustainability advocacy.
During the conference week, over 60 local and international delegates visited the Academy over 2 days to learn about its green features and practices, as well as the training and networking events in sustainability that it has facilitated. Among them were chief executives of the Green Building Councils of South Africa, South Korea and Malaysia.
Chief Sustainability Officer Esther presented on the topic of "Build Green: Be the Change" to all groups of delegates. She shared about how CDL has integrated green building and sustainability into its business for value creation, and the Academy's role as a showcase of green building commitment and sustainability advocacy.
Both tours were supported by technical experts from Schneider and REC, the Academy's energy monitoring portal and solar panel providers respectively. They elaborated further on the technicalities of the Academy's green features. In total, the Academy received 60 visitors from Singapore and overseas, who continued to ask questions and explore the Academy after the tour.
Singapore-Denmark Climate Change Dialogue by the Royal Danish Embassy of Singapore
11 September 2017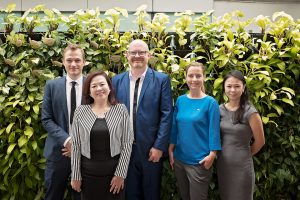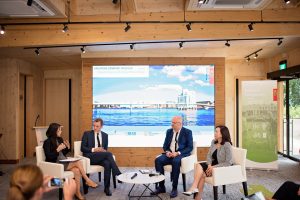 The Royal Danish Embassy of Singapore held a dialogue between high-level leaders in government and the private sector from Singapore and Denmark at the Singapore Sustainability Academy, with a focus on sharing lessons and best practices between two small yet ambitious cities in the fight against climate change.
Titled 'Cities & Citizens Confronting Climate Change', the event featured presentations by distinguished political and industry leaders, moderated by Ms Jessica Cheam, Managing Editor of Eco-Business. The event opened with a welcome by the moderator, before Her Excellency Dorte Bech Vizard, Ambassador of Denmark to Singapore and Brunei, took the floor to welcome guests from both countries and kick off the dialogue with the thought-provoking message that climate change is the 'black elephant' in the room. This was followed by an address by the Guest of Honor, Mr Khoo Teng Chye, Executive Director of the Centre for Liveable Cities, Ministry for National Development, on "Towards a sustainable future". Mr Khoo touched on how Denmark and Singapore are small in size, but can be hugely influential in stirring others to become more sustainable. Then, Mr Morten Kabell, Mayor of Technical & Environmental Affairs, City of Copenhagen, spoke on "How cities can and should act". Mr Kabell emphasized the need for mutual learning and collaboration between Singapore and Copenhagen, giving examples of climate-friendly practices from both cities. Following that, Ms Esther An, Chief Sustainability Officer, City Developments Limited (CDL), shared on "How to grow a 'green force' in cities", citing how CDL has engaged its key stakeholders on the need to be sustainable through education and empowerment. Finally, Mr Andreas Maaløe Jespersen, Associate Researcher at iNudgeyou, spoke about his experience in "Getting citizens to go green" through behavioral economics principles.
The presentations were followed by a lively panel discussion and audience dialogue. The panel comprising Mr Morten Kabell, Ms Esther An and Mr Andreas Maaløe Jespersen took questions from the moderator and audience on the challenges and opportunities arising from cities' fight against climate change, with inputs from Mr Khoo Teng Chye. The event, attended by representatives from government agencies, academia, research and industry, ended on a high note with the audience continuing to interact with panelists and exchange insights over lunch.
NTU Asian Business Case Challenge Participants' Tour of the Singapore Sustainability Academy
4 September 2017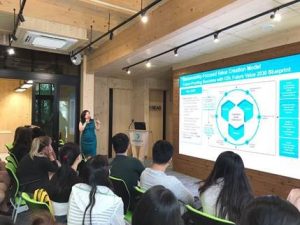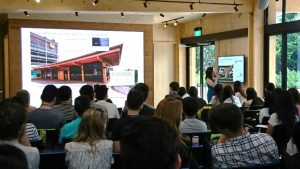 CDL hosted over 70 local and international participants of NTU's annual Asian Business Case Competition (ABCC) at the Singapore Sustainability Academy on the 4th of September. The students from countries like Hong Kong, Thailand, Japan, Australia, New Zealand and Canada were in Singapore to participate in the 6-day case competition, targeted at encouraging NTU students to delve further into the topic of sustainability. As a Platinum Sponsor, CDL worked closely with the organizers to develop the competition's main case study, which exhibited leadership in sustainability for their Sustainable Enterprise Challenge (SEC).
At the zero-energy Academy, Esther An, CDL Chief Sustainability Officer,, shared with participants about CDL's sustainability journey and the vision and mission of the Academy. The students were also given a tour of the zero-energy Academy, which highlighted some of the key green features of the space such as its use of sustainable, Nature's Barcode™ verified wood, solar panels, and real-time energy consumption tracker. The participants were enthused and asked many questions about the sustainable features of the building and how CDL fits into the bigger picture in terms of sustainability in Singapore.
NEA Pre-school Environmental Education Advisors (EEA) Networking Session
4 September 2017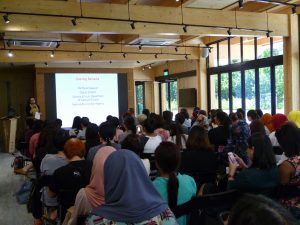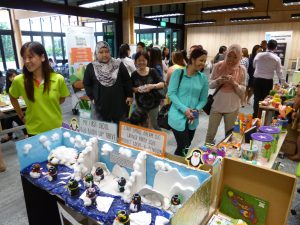 The National Environment Agency (NEA) held their annual pre-school Environmental Education Advisor (EEA) Networking Session at the Academy. The session provided a platform for pre-school EEAs to network and learn more about the initiatives that NEA and its partners are rolling out. Over 80 pre-school teachers and advisers attended the interactive and lively session on 4th September 2017, where they learned about best practices in environmental education through booths and sharing sessions from guest spears and experienced pre-school EEAs.
NEA Uniformed Group Badge Workshop for Singapore Scouts Association
19 August 2017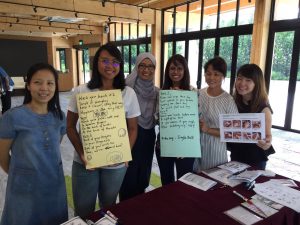 To introduce NEA's new Uniformed Group (UG) Badge Programme which adopts a Values In Action approach, NEA held a dedicated session for teachers working with scouts on 19 August 2017, at the Academy. Through a half-day workshop with interactive activities and games, the teachers effectively learned about the two badges, "Keep Singapore Clean" and "Resource Conservation", which are aligned to NEA's Guiding Principles, "Let's Be Considerate" and "Let's Not Be Wasteful".
Women4Green Impact Series #1: Sustainable Fashion
18 August 2017
CDL held its inaugural Women4Green Impact Series at the Academy, with a focus on Sustainable Fashion. Over 100 ladies attended the event that highlighted the negative environmental impacts of fashion, the second most polluting industry after oil & gas. The forum featured speakers from CSR Asia and H&M. In a welcome address, Esther An, Chief Sustainability Officer of City Developments Limited, articulated the reasons behind founding Women4Green, with its vision and mission of empowering women in the male-dominant green industry.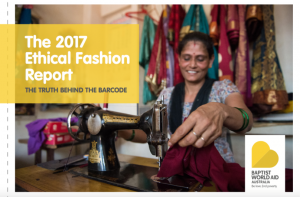 The first speaker, Mabel Wong, Executive Director of CSR Asia and Women4Green Ambassador in Australia and New Zealand,  shared the current outlook on sustainability for the Australian fashion industry using findings from the 2017 Baptist World Aid Ethical Fashion Report. This report scored 106 companies in Australia, including familiar brands like H&M, Uniglo and Zara, on their supply chain disclosures and engagement, as well as existence of responsible sourcing policies. This was followed by the main presentation featuring Wong Xin-Yi, Sustainability Manager of H&M Southeast Asia, on the Swedish brand's efforts to counter fashion's negative impact for a more sustainable future.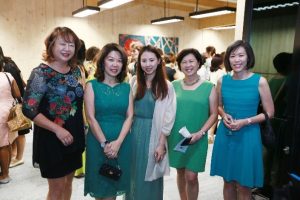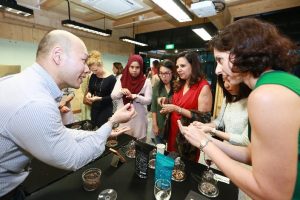 Guests had a delightful evening making new friends and exchanging thoughts over wine, cheese, chocolates and a light dinner. Complementing our aim to promote a more sustainable lifestyle, all the refreshments served at the event were sourced responsibly – organic and biodynamic wines from Wine Clique; artisanal cheese produced using traditional methods from The Cheese Artisans and sustainably-farmed chocolates by Krakakoa from Beans to Bars. Participants also enjoyed an egg-centric dinner from Crack, which sources all their eggs from local farms.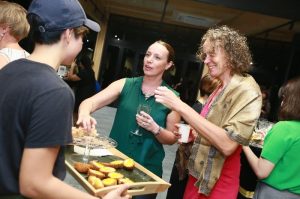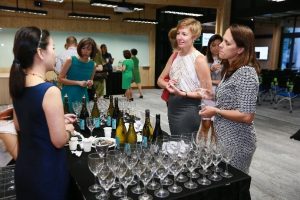 For more information on our vendors and their sustainable practices, please refer to their respective sites below.
Crack – https://www.facebook.com/crack.singapore/
Wine Clique – http://www.wine-clique.com/
The Cheese Artisans – https://www.cheeseartisans.com.sg/
Beans to Bars – http://www.beanstobars.sg/
Sustainability Thought-Leadership Forum: Building a Circular Economy
3 August 2017
CDL, in collaboration with Interface, held its first Sustainability Thought-Leadership Forum on Building a Circular Economy at the Academy. At the session, Malavika Jain Bambawale, Director/ASEAN Lead, Strategy and Sustainability, Accenture, shared about the five circular economy business models, showing examples of businesses that have successfully adopted them. The presentation was followed by an engaging panel discussion featuring Erin Meezan, Chief Sustainability Officer, Interface; Lee Hui Mien, Head of Sustainability, IKEA Southeast Asia and Malavika Jain Bambawale, and moderated by Esther An, Chief Sustainability Officer, City Developments Limited. They discussed how businesses can create business value by shifting away from the linear model, while making the circular economy attractive to consumers and investors.
The Academy was packed with over 100 guests from the People, Public and Private sectors. The panellists took questions from a highly-engaged audience, which was followed by a networking session where guests continued to exchange insights.
Climate Take Back Roundtable and RBF Singapore Launch Event by Global Initiatives
2 August 2017
Global Initiatives, in partnership with Interface, held a roundtable with 21 regional sustainability experts from the business, government, NGO and academia sectors to share insights and perspectives on cross-sectoral collaboration to address climate change. Ms Erin Meezan, Chief Sustainability Officer of Interface, first addressed the group on Interface's Climate Take Back initiative. Senior representatives from the building, energy, consumer goods and agricultural sectors then had a fruitful discussion on how industries can move towards a low-carbon economy, moderated by Mr Tony Gourlay, CEO of Global Initiatives.
After the Roundtable, Global Initiatives hosted a cocktail networking session to mark the launch of the Responsible Business Forum Singapore 2017 and their #SDGActionNow campaign, co-organised with the United Nations Development Programme. They also unveiled the campaign video featuring CDL as an example of best practice for UN SDG 11: Sustainable Cities and Communities.
CDL-GCNS Young CSR Leaders Award Final Judging
27 July 2017
In its 7th edition, the CDL-GCNS Young CSR Leaders Award was launched in 2011 as a cross-sectoral programme to cultivate a new generation of young leaders to champion a sustainable future for Singapore and beyond.
10 finalist teams from various universities, polytechnics and junior colleges/high schools were selected from a competitive pool of over 130 student teams – a record number of sign-ups for the competition.
The teams gave impressive presentations before an esteemed judging panel on their proposed sustainability strategy and initiatives for 10 company cases, namely AkzoNobel, APRIL, Cargill, DSM, EY, Hong Leong Asia, Informatics, Singtel, Suntory and Veolia.
The judging panel comprised of Ms Esther An, Chief Sustainability Officer, City Developments Limited; Mr Lee Kheng Seng, Director of Communications and 3P Partnerships, Ministry of Environment and Water Resources; Mr Tony Gourlay, CEO, Global Initiatives; Mr Steven Okun, Governor, American Chamber of Commerce and Ms Christina Lee, Founder and CEO, Global Green Economic Forum.
The winners will be announced and awarded at the GCNS Summit on 29 August.
Ideation Workshop and Creating +Positive Spaces of Tomorrow, Today Panel by Interface
10 July 2017
A partner of the Academy, Interface held an Ideation workshop with Forum for the Future, along with a networking event, to gain insights from industry peers about the future of learning, as well as discuss solutions to create spaces that will positively address our changing needs.
The workshop, titled The Future of Learning Spaces in Asia Pacific, was a highly interactive ideation exercise involving a group of architects, designers, educators and entrepreneurs. Besides gaining industry insights, the workshop helped participants co-create potential innovative responses to emerging change.
The networking session, titled Creating Positive Spaces of Tomorrow, Today, involved professionals in the built environment. A panel of consisting of Tan Shao Yen, Chief Executive Officer, CPG Consultants and President, Board of Architects, Singapore; Jayne Harrison, Founder & Principal, JDH Architects; Robin Hales, VP Product APAC, Interface; and Anna Simpson, Senior Associate, Forum for the Future and Author of The Innovation-Friendly Organisation, discussed design solutions proven to impact factors like occupants' productivity and creativity while creating a positive impact on our planet.
Thought Leadership Event on the Future of Sustainability by Global Compact Network Singapore
29 June 2017
In conjunction with its Annual General Meeting and Management Committee Meeting, Global Compact Network Singapore held a thought leadership event titled The Future of Sustainability and Reporting for Corporate Sustainability. Attended by nearly 100 members, including companies such as Shell, Singapore Business Federation, Singapore Pools and NTUC, the event addressed frequently asked questions about integrating the Sustainable Development Goals (SDGs), and how to report on a company's efforts to achieve them.
Speakers on the panel were Ms. Esther An, Chief Sustainability Officer, City Developments Limited; Mr. Simon Bennet, General Manager (Sustainable Development), Swire Pacific Offshore Operations; Mr. Tony Wines, CEO, Turnkey Group; and Ms. Yeo Lian Sim, Special Adviser, Singapore Exchange. They shared how opportunities could be found by embracing the SDGs, as well as the use of corporate reporting as a strategic tool in business. The event concluded with a panel discussion with the speakers, moderated by Ms. Fang Eu-Lin, Partner, Pricewaterhouse Coopers LLP.
Youth Environment Envoy Workshop by National Environment Agency
17 - 18 June 2017
About 40 students, mostly from universities and polytechnics, attended the National Environment Agency Youth Environment Envoy workshop. Held on 17 to 18 June 2017 at the Singapore Sustainability Academy, its aims to groom a network of youth to become leaders and change agents. CDL shared the importance of embracing sustainability for businesses and corporates, and facilitated discussion alongside presenters from MEWR and Earth Fest.
Singapore Sustainability Academy Official Opening
5 June 2017
In conjunction with World Environment Day, the Singapore Sustainability Academy was officially opened by Mr. Teo Chee Hean, Deputy Prime Minister and Coordinating Minister for National Security, together with Mr. Masagos Zulkifli, Minister for the Environment and Water Resources. Jointly created by City Developments Limited and the Sustainability Energy Association of Singapore, the Academy is the first major People, Public and Private (3P) ground-up initiative in support of global and national goals to tackle climate change. The opening also introduced many of the Academy's initiatives, such as the Women4Green Network, and the Sustainability Studio.
Over 160 invited guests attended the opening, including notable names such as the Canadian High Commissioner Lynn McDonald; Mayor Teo Ho Pin, North West CDC; Mr. Choi Shing Kwok, Permanent Secretary, Ministry of the Environment and Water Resources; amongst many others.
For more information, please refer to the press release here.
A Dialogue with GRI Chief Executive Tim Mohin by CSR Asia
26 May 2017
CSR Asia hosted Global Reporting Initiative (GRI) for a session on the value and challenges of corporate sustainability reporting in an evolving landscape. The event provided a unique opportunity for an open conversation with GRI about the concerns and needs around transparency.
Mr Timothy Mohin, Chief Executive, GRI shared about the organisation's reporting standards and the future of corporate sustainability reporting, fielding many questions from the floor about the opportunities and challenges of reporting a company's sustainability efforts. CDL also shared on its sustainability reporting experience and how GRI's reporting standards have complemented CDL's corporate sustainability journey, enabling it to effectively connected the company's ESG disclosures with financial impact to communicate tangible value creation for its investors and stakeholders.
Aligning Corporate Strategies to the UN SDGs by Business Council for Sustainable Development
17 May 2017
The Business Council for Sustainable Development (BCSD) held a roundtable session on "Aligning corporate strategies to the United Nations Sustainable Development Goals (SGDs): Challenges and opportunities". The session also introduced World BCSD's CEO Guide to the Sustainable Development Goals.
Presented by Mr Filippo Veglio, Managing Director, Social Capital, World BCSD, the session explored the crucial role that business should play in achieving the SDGs as well as positioning clear actions that business leaders can take to align their organizations with the SDGs and unlock the value they represent. The audience was provided with a comprehensive overview of the key implications for business across the spectrum of risk, opportunity, governance & transparency, and the need for collaborative action.
Strategic Partners Gathering by CSR Asia
19 April 2017
The CSR Asia Strategic Partners Gathering was held at the Academy 19 April. During the session, Richard Welford, one of the founders and the chairman of CSR Asia shared on the merger between CSR Asia and ELEVATE, a leading professional services firm delivering improved social, environmental and business performance in the global supply chain.
Launch of the Singapore Sustainability Academy
5 August 2016
CDL and the Sustainable Energy Association of Singapore (SEAS) announced the launch of the Singapore Sustainability Academy on 5 August as the first major People, Public and Private (3P) ground-up initiative in support of the national goals to tackle climate change. This is also the first time that a local private property developer and a Non-Profit Organisation have teamed up to create a major training and networking facility on sustainability.
The launch was graced by Dr Amy Khor, Senior Minister of State, Ministry of the Environment and Water Resources. The zero-energy academy is set to promote a low-carbon economy, resource efficiency, and sustainable practices among businesses and the community, in particular, youths.
Jointly designed by CDL and ONG&ONG Pte Limited, and built by Woh Hup (Private) Limited, the SSA will be the first in Singapore to have its construction materials, Cross Laminated Timber and Glued Laminated Timber verified by the Nature's BarcodeTM system as coming from responsible sources.
For more information, please refer to the press release here.