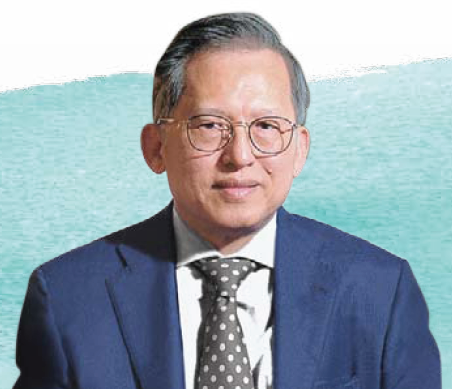 CHAIRMAN STATEMENT
The strategic goals and long-term ESG targets set under the CDL Future Value 2030 sustainability blueprint established in 2017 have given us a clear direction to mitigate climate-related risks and map out adaptation strategies for the future.
Dear Stakeholders,
Throughout 2018, the litany of super storms, rising sea levels, deep freezes and harsh droughts has made the global climate crisis a reality that cannot be dismissed. Extreme weather is now the new normal and the greatest threat to the survival of humanity. The financial toll of natural disasters in 2018 was estimated to cost US$155 billion1.
In the race against global warming, Singapore has been proactively fulfilling its pledge under the Paris Agreement. As a small, low-lying country, the threats of climate change to our daily lives are very real. If sea levels in our geographical region keep rising, our island nation will become smaller2. For land-scarce Singapore, this can indeed be a big national security issue.
We are glad to see greater international cooperation in mitigating the immense threats of climate change. At the recent COP24 in Poland, almost 200 countries agreed to adopt the rulebook for implementing the Paris Agreement. Nevertheless, to achieve the world's climate goals, greater and more active cross-sector partnership and collaboration at both national and global levels will be required.
Besides political leaders, businesses can play a strong role in climate action. Our CDL Sustainability Report this year is titled "Changing the Climate: Towards Future Value 2030 Goals". This theme reflects CDL's continued commitment to being an agent of change that catalyses the progression of the building industry and corporates towards best practices in sustainability. It also reinforces CDL's pioneering and steadfast efforts to contribute towards the United Nations Sustainable Development Goals (UN SDGs) and Sustainable Singapore Blueprint.
As a leading real estate developer with a global presence, CDL has always been mindful about the exposure of our business to climate risk. Our buildings are vulnerable to extreme weather events and warmer temperatures imply the need for more optimal cooling systems for building occupants. CDL has thus increased the adoption of innovative and adaptive technologies that will keep our business and assets climate-resilient.
Based on the recommendations of the Financial Stability Board's Task Force on Climate-related Financial Disclosures (TCFD), CDL became the first Singapore real estate company to embark on a Climate Change Scenario Planning Study. The study aims to raise CDL's business resilience and readiness for potential climate-related risks. Commenced in Q1 2018, Phase 1 of the study was completed at the end of the year. It covered our corporate headquarters in Singapore and core business operations in selected key overseas markets. In July 2018, CDL also became the pioneering Singapore real estate company to have our carbon reduction targets validated by the Science Based Targets initiative. These efforts will not only help us improve our carbon performance but also future-proof our business for sustained growth.
Today, investors and consumers are increasingly expecting socially responsible brands and products, marking a profound shift in consumer preference with this emerging sustainability revolution. Globally, there is an increasingly strong business case for green buildings as they improve occupants' health, productivity and well-being. With CDL's strong track record as a pioneer in green buildings and extensive partnerships across the value chain, these emerging trends can offer many opportunities for us to incorporate innovative designs, intelligent building technologies and health enhancement factors in our product offerings.
Reflecting our leadership commitment towards integrating sustainability into our operations, since February 2018, CDL's Sustainability function reports directly to the Board Sustainability Committee. The Committee comprises three Independent Non- Executive Directors and CDL's Group CEO. In June 2018, Ms Tan Yee Peng, an Independent Non- Executive female Director of CDL, was appointed as the first female Chairperson of this dedicated Board Sustainability Committee. She is also a member of CDL's Audit & Risk Committee (ARC) and Nominating Committee (NC). At the same time, Ms Jenny Lim, CDL's second female Independent Non-Executive Director, was also appointed to the Board as Lead Independent Director and the Chairperson of the ARC and the Remuneration Committee. She is also a member of the Board Committee and the NC. These appointments reflect CDL's continuing support for increased board diversity. Female representation on our Board has increased from 14% to 29%, surpassing the Nominating Committee's target of 20% female representation by 2020.
I am pleased to note that the progress we made in embracing sustainability internally and across our value chain has earned CDL global recognition on 12 prestigious sustainability benchmarks. Announced at the World Economic Forum at Davos in January this year, CDL was once again recognised among the Global 100 Most Sustainable Corporations in the World, ranking 25th. This is the 10th consecutive year that CDL is listed on the Global 100 index – the first and only Singapore company with this accomplishment. These milestones not only reflect CDL's conviction to develop sustainable cities and communities, but also demonstrate our ability to create tangible benefits for our stakeholders via the strategic integration of sustainability into our business.
Creating positive social and economic impact aligned with the UN SDGs will remain a key focus for our business. Amidst the acceleration of global efforts to mitigate climate change risks, the Board will continue to support CDL management's efforts to drive change through innovation, building on our legacy as a sustainability leader.
Kwek Leng Beng
Executive Chairman
| | |
| --- | --- |
| 1 | News release by Swiss Re, 18 December 2018 |
| 2 | Singapore Deputy Prime Minister Mr Teo Chee Hean's speech at the Global Compact Network Singapore Summit 2018 |