WATER STEWARDSHIP
WATER CONSERVATION AND MANAGEMENT
With climate change and a rapidly growing global population, the demand for water is estimated to more than double by 2060. As ranked by the World Resources Institute (WRI), Singapore is likely to become one of the world's most water stressed countries by 2040. To combat this, Singapore's national water agency, the Public Utilities Board (PUB) has built a robust and diversified water supply known as the 'Four National Taps' to ensure water security for the nation. However, water scarcity is still a serious issue. In 2017, water prices in Singapore increased for the first time in 17 years. The 30% water price hike is implemented over two years, first in July 2017, and second in July 2018. Businesses also experience an increase in NEWater tariff and a new 10% water conservation tax on NEWater.
Lifecycle Approach of Water Management
Taking a strategic approach on effective water management systems to minimise consumption and manage water quality is a key priority for CDL. This significantly enhances the efficiency, resilience, desirability and long-term value of our assets and developments. Not only does it deliver significant benefits to the environment, but it also promotes performance and cost efficiencies across our operations. From the initial stages of design to construction and management, CDL's developments are conceptualised with a strong focus on water sustainability. Such responsible water management practices allow us to deliver value to our customers through cost savings.
Water Conservation Initiatives
In recognition of our significant contribution towards Singapore's water sustainability, CDL was one of the first recipients of the inaugural Watermark Award by PUB in 2007. Since the inception of PUB's Active, Beautiful, and Clean Waters certification in 2010, CDL has also been a pioneer winner for a number of our developments.
To date, 14 of our buildings have been certified as "Water Efficient Buildings" by PUB for outstanding efforts in water conservation.
Water Reduction Target and Performance
As part of our ISO 14001 Environmental Management System objectives, CDL tracks monthly water consumption against the respective targets for our key business processes.
Monthly water consumption for our key business processes are also closely tracked to ensure we are adequately prepared to continue managing our water usage effectively. CDL has established targets to reduce water use intensity by 38% against 2007 levels, by 2030. In 2018, we achieved a 32% reduction, meeting the interim reduction target we had set for the year.
Stage in Project Lifecycle
Water Management Focus
Benefits
Design

| | |
| --- | --- |
| Use of water-efficient fittings and fixtures | Reduce use of water |
| Use of recycled water and drought-resistant plants | Reduce the use of potable water |

Construction

| | |
| --- | --- |
| Installation of self-closing taps | Reduce reliance on fossil fuel energy |
| Collection of rainwater for washing vehicles | |
| Installation of systems to allow water recycling for site cleaning | |
| Installation of silty water treatment system | Prevent silty water from being discharged into water systems |

Operation of Assets

| | |
| --- | --- |
| Comprehensive use of water-efficient fixtures and fittings | Reduce use of water |
| Use of NEWater for operations that do not require potable water | Reduce reliance on potable water |
Key Water Conservation Initiatives in 2018
| | | |
| --- | --- | --- |
| Water Initiatives | LED BY BUSINESS UNIT | Savings |
| Use of recycled water for construction site activities | Property Development | 48,800 m3 equivalent to almost $134,0006 in monetary savings. |
| Use of NEWater instead of potable water | Asset Management | Use of 122,858m3 of NEWater, equivalent to almost 28% of the total water used and a saving of more than $38,2507 as compared to using potable water |
| | |
| --- | --- |
| 6 | Water tariffs at $2.74 per m3 before GST, inclusive of water tariff, water conservation tax and waterborne fee. Source: www.pub.gov.sg |
| 7 | NEWater tariffs of $2.33 per m3 before GST, inclusive of NEWater tariff and waterborne fee. Source: www.pub.gov.sg www.pub.gov.sg |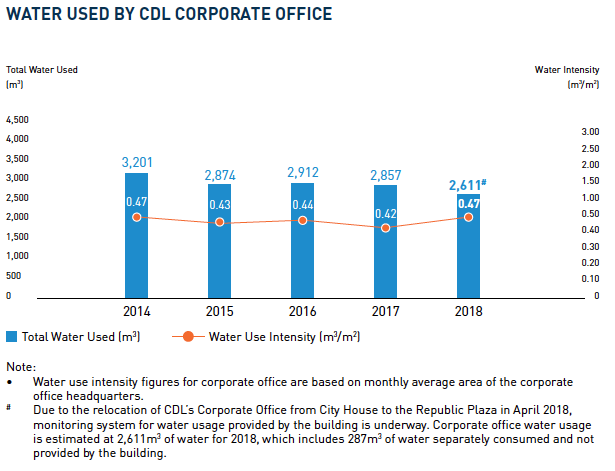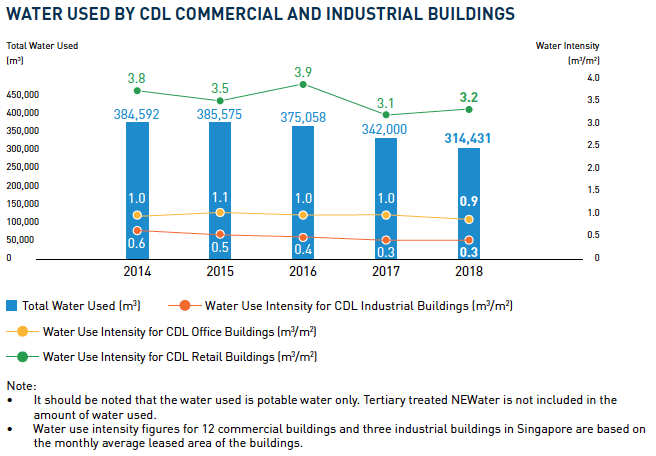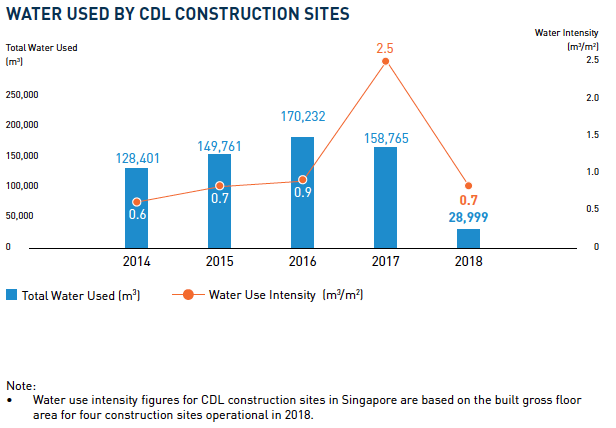 Subsidiaries' Water Usage
Similar in scope for GHG emissions and energy, we also report the water consumption data of our key subsidiaries.