TRAINING AND DEVELOPMENT
An engaged workforce and strong leaders are key drivers for our organisational growth, innovation and sustainability. Investing in employee learning and development helps build a resilient and future-ready workforce, that possess the skills and expertise to adapt and navigate the changing business landscape, placing CDL in a leading position for future growth and success.
Our Competency Framework was reviewed in 2017 to raise our employees' learning and development capacity, yielding a capable and more agile workforce. We also carry out annual training needs analysis to ensure there are adequate training interventions to level-up competencies and professional knowledge.
It is mandatory for all new employees to attend the CDL On-boarding Program, which aims to induct and integrate new hires into the organisational culture.
Training Hours and Investments
In 2018, CDL invested over $130,000 and clocked over 14,000 hours in training and development. 100% of our workforce was provided the opportunity to attend training sessions, while over 47% of the workforce achieved an average of four training days.
CDL also supports our employees in receiving sustainability-related training through EHS training and awareness programmes that cultivate a 'Safe and Green' corporate culture. They are encouraged to attend relevant external conferences and workshops to strengthen their sustainability knowledge and EHS management skills. Over 50% of employees received sustainability-related training in 2018.
In October 2018, CDL held the annual Sustainability Forum for the Board of Directors of Hong Leong Group's listed companies, as well as CDL's Senior Management and Sustainability Committee members, to share the latest global sustainability trends and developments. Titled 'Unlocking Business Value of Sustainability', the forum invited an esteemed panel comprising of keynote speaker Mr Peter Bakker, President and CEO of the World Business Council for Sustainable Development, as well as Dr Lawrence Loh, Director of Centre for Governance, Institutions and Organisations from NUS Business School and Ms Eliza Tan, Vice President of Listing Compliance at the Singapore Exchange. They shared insights on how businesses can drive performance through sustainability reporting as well as tap into the economic potential of SDG-integrated strategies.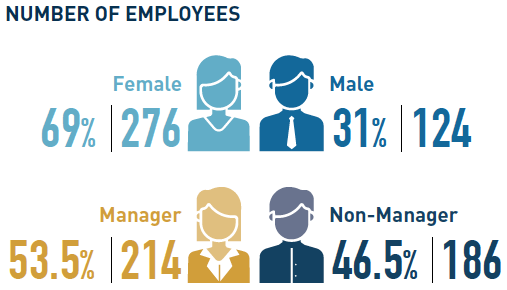 EMPLOYEES TRAINING HOURS

Average Training Hour/Employee
Leadership Development and Succession Planning
It is crucial for CDL to develop a robust talent pool that is capable of solving the challenges and seizing the opportunities of tomorrow. Through the structured CDL Leadership Programme, we develop high-potential employees by sharpening their leadership and management skills to enable them to become more effective leaders.
Today's employees have high expectations of personal development and career growth. To meet these demands, there is a need to put in place a well-designed job rotation programme to enhance employees' competencies, as well as to increase job satisfaction through job variation. Structured talent deployment within CDL is part of human resource planning, and it plays a major role in the following areas:
a. Career Development

By providing employees with either exposure to the various business operations, or by expanding their skills and knowledge, employees will be able to build both breadth and depth of experience and learning, hence maximising their potential and enabling them to be more well-rounded in their careers in CDL.

b. Succession Planning

Job rotation serves as an effective tool in developing the identified successors for various critical leadership positions. It allows them to build up the competencies that they may be lacking, and provides them with a more holistic view of CDL's business, thereby ensuring that they are more prepared for impending leadership roles.

c. Talent Retention

Job rotation motivates employees as it broadens their skills set, adds diversity to their job roles, and rejuvenates their interest to keep learning through tackling different challenges.
Management Trainee Programme
The Management Trainee Programme was introduced in October 2016 to nurture young talents and ensure sustainability of leadership and management capacity in CDL as it is vital for the Company to develop a talent pipeline.
The 18-month programme provides opportunities for young graduates to learn about the Group's various departments and respective operations, through a series of attachments to each department. This helps them to establish and build relationships between departments. The programme structure also allows Management Trainees to participate in additional special projects or overseas assignments to enhance their development. Upon completion of the programme, individuals will be posted to one of the departments.
Education Sponsorships and Scholarships
CDL sponsors part-time courses relevant to the employee's work, conducted locally by recognised institutions and universities. In 2018, we sponsored one employee for her Master's degree
Internships
CDL partners local tertiary education institutions to offer internship opportunities for students interested in the property industry. In 2018, there were 15 interns assigned to various departments in CDL.