HEALTH AND SAFETY
OCCUPATIONAL HEALTH, SAFETY AND WELL-BEING
Our people are CDL's greatest assets. We believe the success of our organisation is built on their dedication, skills, experience, performance and overall well-being. In line with our corporate EHS Policy, key performance indicators (KPIs) were identified with targets established and reviewed annually to monitor our EHS performance. This is to ensure that we achieve a consistently high EHS standard across the organisation
Beyond caring for our direct employees, we recognise that workers at our construction sites and commercial properties are vital to our day-to-day operations. All workers at our construction sites and properties managed# by CDL are subject to CDL's stringent health and safety management policies and procedures in line with the requirements of the OHSAS 18001 management system. This is subject to an annual internal audit by trained CDL personnel and in 2018, a surveillance audit by an independent third-party.
As we move towards the new ISO 45001 occupational health and safety management system, we proactively leverage practices which incorporate elements from the new management system, and will further strengthen the inclusiveness among our workers. The continuous improvement of our health and safety performance will stay at the heart of our operations.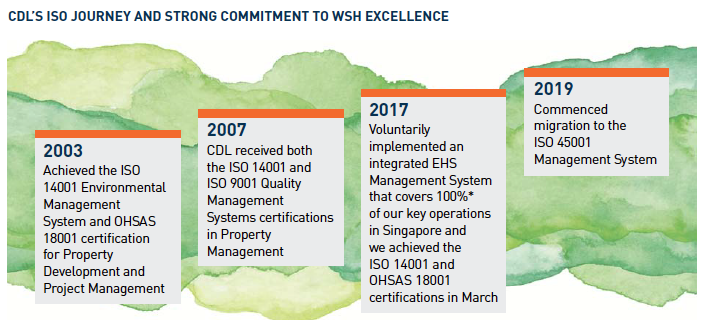 Total Workplace Safety and Health (WSH) at Corporate Office
In 2018, there were zero fatalities, high-consequence injuries2 and occupational diseases involving our employees in our corporate office. There was one reportable injury3 that occurred to a CDL employee in the course of carrying out his work duties, with a loss of 12 workdays.
Safety Performance at Corporate Office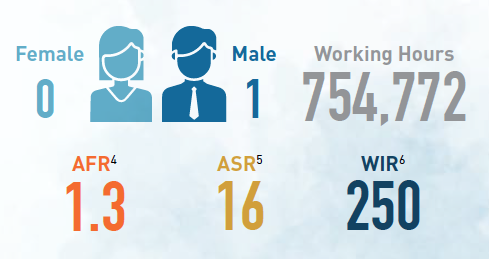 MEDICAL LEAVE TAKEN (AVERAGE NUMBER OF DAYS)
AT CORPORATE OFFICE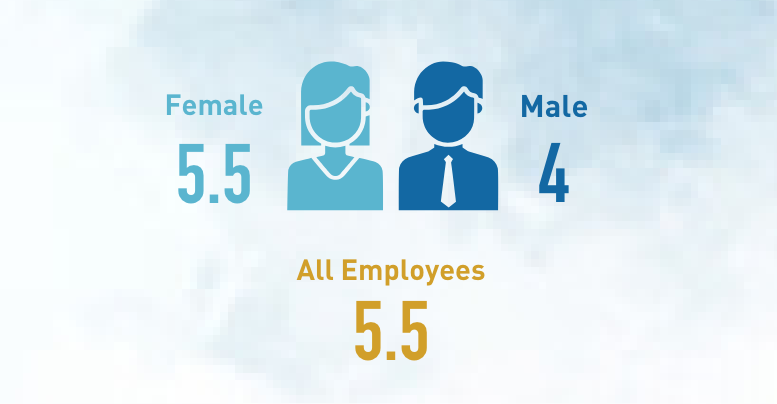 CDL's safety statistics for 2018 remain below the industry average of Real Estate activities reported by the local WSH Institute7. By proactively tracking and taking accountability of reportable incidents, it helps to create awareness on the importance of a safe and healthy workplace to prevent future occurrences. CDL has also implemented a reporting system for Near-Miss and Off-The-Job incidents to promote a more holistic safety culture among our employees.
Employee Health and Well-being Programmes
To promote healthy living, active lifestyle and emotional well-being amongst CDL's employees, our HR department and employee-led Workplace Health Programme Committee organised an array of activities in 2018. In addition, CDL's Employee Assistance Programme (EAP) provides support for issues concerning work, family matters, and interpersonal relationships. Employees can be assured of confidentiality when they call the EAP hotline manned by a third-party psychologist.
Health-related Programmes
Free annual basic health screenings for all employees during work hours.
Weekly fruit distribution to promote better consumption habits.
Regular lunch-time talks on fitness, physical exercise, mental well-being, nutrition.
Fitness classes including futsal, jogging, stair-climbing, Zumba, yoga.
Total WSH at Managed Properties
Facilities management and maintenance are vital to delivering efficient, reliable and prompt services expected by our commercial tenants and retail customers, as well as ensuring the operational efficiency of our commercial assets which contribute to our bottom line. We therefore place great emphasis in influencing our contractors to uphold a safe and healthy work environment for workers in our managed buildings. We engage our contracted workers through monthly meetings with their representatives. Health and safety issues which affect our workers and tenants8 are discussed and solutions are formed to eliminate or reduce the risks. Tenants also provide feedback on unsafe conditions which once brought to our attention are dealt with promptly. Due to the high volume of people, including the public who often use our common spaces, we are currently unable to approximate the number of workers apart from our employees and term contractors who are covered by our health and safety management system.
CDL is proactive in assessing the risks present at our managed properties using our risk assessments, led by our trained personnel. Our suppliers are also required to perform risk assessments to mitigate safety risks such as falling from height which may result in major bodily injuries or even fatality. One key training that workers undergo to manage this hazard is the Working at Height Course for both supervisors and workers.
For the year in review, there was zero fatality, high-consequence injury and occupational disease involving the workers of our key contractors9 at CDL managed properties. There was one reportable injury sustained by our contractors' workers which resulted in a loss of 79 workdays.
We also noted one injury sustained by workers of our tenants at the common areas within our managed properties in 2018.
Safety Performance at Managed Properties
Healthier Workplace for Tenants
Since 2014, CDL has been conducting complimentary health screenings for tenants at our commercial buildings to provide them with the convenience of having the health checks conducted at their workplace. In 2016, we collaborated with the Health Promotion Board (HPB) for the Healthy Workplace Ecosystem to offer a series of weekly health-related activities and programmes for our commercial tenants.
CDL became the first in Singapore to partner the Singapore Green Building Council (SGBC) and Building and Construction Authority (BCA) to organise an inaugural tenant-focused event to promote the Better Places for People (BPfP) initiative in 2017. First rolled out by the World Green Building Council (WorldGBC) in 2016, the BPfP initiative promotes awareness and consciousness of healthier places through greener buildings.
In 2018, we expanded our range of healthy living activities and more than 4,200 office workers in six CDL-managed buildings participated in the programmes. Our tenants highlighted that these activities were good stress-busters and CDL will continue to introduce more lunchtime talks and workshops to create workplaces that enhance our tenants' mental and physical health.
Total WSH at Construction Sites
In 2018, we had over 850 workers on our construction sites who rely on us to ensure that their health and safety is not compromised in the pursuit of development. As part of the tender shortlisting process, we require all our builders to have an accredited safety and health management system. We also actively engage our business partners on health and safety matters through risk reviews starting from pre-construction all the way till completion and handing over stage. CDL uses a customised EHS risk register for each project to identify and mitigate EHS issues right from the design stage. To eliminate or reduce EHS risks downstream during construction, we also participate actively in determining the type of materials and construction methods adopted.
During construction phase, high-risk activities such as excavations and working at height can lead to injury or fatality. By applying robust risk controls such as soil erosion prevention and fall protection plans, these risks can be minimised or eliminated.
Our builders also take proactive steps to inculcate safety in the workers by briefing them on fatigue, heat stress, hearing conservation and respiratory protection. Where necessary, transportation is provided to take workers to their medical appointments with occupational health and safety doctors.
Each development site has a dedicated workplace environment, safety and health committee, representing all workers on site which include members from management, construction workers as well as subcontractors. We participate in the monthly workplace safety, health and environment meetings conducted onsite with our main contractors and workers' representative(s), among others. Through this, we maintain oversight of issues on-site, ranging from technical challenges to workers' welfare. These meetings are also a platform for site coordinators to report unsafe work conditions and action plans for risk mitigation. Some of our sites incentivise workers who identify and report risk to raise overall safety awareness.
For every project development, we institute a monthly joint safety inspection to be carried out in the presence of the contractor, sub-contractors, consultants, site staff and CDL's site representatives. The inspection highlights any safety infringements and promote better working conditions. Since 2001, on top of regulatory-mandated audits, CDL also monitors the performance of the contractor's EHS management through our CDL 5-Star EHS Assessment System.
In 2016, CDL brought together 24 of our key builders and consultants to sign the 'Pledge Towards Vision Zero Through Safe Design–Safe Practices–Safe Culture', in support of the Construction Industry Workplace Safety and Health (WSH) Actions Plans. This followed two similar rounds of pledge signing initiated by CDL in 2010 and 2014.
We have maintained zero fatalities, high-consequence injuries and occupational diseases at CDL's construction sites in 2018. The injury rate at CDL's construction sites also remained significantly below the construction industry average.
In 2018, one male worker on our construction site sustained a fracture in a reportable work-related accident, resulting in a loss of 50 workdays.
Safety Performance at Construction Sites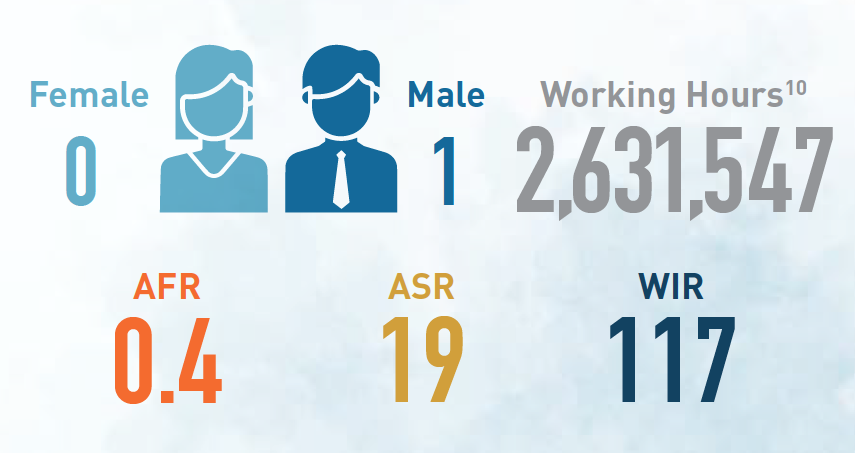 AFR AT CONSTRUCTION SITES:
NUMBER OF WORKPLACE ACCIDENT PER MILLION
MANHOUR WORKED

WIR AT CONSTRUCTION SITES:
NUMBER OF FATAL AND NON-FATAL WORKPLACE INJURIES
PER 100,000 PERSONS EMPLOYED

CDL 5-Star EHS Awards
In 2005, the CDL 5-Star EHS Awards was launched to recognise builders who have excelled in the CDL 5-Star EHS Assessment System over a one-year period. The Assessment System and Awards have been instrumental in influencing CDL's builders and consultants to monitor and improve their EHS performance.
The Awards comprise the CDL EHS Excellence Award and CDL Productivity Excellence Award, which was introduced in 2011 in support of Singapore's national productivity drive. In 2012, the CDL Workers' Welfare Award was introduced as part of our continuous efforts to align business practices with ISO 26000.
To recognise exemplary workers who are role models of the safety message and inspire fellow colleagues to be more vigilant, the Safe Worker Award was launched in 2014. In the same year, we launched the CDL EHS Cup soccer league to promote a healthy lifestyle and foster camaraderie amongst our builders' workers. In 2017, CDL also distributed 1.5 tonnes of fortified rice to promote better nutrition for 300 migrant workers.
| | |
| --- | --- |
| * | 100% of key operations encompass approximately 400 employees in 2018 who are covered under our health and safety management system. |
| 2 | A high-consequence injury is a work-related injury that results in a fatality or in an injury from which the worker cannot, does not, or is not expected to recover fully to pre-injury health status within 6 months. |
| 3 | Reportable incident refers to work-related accident, workplace accident, dangerous occurrence and occupational disease that require statutory reporting to the Ministry of Manpower, as mandated by the Singapore Workplace Safety and Health Act. |
| 4 | AFR refers to the number of workplace accidents per million manhours worked. Figures used are accident-based. For details, please refer to www.mom.gov.sg. |
| 5 | ASR refers to the number of man-days lost for every million hours worked. For details, please refer to www.mom.gov.sg. |
| 6 | WIR refers to the number of fatal and non-fatal workplace injuries per 100,000 persons employed. Figures used are victim-based. For details, please refer to www.mom.gov.sg. |
| 7 | Based on 2017 statistics provided by WSH Institute. For more information, please visit www.wsh-institute.sg. |
| 8 | Our scope of control for tenants is limited to common spaces only |
| 9 | Key contractors in our managed buildings provide cleaning, security services and mechanical and engineering support. |
| 10 | Working hours of ad-hoc contractors are not included in the statistics provided for CDL managed properties. |