GREEN FINANCING
CDL's inaugural green bond issuance in 2017 helped to accelerate the development of a green bond market in Singapore, and paved the way for other Singapore firms to finance climate-resilient projects and sustainability initiatives through green financing.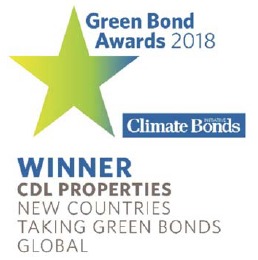 In March 2018, CDL received international recognition for its efforts when we were conferred the "New Countries Taking Green Bonds Global" accolade at the Climate Bonds Initiative's 3rd Annual Green Bond Pioneer Awards. In 2018, CDL was invited to share about our green bond issuance experience and thought leadership at several seminars and forums focusing on sustainable finance.
In January 2019, CDL has put in place a Green Finance Framework. We aim to be well-prepared for opportunities in which green financing can be used to fund projects that support the Group's business strategy and vision. Fundraising will include bonds, loans and other forms of debt financing with structures tailored to contribute to sustainable development by application of the proceeds.
With the success of our maiden Republic Plaza Green Bond in 2017, CDL is confident that more opportunities can be unlocked through green financing. We will continue to leverage on our strengths and leadership in sustainability integration and green buildings to explore alternative streams of financing (e.g. sustainability-linked loans and green loans) to advance our vision of building sustainable cities and communities.